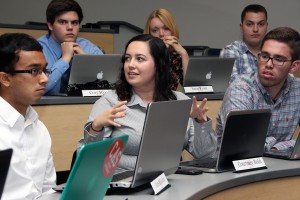 At its first meeting of the year Monday, the Boston University Student Government voted to remove the BU Think Tank branch, which was first approved in April to dissolve the SG House of Representatives.
Senator Courtney Bold moved to strike Article IX, the portion about the Think Tank, from the constitution because the branch was not fully-fledged and ready to operate. The Think Tank serves as a place for students outside of SG to engage in forum-type discussion.
"Right now, Article IX is consisted of five points, which aren't very well expanded on, fleshed out. They don't, I'm sure, reflect what the bylaws are going to be, once they're approved," Bold, a junior in the School of Management, said. "If this was going to be in the constitution, I'd love for it to happen when the Think Tank was fully formed."
Twenty-two senators voted to abolish the Think Tank, and six voted to keep it. The constitution as-is was approved with 26 votes for it and two abstained their votes.
Cassandra Shavney, chair of the BU Think Tank, said while the branch will not pass bills or judge proposals, it serves as a valuable place for students to raise and voice their concerns.
"If you have an issue that needs further investigation or you need to talk to some specific upper administrators, or you would like to ask for some sort of funding, then you'll get channeled into Student Government," Shavney, a senior in the College of Arts and Sciences, said.
Executive Vice President Joe Ferme said other bodies of SG already accomplish what the Think Tank aims to address.
"It just adds redundancy where it's not necessary," Ferme, a senior in CAS, said. "Student Government already looks like a bureaucratic mess to a lot of students, and by adding another branch…it just adds too much."
Shavney said she did not expect the Senate and Executive Board to question the Think Tank constitutional amendment.
"I'm surprised that people who have never been in Senate before were so quick to assume how Senate functions," she said. "The Think Tank is meant to be a conversational space…There's no politics in it, there's no fighting…it's a community-based space."
Shavney said she still hopes to instate a program like the Think Tank, regardless of whether it goes through SG.
Several attendees said they were particularly engaged in the discussion about the Think Tank.
Avi Levy, a senator for CAS and former SG Senate Chair last year, said while he agrees with Shavney, the majority of the meeting should not have been devoted entirely to discussing the Think Tank.
"I really saw how there was a lack of time to discuss the multiple things that are wrong with campus, because there's just no time during Senate meeting to go through each problem," Levy, a senior in CAS, said.
Joshua Mosby, vice president of finance and a CAS sophomore, said despite the issues raised at Monday's meeting, compared to last year, the SG meeting seemed more efficient and orderly.
"We had some heated debate, and that is just going to motivate them more for the future, just to be more involved, and to really do their jobs to the best of their ability," he said. "For the future, Senate could increase outreach, utilize Senate office hours to discuss topics [and] issues with students."