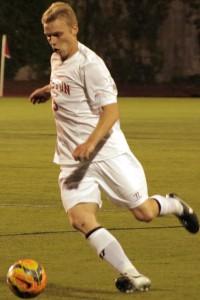 Coming into the 2014 season, people were wondering who would be the top goalkeeper for the Boston University men's soccer team. After nine games, the team appears to have an answer.
After playing in just three games during the 2013 season, senior goalkeeper Nick Thomson has stepped up for the Terriers (6-2-1, 2-0 Patriot League) in 2014. On Sept. 29, the Cramlington, England native was named the Corvias Patriot League Goalkeeper of the Week for his career-high nine-save performance in a 2-1 win over the United States Naval Academy on Sept. 27. Thomson also assisted on senior forward Dominique Badji's game-winning goal in the 65th minute.
"Unfortunately for Nick, his freshman year was very good, and he got injured sophomore year, and he did not really get it corrected until the end of his sophomore year, so that affected his junior year," said BU coach Neil Roberts. "Now he's back and had a whole year to train, and he is really showing what he's capable of doing."
Thomson is also second in the Patriot League in shutouts with four on the season and boasts the highest save percentage in the league at .829 percent.
Thomson has let up just six goals on the season, while only allowing more than one goal in just one game this season.
That one instance came in a 2-2 draw with Princeton University on Sept. 20. Thomson was knocked down while trying to punch a ball away, resulting in an open net goal in the 65th minute. Despite being shaken up, Thomson was able to stay in the game.
"Nick's an extremely hard worker, so nothing really surprises me," Roberts said. "I just think he's more mature, and he's doing things better than his freshman and sophomore year."
Benediktsson providing big boost for Terriers
Several notable freshmen have emerged this year for the Terriers, but none have made their mark more than defender Bjarki Benediktsson.
"Bjarki, Benji, Bon Jovi, whatever you want to call him, he's a good player," Roberts said. "Right from day one, he came out, and he was very composed, a very smart defender who passes the ball well, which makes him more valuable to us with the way we want to play."
In addition to contributing to a staunch Terrier defense, Benediktsson has also contributed to BU's offense with three assists so far in the season.
Two of those came in BU's most recent 2-0 win over the United States Military Academy Saturday.
"He's pretty good at all aspects of the game," Roberts said. "Now, as a freshman, he starts to get into midterms and the grind of the games. We have to make sure he does not hit a wall because we have important games left, but he's a joy to watch."
BU finding success against Patriot League opponents
While the 2013 Terriers opened up Patriot League play with three straight losses, this year's squad has flipped the script with its two-win start against conference opponents.
"Those two games are very important to us, and those are two teams who beat us last year who are very quality teams," Roberts said. "Every point is important, so to get six out of six in the first two games is very nice to see."
In their second season in the Patriot League, the Terriers will hope to continue this success in their first league road game Wednesday night at the College of the Holy Cross.
"The biggest challenge will be going on the road like this Wednesday night," Roberts said. "Going on the road is very tough in this league. For us, the thing is going to be consistency and can be we get better as we go along."