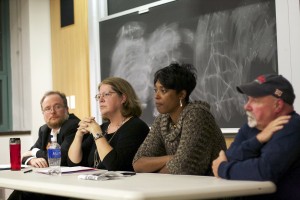 Adjunct faculty at Boston University gathered Tuesday for a forum advocating for unionization, in hopes of receiving better benefits and accommodations.
More than 50 members of the BU community attended the discussion hosted by the Student Labor Action Project in the College of Arts and Sciences, where four adjunct faculty members plead their case.
Faculty on the panel included David Kociemba, a professor in the College of Communication, Janet Bailey, a professor in Metropolitan College, Kenneth Fernald, a facilities worker, and Chanda Jones, a part-time custodian.
"The intended goal is to promote solidarity and promote awareness," Kociemba said.
SLAP! advocates for workers' rights on and off campus. Focusing on the on-campus struggles of adjuncts, the panel fostered conversation between students, adjunct faculty and staff.
"This is my first time seeing this much collaboration between the staff and the faculty and the students," said John Griese, a member of SLAP! and a senior in the College of Engineering. "One of the unavoidable issues of student life is that everyone has a four year time-scale. There can be a huge problem with collective memory. Any relationship that we build, if it is not passed down through some sort of institution, can be lost."
SLAP! strives to establish a new precedent for collaboration within SLAP! and the community. An adjunct faculty member is a freelance professor who works for the university. They do not receive benefits or health care as full-time employees of the university.
"The biggest issue comes down to basic fairness," Bailey said. "Adjunct professors make approximately one-third of what full-time professors make. They make three times the amount of money for doing essentially the same work. For many adjuncts, they are trying to make a living, and it simply doesn't cut it."
Mark Harrington, a BU facilities worker, said adjunct professors are a vital part of BU.
"They are the foundation of this university," he said. "They need representation, and I think that adjunct professors are the heart of this scholastic industry."
The facilities staff at BU has a union that works toward bringing issues to the forefront in the administration's eyes.
"You are going to find jobs that beat you down, and without protection, it's going to be hard to love what you do and bring it to work every day," Fernald said. "The reason I have that job is because of what the union does with the management that makes this place great."
Kociemba said adjunct professors often give "110 percent," only to receive no commendation or recognition for their hard work.
"The only way that things change is if you force the administration to pay attention to what's going on by raising awareness amongst all of your student groups and all of your friends or raising a ruckus, like students should," he said.
Many students showed up to show support for the adjunct faculty at the university.
"The people who work for us, whether they are adjuncts or custodians, seem invisible in many ways, even though they impact our lives so deeply," said Patrick Johnson, a senior in the College of Arts and Sciences.
Jessica Rosene, a senior in Sargent College of Health and Rehabilitation Sciences, said students should take note of the work the adjunct professors do and participate in the movement.
"In most of the classes that I've taken, when there is a professor that inspires you, it is enough reason for you to want to support them," she said. "I was so inspired by my professor, to find out that she was an adjunct putting in all of this effort and all of this passion and not being compensated was enough reason for me to know that there was something that was going on and something that I should care about."