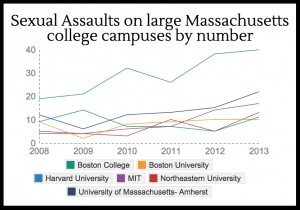 Reports of sexual assaults at New England colleges, including Boston University, increased between 2012 and 2013, according to a Boston Globe review published Monday of annual crime statistics released by the U.S. Department of Education.
A total of 289 reported sexual assaults occurred in 2013 compared to 142 in 2012 at the 29 colleges surveyed in the area, according to the review.
At BU, the rate of reported sexual assaults per 1,000 students increased from .27 in 2011 to .31 in 2012 and 2013, the review stated.
"BU's consistency in holding students accountable for violations is longstanding," said BU spokesman Colin Riley. "We have provided immediate and professional resources to those individuals who have reported sexual assault so they know that they're safe and in control of the process to address the situation."
The Clery Act requires colleges to release crime statistics by October 1 of crimes that occurred on campus, in institution residential facilities, in non-campus buildings or on public property.
Maureen Mahoney, director of the Sexual Assault Response and Prevention Center, said students can go to their center to speak with counselors confidentially, regardless of their decision to report the sexual assault.
"We do not disclose information without the student's permission," she said in an email.
"Anyone who has experienced a trauma deserves support: from friends, family and the community. It is important to address the issues of sexual misconduct and gender-based violence on college campuses because it creates an unsafe environment."
Wellness and Prevention Services in Student Health Services and SARP raise awareness by acting out situations of sexual assault during Orientation, Riley said.
"It's an opportunity to educate people about a number of different times during a scenario that puts people at risk where a student who is present can intervene in a positive, helpful way," he said.
Several students said they appreciate that BU has taken steps to address sexual assault on campus and support victims.
Nicolette Forsey-Smerek, a freshman in the College of Communication, said she found the skits at Orientation effective and informative.
"It was really important that they showed in the skit that it was never the victim's fault," she said. "A lot of times, you see things that say something along the lines of, 'You're more likely to get assaulted if you're drunk or walking home alone at night.' The fact of the matter is I shouldn't have to worry about getting assaulted no matter what I'm doing."
Arohi Beri, a freshman in the College of Arts and Sciences, said while she is glad more victims are coming forward, she is still concerned about sexual assault on campus.
"A lot of students when they're back home are controlled, but here, we're let loose to do whatever we want and there's less control," she said. "There's a boundary that needs to be addressed. Sexual assault is increasing, and that's scary. People don't feel safe anymore. Walking back at a time where it's dark, it might not even be late, but people are still worried about their surroundings."
Emma Moehlenhoff, a senior in COM, said while BU could do more to address the issue, they are making a good effort compared to other universities.
"Sexual assault on college campuses can be ambiguous to define because of the whole consensual agreement," she said. "BU has come forward, granted sometimes not very eloquently, but yet has come forward and said that this is a problem and that they're working to resolve it. The efforts have been a lot more positive…I definitely think BU is eons ahead of everybody else."