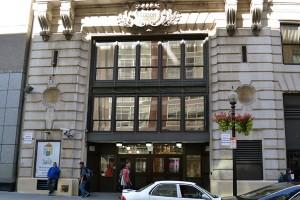 Boston Mayor Martin Walsh announced Monday that the city secured funding for an initiative to end veteran homelessness in Boston by 2015, a part of a larger nationwide effort to address the issue.
First introduced in July, the mayor created the Mayor's Challenge to end veterans' homelessness and set a public goal to provide housing for more than 400 homeless veterans in Boston by the time the project is completed, according to the initiative's press release. The U.S. Department of Veterans Affairs is providing a $3 million grant to the Supportive Services for Veteran Families Program in Boston to assist some of the city's major veteran homelessness support and prevention centers.
"The collective work of the New England Center for Homeless Veterans and Pine Street Inn, along with the City's Department of Neighborhood Development, the Boston Housing Authority and the Boston Public Health Commission, has helped this city take a major step forward in ending homelessness for veterans," Walsh said in the release.
There are veterans coming into the city's system every day, which will make it difficult to house every homeless veteran by 2015, said Elizabeth Doyle, deputy director of Boston's Department of Neighborhood Development, but the grant goes a long way in reducing the number of Boston's homeless veterans, as well as in reducing the length of time spent in shelter housing.
"The grant is looking not only at housing efforts," she said. "It will pay for rental assistance and case management as well as support assistance mental health resources will be provided, and we are working on partnering with the Boston Public Health Commission."
Doyle said the program is not about eliminating homelessness, but it is a matter of "developing a system."
"One of the things about Boston [is that] many veterans from other parts of the state travel here for services as a large city," she said. "There is currently a national focus on this, and therefore, there is a local focus as well. The mayor is committed to helping in this short amount of time."
Forty percent of the grant's funds will be for direct financial assistance to homeless and at-risk veterans for rental assistance and security costs, along with other move-in expenses. Forty-five percent will go to support services for veterans who are homeless or at-risk, and 15 percent will go toward supplies, equipment and administrative costs, Doyle said.
Boston's New England Center for Homeless Veterans President and CEO Andrew McCawley said NECHV applied for the grant for the Pine Street Inn and worked closely with the Department of Neighborhood Development. Their nightly census of homeless veterans who are staying in their center has determined that about 290 homeless veterans stay each night, a number that has remained consistent over the weeks.
McCawley said he hopes the center can "intercede and provide services and assistance to veterans and their families."
Several residents of Boston said they are glad to see Boston giving back to America's war heroes.
Alex Wilson, 23, of Beacon Hill, said it is important for residents to support the people who have dedicated their lives to supporting the country.
"It is our job to return the favor and protect them once they come home," she said. "I don't think it is realistic to expect this entire problem to be solved by 2015, but there are so many veterans who need help and support that even if it is just a first step, hundreds will be helped and a foundation will be established to help more in the future."
Denise Miller, 42, of Dorchester, said the mayor's announcement brings hope to many organizations and veterans who want to see improvements in the system, but the cost may be too high.
"$3.8 million is definitely too much money," she said. "It is not very good for the economy to focus so much monetary attention on such a small issue when bigger situations such as the Boston Public Schools system are in need of attention."
John O'Brien, 25, of the North End, said the program needed to be revised before being implemented.
"The issues that cause homelessness go way beyond providing housing, veterans' substance abuse and mental health issues would also have to be addressed, and I seriously doubt they could solve it all by next year," he said. "If anything at all, this project allows the mayor to sound like he is working on homelessness."