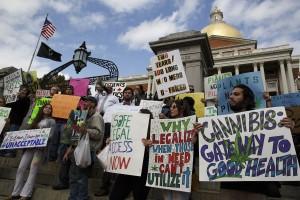 Massachusetts residents and activists protested outside the Department of Public Health Tuesday to rally for medical cannabis use for patients in need.
About 60 advocates protested the inaction of the Massachusetts government in granting patients access to medical cannabis, which was legalized in the Commonwealth in November 2012. More than 20 dispensaries were approved in Massachusetts, but the organization that planned the rally, #UNACCEPTABLE Coalition, claims that the DPH was unable to follow through because of shortcomings in the dispensary application process.
"This is no longer okay, and we demand the Department of Public Health immediately begin to open up the program and allow for patients to access safe and quality cannabis medicines through experienced caregivers able to serve multiple patients, and clean, well-lit dispensary facilities," the group said in a Tuesday press release.
No dispensaries have been opened, said Bill Downing, spokesman for Yankee Care Givers, a company that sells and delivers cannabis to those who have a medical need.
"I'm here to protest how the Department of Public Health in Massachusetts, through ineptitude and corruption, basically made it impossible for patients to get medical marijuana," Downing said to the crowd. "Patients are suffering horribly and dying everyday, and it could have been prevented to a great degree by the Department of Public Health if they had done what they had said they would do two years ago."
The medical cannabis effort was given $3 million in funding, according to Mickey Martin of the #UNACCEPTABLE Coalition, who said two years is too long for those in need to wait for their medical treatment, forcing patients to use opiate-based drugs.
"It's unacceptable in the democracy we live, we demand that our voices be heard," he said. "It doesn't take this long to put a program in place. Other states have done it in a matter of months. There are real people suffering here. Everyday people come down with debilitating illnesses that cannabis is a good alternative for."
The protest was followed by a march to the Massachusetts State House "to demand the DPH and state quit putting politics before patients and implement access to medical cannabis immediately. To bring public awareness to a cause that has forced people to suffer needlessly, including children and families dealing with major health issues. To call for immediate change and progress," the release stated.
Jill Osborn, one of the speakers at the rally, spoke on behalf of her daughter, who suffers from a severe form of refractory epilepsy, an illness often treated with medical cannabis use. She said she believes medical cannabis is the only option.
"My 7-year-old daughter … is a patient without access," she said to the crowd. "On any given day, she can have up to a hundred seizures."
Before exploring other options, Osborn's daughter experimented with 17 medications, two diet therapies and steroids.
"And then, in 2012, our hope was restored," she said. "Voters overwhelmingly supported a medical marijuana law, and I had seen patients, kids in other legal states have miracles on this medicine. And I hoped that [she] would have the chance to heal. In the two years since that, my daughter has had 9,000 seizures. [She] suffers on a daily basis without access to this medicine."
Dr. Uma Dhanabalan said medical cannabis is not dangerous and can offer relief to certain ailments.
"We have killed people with narcotics, pharmaceutical medications and so many medicines that are on the street," Dhanabalan said. "Cannabis is not an entrance drug. It is an exit drug from pharmaceuticals and other drugs."
Several protesters who showed up at the Washington Street rally said they felt the state had not properly implemented the cannabis law.
Josh Pisco, 30, of Andover, said the effects of the protest are ambiguous but important, because of the people who are detrimentally affected by the lack of medical cannabis.
"It's ridiculous that there's little kids who don't have access to safe medicine, who are having seizures every day," Pisco said, "and the DPH has taken millions of dollars with people's money and hasn't done anything with it."
Angelica Ribeiro, 33, of New Bedford, said she sees the lack of implementation as a human rights issue.
"All we want is what's been promised to us, which is safe, legal access to medical marijuana," she said.
Keith Kerrigan, 39, of Boston, said he has been unable to receive the treatment needed, which is having a costly effect on his health and his bank account.
"I'm a patient that's been denied my medicine," he said. "I've been on pharmaceutical drugs for countless number of years, and the cost and the effect on my life is just a joke."