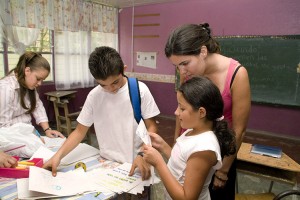 Modifications to the Peace Corps application process, including a shorter length and more personalized process, triggered a record-breaking application rate, which saw an increase of 70 percent more applicants since 2013, the Peace Corps announced Oct. 8.
More than 17,000 Americans submitted applications for two-year Peace Corps service positions, marking a 22-year high for the agency, said Emily Webb, a Peace Corps spokeswoman.
"The new application process has cut red tape, increased transparency and reduced uncertainty so that applicants may have a better experience when choosing the path that best fits their personal and professional goals," Webb said.
Next to the application's length reduction, its largest change is its ability for applicants to mark their preferences for location and fieldwork. The alterations to the application have made the process of applying to this grassroots service organization simpler, faster and more personalized than ever before, Webb said.
The agency has been observing a rapid expansion in applicants since the streamlined application went live on July 1. Approximately 95 percent of those who began their application submitted it, compared to only 23 percent at this time in 2013, Webb said.
Although the personalization of the application has been one of the factors encouraging more people to apply, Boston University Peace Corps recruiter Katrina Deutsch said half the applicants are still willing to serve wherever they are needed most.
Since the reforms were implemented, 54 percent of applicants have selected the option to serve anywhere they are needed, and 49 percent have selected the option to serve in any of Peace Corps' six work sectors, Webb said.
"There is great demand for Peace Corps volunteers around the world, and our reforms have better positioned us to offer assignments where volunteers have the most interest in serving and are able to make the greatest contribution," said Peace Corps Director Carrie Hessler-Radelet in the press release.
The selectivity of the program has also increased because of the influx of applicants, Deutsch said.
"More people are applying, but we're still filling the same spots overseas," Deutsch said. "We're going to be more selective and choose candidates that really are the best fit for each position."
Zachary Hobbs, director of the BU Community Service Center, said applicants should be prepared to immerse themselves fully in the cultures, communities and social justice issues in which they are placed.
"We're happy to see so many students considering a greater commitment to alleviating social justice challenges that prevent folks around the world from living safe, healthy and thriving lives," Hobbs said.
With the greater influx of applicants, several students said they express concern about the increase in competition for spots.
CSC Event Coordinator and College of Arts and Sciences senior Lindsay Nicastro said she is aware of the competitiveness of this program. Working toward a bachelor's degree in political science, Nicastro is applying to the Youth Development program because it's the only one she has the qualifications for.
"I'm not sure if most people understand it's a highly competitive program that rarely accepts students coming straight from college," she said. "Most applications require at least a bachelor's degree in the specific area [like] agriculture, teaching, business and a masters or a couple years of experience in the field full-time."
CAS senior Michael McLaughlin said as opportunities for young people to go abroad have become more attractive, the amount of applicants for programs such as the Peace Corps are sure to increase.
"I am considering applying because I am about to enter the real world, and it seems like a good transition while I am still figuring out what I want to do," he said. "I spent last semester in Germany, but my academic interests are in the Middle East. Therefore, I am mainly applying to the Morocco and Jordan programs in order to improve my Arabic. I don't think I will do Peace Corp if I don't get accepted to either of those places."
Despite the competition, CAS senior Emily Liew said she hopes to be placed wherever she can have the greatest impact on the community.
"I'd like to go where I'm needed the most," she said. "Overall, I'd like to know that while I've helped, it's about the community rather than myself as an individual. There's always the danger of having a savior-complex and realizing that is important."