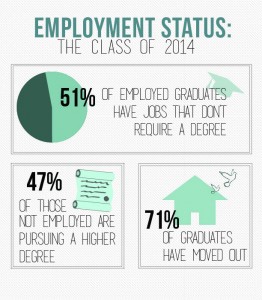 More recent college graduates are pursuing advanced degrees or planning to attend graduate school within the next year to remain competitive in the job market, according to a Thursday survey published by CareerBuilder.
With a sample of 305 recent college graduates, the survey asked questions regarding employment statuses, opinions about college and growing pursuits of higher education.
Ryan Hunt, senior career advisor at CareerBuilder, said the employment landscape for recent college graduates remain highly competitive.
"Although more employers say they're hiring recent graduates now compared to the height of the recession, the survey found a minority of the Class of 2014 is currently working in full-time positions," he said. "However, this is partly driven by the fact that many graduates of associates and bachelor's programs are choosing to continue their education."
Forty-seven percent of employed college students are currently in graduate school, and 19 percent are planning to enroll for the 2014-15 academic year. Forty-three percent of unemployed college graduates are in graduate school and 17 percent plan to enroll, according to the survey.
"The employment landscape for recent college grads remains highly competitive," Hunt said. "Job requirements increasingly require at least a four-year degree, and many leading employers prefer hiring workers with a master's or higher."
Joel Scott, a professor at Boston University School of Education, said the United States is making improvements in investments for education beyond college.
"The federal government has been a part of the cost equation for decades by providing financial aid [and promoting the 'American Dream'] pathway through higher education," he said in an email.
Nine out of ten recent college graduates agreed that their undergraduate years were worth their time and money, but 4 out of 10 don not think college prepared them for the real world, according to the survey.
Scott said he is hopeful that the current higher education scene will continue to influence the decisions of college students.
"We are living [in] a new era of information technology and global connectivity, bachelor's degree saturation and recession recovery that are shaping vocational decisions," he said. "These confluent factors are compelling graduates to be more creative and resourceful in application of their degrees."
Several students said they recognize how advanced degrees are becoming crucial to obtain jobs.
"Graduate school is going to be this generation's standard," said Moses Ji, a junior in the College of Arts and Sciences.
Ada Bovsunovsky, a sophomore in CAS, said although she is learning valuable information in her undergraduate career, she would like more applicable skills.
"You do learn a lot more in graduate school," she said. "It is going to be useful for my future job, because I'm going into investment."
Benjamin McCarthy, a senior in CAS, said higher education determines undergraduates' academic and career choices.
"People emphasize a need for higher education and vocational skills," he said. "There is a weird duality of getting an education and finding a job. Your undergraduate years are supposed to be about learning. Graduate school refines this."