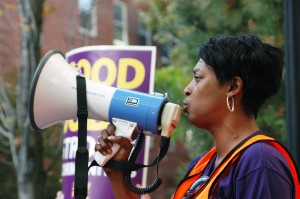 Boston University workers and union leaders gathered at Marsh Plaza Wednesday to demand stronger, fairer contracts from the administration. The protesters marched from the plaza to 1 Silber Way, where BU President Robert Brown's office is located.
Negotiations for a new, multi-year contract between BU and 32BJ SEIU, an affiliate of the Service Employees International Union and the largest property service union in the nation, began in August 2013.
"In two weeks, the contract that covers the working conditions of 700 workers here at Boston University that work as custodians and skilled trade workers will expire," said Roxana Rivera,  director of 32BJ SEIU District 615. "We only have two weeks left to get to a good contract and 32BJ SEIU and Boston University are still not in agreement. We're here to express the urgency of maintaining good jobs here in Boston."
Approximately 100 workers who will be covered by the new contract protested and marched down Commonwealth Avenue. The current contract, which expires on Oct. 31, is not sufficient for these workers to maintain a normal lifestyle in Boston, said Eugenio Villasante , assistant director of communications for SEIU's local 32BJ.
"Just like everyone that lives in the Boston area, the skyrocketing cost of living is an issue for workers," he said. "It makes it tough for working families to make ends meet. Health care is a big issue because the health care costs have been going up and up. We want to make sure workers have quality health care at a reasonable cost."
Chanda Jones, a limited part-time custodian at BU, shared with the crowd her frustration with Brown and discussed how she and her 11-year-old daughter have faced many problems because of the current contract.
"I get no benefits whatsoever. I've been here for nine months, and I've gotten nothing," she said. "President Brown made all this money, but forgot the little people that helped him get it. He is sitting up on his throne because of us. We are the ones that sent him there."
Tim Hall, a lead custodian who has worked at BU for 36 years, said the committee that is working on the contract has not provided workers with respect.
"The committee really doesn't want to bargain about anything," he said. "What is upsetting me more than anything else is not their insult by offering me a bonus instead of a percentage, which is a prostitution of the system, it's not that they don't want to pay for insurance, it's the fact that they're not showing us respect. We are the backbone of this university. They need us, but they don't respect us."
Maintenance workers are not the only BU workers struggling with the contract. Adjunct professors, or part-time professors, do not receive the same pay as full-time professors.
Bayla Ostrach , an adjunct professor at BU, said wages are so low that many faculty members are eligible for Medicare and food stamps, and rely on the Massachusetts taxpayers to subsidize low wage work.
"If adjuncts are being paid less than minimum wage and qualifying for state benefits, and if maintenance workers and groundskeepers that make this place a safe, clean place to learn can't get a good contract, where is that tuition money going?" she said.
After the protest, Maureen Sullivan, another adjunct professor, went directly to Brown's office on the eighth floor, followed by two police officers, and requested to leave two small clementines for the president. Although she was not allowed inside the office, the officers took the fruit and left it on a desk outside his office.
"This is my dinner for tonight, and I want Mr. Brown to have it," she said. "He has taken everything else from me, so I want him to have my dinner too. He seems to need everything I have, so I'm giving this to him."
A number of BU students were protesting with and supporting the workers. Declan Bowman , a senior in the College of Engineering, said it was unfair that staff are being treated poorly, considering BU's status as a prominent university.
"It's jarring that I study at one of the nation's top biomedical engineering programs, to advance health care in the United States. Meanwhile, our adjunct professors and part-time maintenance staff don't have access to health care," he said.
Tori Dutcher-Brown, a sophomore in CAS, said students have the ability to influence administrators and to help the workers.
"We as students have power here, to help stand with our workers. We pay tuition dollars. We have a large impact on the university," she said. "As students, we have the power to stand up to what's not right. We need to take action and fight back. We need to let the school know, especially President Brown, that we stand with the workers."