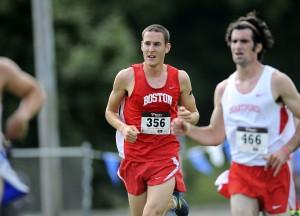 The Boston University men's and women's cross country team battled rainy conditions and tough competition to finish fifth and 10th, respectively, at the New England Championships Saturday at Franklin Park in Boston.
The men's team had strong showings from their top five runners Saturday, as junior Kevin Thomas finished the 8-kilometer race in 10th place with a time of 24:49.39, gathering Patriot League Runner of the Week accolades in the process. Senior Ben Ravetz (25:00.06) followed closely behind Thomas for the Terriers, ending the race in 19th place.
"The men's team ran very well," said BU coach Bruce Lehane. "Kevin Thomas chopped 20 seconds off of his personal best. Ben Ravetz fell twice on muddy turns and still ran his strongest race yet."
Rounding out the list for the Terriers were junior Alec Olson (25:06.73), who placed 28th overall, junior Paul Gennaro (25:16.74), who crossed the finish line in 43rd place and sophomore Mitch Russo (25:37.90), who finished in 82nd. Their efforts helped BU end up with an impressive pack time of 48.51 seconds between their first and fifth runners.
"Alec Olson is coming back from an abdominal injury, so his 25:06 was a welcome return," Lehane said. "Paul Gennaro had a season goal of 25:25, and his 25:16 blew past that. Mitch Russo was, in a way, the biggest surprise, running 25:37. This is a guy who was over 28 minutes last year."
The Terriers' effort led to a total of 182 points. Providence College and Brown University tied for first place in the men's division with 72 points.
The women's team had a group of runners step up Saturday, as the team's top two runners this season were struggling with minor injuries. Coming in first for the Terriers in the 5-kilometer race was junior Michelle Sumner, as she finished eighth with a time of 17:56.08. It was her third top-10 finish in three races this season and earned her Patriot League Runner of the Week honors. Her teammates, sophomore Hallie Armstrong (18:09.53) and junior Shelby Stableford (18:12.12) finished in 22nd and 25th, respectively.
"Michelle Sumner, Hallie Armstrong and Shelby Stableford ran very strongly," Lehane said. "I am very pleased with their runs."
Missing from the top overall runners in this race for BU were seniors Rosa Moriello and Monica Adler, as Lehane decided to hold them back due to nagging injuries. Moriello finished 140th with a time of 19:19.98, while Adler did not race.
"We need to get Rosa and Monica back, and a few others have to get their game back on track," Lehane said. "We have time to do that prior to conferences."
Other notable participants for the Terriers were junior Erin Pierce with a time of 19:08.07, freshman Alexia Zawadzke (19:58.76) and sophomore Colleen Tretheway (20:57.61).
Despite the fact that some of its top performers were held back, the women's team totaled 314 points. The University of New Hampshire won the invitational with a tally of 61 points.
Although rain fell throughout the invitational, Lehane said the precipitation had little effect on how both teams ran.
"The course holds rain surprisingly well," he said. "So most of the course had good footing. There were a few spots, mostly at sharp turns that turned to muck and mud. So those segments were slippery, but by and large, it wasn't so bad."
Next up for both teams is the Central Connecticut State University Mini Meet on Oct. 24th in New Britain, Connecticut. However, Lehane said his main goal is preparing his team for the Patriot League Championship on Nov. 1st in Bethlehem, Pennsylvania.
"For the women's team, the main focus is on defending their Patriot League title. The men's squad aims to get at least in the top three," he said. "We'll be going to the NCAA Regionals after that, but it's the conference meet that we're focusing on right now."