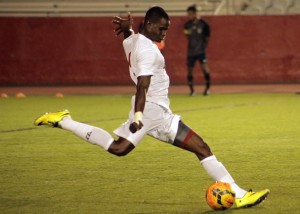 After overcoming a few injury-plagued years, the Boston University men's soccer team's senior defender Kelvin Madzongwe has finally returned to his underclass level of play.
On Oct. 13, the defender was recognized for his performance, as he was awarded the Patriot League Defender of the Week award for the second time this season due to his strong play for the Terriers (9-2-1, 4-0-0 Patriot League).
However, during BU's game with Dartmouth College on Tuesday, Madzongwe picked up a red card for a physical altercation with a Big Green (7-3-1, 2-0 Ivy League) player.
"There's his leadership, and obviously he's a great player, so it's a big deal for this game and the next game, so it's disappointing," said BU coach Neil Roberts.
While he received the America East Rookie of the Year award in 2010 and a spot on the America East All-Conference First Team in 2011, Madzongwe's next two years were defined by his failure to get on the field.
Between his original junior year and his redshirt junior year, the Magwegwe, Zimbabwe native only played in 11 games.
This season, he has been in the lineup for all 12 of the Terriers' games, and his presence has been felt for a team that has only allowed seven goals on the season.
Terriers earn national ranking
Following two shutout victories over the College of the Holy Cross and Lehigh University, BU found their way into the national rankings for the second time this season. They are currently ranked 24th in the National Soccer Coaches Association of America poll.
The last time the team was ranked was after consecutive wins to open the season over Fordham University and Iona College, when they earned a No. 23 ranking.
Following their initial national recognition, the Terriers dropped consecutive games against Siena College and Brown University before reeling off eight straight games without a loss.
BU faced a formidable non-conference challenge in the form of No. 23 Dartmouth College.
"This was a good game for a lot of things, for national [reasons] and everything else," Roberts said. "It's a big game because it's against a good team on the road. You play a good team, and you get up 3-0, and you lose Kelvin for a long time and still win, so it's huge."
Within the game's first 20 minutes, the Terriers struck twice before Madzongwe was called for a red card, which forced the team to play a man down for the rest of the game.
Even with only 10 men on the field, BU managed to score another goal before halftime, and held on for the 3-1 victory.
"Our discipline needs to be improved. That's one thing," Roberts said. "We're adjusting well. It's just the small things. We'd gotten everybody back, and now we have to play a game without Kelvin."
This win was the Terriers' most significant since a 1-0 victory over then-No. 11 Boston College in 2012.
Defense and depth leads the way
Possibly the most impressive part of the Terriers season so far has been their ability to shut down opposing offenses.
In the first 12 games of the season, BU has only let up seven goals, which leads the Patriot League. The Terriers also lead the league in goals against average (0.58) and shutouts (6).
One of the key factors in the Terriers' staunch defense this year has been the team's depth.
After Madzongwe left the game, senior midfielder Sanford Spivey, whom Roberts praised for his performance against the Big Green, took his spot.
"Sanford came in big today," Roberts said. "He hadn't played a lot, and he did a really good job, which is key for us. It was really great to have him."
BU's depth will be crucial going forward, especially with Madzongwe out the next game due to the red card and sophomore midfielder David Asbjornsson seemingly hurt after he was removed from the Dartmouth game after 10 minutes.
"These guys are very good at going day by day, and we're a little banged up after this game," Roberts said. "We have a couple other guys that are out, so we'd like to get our full team on the field and really see what we can do."