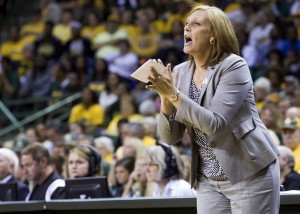 Katy Steding, new head coach of the Boston University women's basketball team, has loved basketball since age 6, when she asked her parents to put up a hoop in their driveway.
Growing up near Portland, Oregon, Steding practiced in that driveway every day, and dreamed of playing for the NBA's Portland Trail Blazers. She recalls telling her fifth-grade classmates her ambitions.
"Of course, everybody laughed their butts off because girls don't do that," Steding said.
What her peers did not know was that she would turn out to be a Trail Blazer in her own right as a pioneer in women's basketball.
As a player, Steding captured two of the game's most lucrative prizes: an NCAA Championship at Stanford University in 1990 and an Olympic Gold Medal as a member of the 1996 "Women's Dream Team."
Her impact stretches beyond just winning games. Capitalizing on the attention that Team USA garnered at the Olympics, Steding helped start the American Basketball League, one of the country's first professional women's basketball leagues.
Over her 14-year coaching career, Steding has served as an assistant with the University of California-Berkeley, the University of San Francisco, Columbia University and the WNBA's Atlanta Dream and as a head coach at Warner Pacific College. In June, she was introduced as the Terriers' seventh head coach.
Like many elite women's basketball players, Steding largely competed with boys in her youth as the idea of young girls playing competitive basketball was "still kind of odd." A standout at Lake Oswego High School under coach Gary Lavender, the 6-foot power forward made the rather peculiar choice to continue her career at Stanford.
Today, the Cardinal and 28-year Coach Tara VanDerveer are synonymous with success, having captured two NCAA Championships and 12 Final Four appearances.
However, when Steding made her college decision, none of those accolades existed. She chose Stanford because of its academics and the mentality of then-second year coach VanDerveer.
As a freshman, Steding remembers the now-Hall of Fame coach telling her and classmate Jennifer Azzi they would be playing for a national championship by the time they graduated.
"I know Jennifer was like, 'Yeah, yeah. I got it!," Steding said. "I was like 'OK … sure, OK Coach.'"
Each year, the team steadily improved. After posting a .500 season her freshman year, Steding's sophomore campaign saw the Cardinal reach the NCAA Sweet 16 for the first time in program history. The next season, Stanford went 28-3, captured its first Pacific-10 Conference title and advanced to the Elite Eight.
Then, in Steding and Azzi's senior season, everything came together, as VanDerveer's squad dropped just one contest before meeting up with Auburn University in the 1990 National Championship game.
There, Stanford won 88-81 to claim the program's first national championship. Steding set Final Four records for 3-point field goal attempts (15) and makes (6) in the game and was named to the All-Tournament team along with Azzi, who earned Most Outstanding Player of the Tournament honors.
The 1989-90 team still holds program records for points, scoring average, field goals, scoring margin and assists. Steding still owns Stanford's record for steals in a single contest, notching 10 in December 1988 against Northwestern University, and tops all freshmen with an average of 8.7 rebounds per game.
Steding, VanDerveer's first Stanford recruit, said she takes pride in the work that she and her teammates did to establish the Cardinal as a perennial championship contender.
"Being part of that movement and that groundswell and being a part of that place, where our freshman year they barely pulled out the bleachers in the gym, and by the time we were seniors, we were selling the place out, was a time of tremendous growth," she said. "It was really truly amazing to be part of that rise. We get to say that we put our shoulders in and started that movement."
Steding graduated with a bachelor's degree in psychology and as a three-time All-Pac 10 Conference selection.
When Steding left Stanford, no singular U.S. league existed that consistently attracted the game's best players. As such, she played professionally in Japan and Spain before returning home to compete for a spot on the U.S. National Team as it readied for the 1996 Olympic Games. VanDerveer, who took a year off from her duties at Stanford to coach Team USA, selected both Steding and Azzi as part of a roster that included talents such as Teresa Edwards, Lisa Leslie and Sheryl Swoopes. Team USA put up an unblemished 60-0 record en route to Olympic Gold.
"To be around at that time was really exciting," she said. "I learned about watching that team come together with incredible diversity on the squad, not just demographically, but geographically and in life-experience and in college experience…so bringing that group together and watching it develop into something that was really dominant like we were was amazing. It was fun to watch, and it was fun to be a part of."
Following the Olympics, Steding became one of the founding members of the American Basketball League, playing for the Portland Power and head coach Lin Dunn. Although the ABL folded in December 1998, she called it "an amazing experience."
"We want to make it a player-friendly game because we're the best basketball product out there, and we wanted to make sure we were playing our game and not trying to make it about marketing, per se," Steding said. "That was part of our downfall as a league, but it was about keeping the game pure and not doing anything to try and spoil it and making ourselves accessible to the fans, which I think was something we were wildly successful at because that's all we ever had."
The WNBA's Sacramento Monarchs drafted Steding in 2000, and she played two seasons in the league before retiring.
Not wasting any time, Steding made the jump over to Warner Pacific in Portland to start her coaching career. Although she had initial reservations, she said those faded once she ran her first practice.
"The rational part of your brain is going, 'Don't do this. What are you doing? Look around,' but something in your heart just feels good," Steding said. She would remain at Warner Pacific for seven years, mainly because of her relationship with the community and her players.
Now, Steding has developed a coaching style that combines the methods of the "father figure" Lavender, the "caring, but business-like" VanDerveer and the "fiery, bubbly" Dunn. She said she leans more toward Dunn in the way she approaches the game and uses her playing experience to relate to her players.
"I like to keep practice light-hearted, but I like it to be very intense, and I like us to get work done, and I like us to get better, and I like us to show that intensity and competiveness," Steding said. "But at the same time, I think you can't take yourself too seriously. It's still basketball. It's still a game. It's a lot more enjoyable, and I think you're better and you're more productive when you remember that."
This season, she will attempt to guide a young Terrier squad to success. In addition to stressing to her players that their "biggest impact is going to come off the court," one of the things Steding hopes to instill in her team is a championship mentality.
"I think that the only barrier to accomplishment for them is their own mind," Steding said. "If you want something bad enough, you'll find a way to get it done. They've all said that they want to win championships here, and that's great with me because that's what I want to do, so that works out.
"I want to help them see that they can do so many great things if they just are willing to make the sacrifices for it… At the end of the day, they're more than willing to do what it takes, and they want to be pushed, and we're totally great with that."