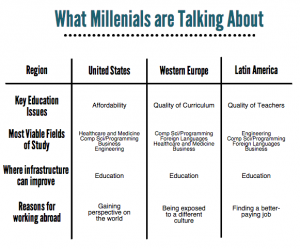 In the midst of concern about the rising cost of higher education in the United States, a majority of students said they are pleased with their education, but still concerned about its affordability, according to a survey released Monday.
The second annual Global Millennial Survey by the telecommunications company Telefonica revealed that 59 percent of United States millennials said they were satisfied with the educational system, yet two-thirds of responses said education cost needs to be more affordable, according to the survey.
Telefonica CEO Alfredo Timermans said millennials play a key part in digital exploration, innovation and entrepreneurship.
"We know that we need to understand the perceptions and desires of this generation if we are to meet their expectations," Timermans said in a Monday press release. "These insights help us to continue our efforts to make a positive impact on the real lives of people, communities and our society."
Aside from affordability, U.S. millennials value job stability over other milestones, such as getting married or owning a home, according to the survey. A majority of young adults said they were most likely to go into Science, Technology, Engineering and Mathematics fields.
Charles Glenn, a professor at Boston University's School of Education, said colleges in the United States focus more on finances than proper teaching.
"U.S. higher education has grown prohibitively expensive," Glenn said in an email. "One of the causes is that US universities take on far more functions than do those in Europe, which focus almost exclusively on instruction. Sometimes one has the impression that instruction is almost an after-thought in American colleges and universities."
Technology has an increasing influence on millennials as they pursue various careers, according to the study. Compared to 2013, more respondents carry mobile technologies with them such as smartphones and tablets.
Several BU students said although they view education as a necessity to future success, they are concerned that the costs might outweigh the benefits.
Erica Lee, a freshman in the College of Fine Arts, said a college education allows students to become more qualified for future jobs.
"In college, everything is for your future," she said. "Nowadays, you can't really get a job without higher education because everyone is competing against each other."
College of Arts and Sciences junior Adria Larasati said she questions whether or not high tuition costs are worth the education.
"The education system here is much better than the ones that are provided in other parts of the world," she said. "But at the same time, paying full tuition is a very big financial burden. The cost of education in the United States can definitely be improved by the government."
Christopher Coady, a freshman in the College of General Studies, said beyond the prospect of ensuring employment, he is satisfied with his education and his experiences in college.
"I would certainly say that college is about securing a job in the future," he said. "But it's also about the experience and learning to live on our own. I have faith that everything will work out with the education I am getting right now."