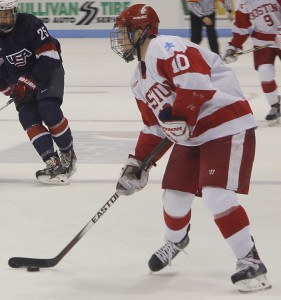 Facing perhaps its first real test in the early weeks of the 2014-15 season, the No. 13/14 Boston University men's hockey team dispatched the U.S. National Under-18 team by a score of 6-4 Saturday night at Agganis Arena.
While Saturday's tilt only counted as an exhibition match, BU head coach David Quinn said that his team was not taking its opponent lightly out on the ice.
"Sometimes people perceive these games to be exhibition games, or games that don't matter – but it certainly mattered to us," Quinn said. "I don't know if we're going to see a more skilled team than that one. I mean, they're loaded up front, they've got a good D corps, they're well-coached. I'm happy that we came out with a 6-4 win."
Just as they did in the third period against the University of Massachusetts-Amherst on Oct. 10, BU's first line led the way for the Terriers (1-0) on offense.
BU entered into the scoring column at 14:51 in the first, as freshman forward Jack Eichel and junior forwards Danny O'Regan and Ahti Oksanen combined for a tic-tac-toe display of passing that resulted in O'Regan burying the puck into the U.S. net to put BU up, 1-0.
"I think we take a lot of pride in moving the puck and making sure that our passes are crisp in practice, and I think it translates to games," Eichel said. "You see a play like that – Danny makes a great play on the boards, and then he's able to get the puck to me, Ahti finds the seam and Ahti is able to find Danny again backdoor. It was a really nice goal, two great plays by them."
The lead would not hold for long, as Team USA equalized the score less than three minutes later. BU freshman defenseman John MacLeod was called for interference at 16:35, creating a power-play opportunity for the U-18 squad.
The visitors would quickly capitalize, as Boston College recruit Jeremy Bracco pounced on a rebound in the crease to make it a 1-1 game at 17:14 in the first.
The game would remain tied at one for the remainder of the first period, but the Terriers came out strong to open up the second stanza, netting three goals over the first five minutes of play.
The Terriers scored their second goal of the game just 34 seconds into the second stanza, as senior forward Cason Hohmann battled for possession in the U.S. zone before dishing the puck to trailing senior forward Evan Rodrigues, who beat U.S. goaltender Luke Opilka for the score.
BU's first line once again made its presence felt later in the period, as Eichel scored twice in just over a minute to give the Terriers a comfortable 4-1 lead. The North Chelmsford native's second tally was particularly impressive, as Eichel received a pass from junior defenseman Matt Grzelcyk and skated alone into the U.S. zone before firing a wrister from the right circle that beat Opilka glove side.
"We drew up a new power-play breakout this week, and I think Grizz just made a great pass in our zone, and I just tried to move my feet skating with it," Eichel said. "I saw [Opilka] cheating a little bit off his post, so I tried to just zip one quick to the net, and I think it got a fortunate bounce, and I was able to beat him."
The U-18 team would not submit however, and after BU sophomore forward Nick Roberto was called for boarding at 6:09 in the second, the BU penalty kill once again yielded a goal. Forward Auston Matthews fired a one-timer from the right circle that beat BU netminder Connor LaCouvee just 12 seconds into Team USA's man advantage to cut the deficit to two. Matthews was not finished, as he tipped a loose puck into the BU net at 12:37 in the second to make it a 4-3 game.
It would remain a one-goal match until a little over halfway into the third, when BU's first line once again accounted for an impressive score. O'Regan sent the puck from the left circle toward the net, which Oksanen promptly put into the net to give the Terriers some breathing room at 11:21 in the final frame.
Team USA made it interesting in the closing minutes after University of Notre Dame recruit Christian Fischer scored on a breakaway attempt at 16:16 to make it a 5-4 game, but freshman forward J.J. Piccinich's empty-net goal at 19:08 sealed the win for the Terriers.
Starting for the second game in a row, LaCouvee once again put forward a solid performance between the pipes, registering 20 saves on the night while only surrendering four goals to an imposing U.S. offense.
While BU might have come away with a victory against a skilled opponent, Quinn acknowledged that the team still has much to improve on, as the Terriers' 2014-15 campaign will begin in earnest next weekend when the team hosts both Michigan State University and the University of Michigan for a weekend set on home ice.
"I thought tonight our D held onto the puck way too much in the neutral zone. I didn't like our D zone," Quinn said. "I thought guys were kind of puck watching and chasing the puck around too often. I didn't like our lack of physicality in the first two periods. I thought we were much more physical in the third. So to have the ability to not play great for the first two, and then play a really good third – that's a great sign because a lot of teams can't do that.
"I thought that for us, if we're going to have success, you're going to have to win games you don't play great in. I didn't think we played great for two periods, but I really liked our third."