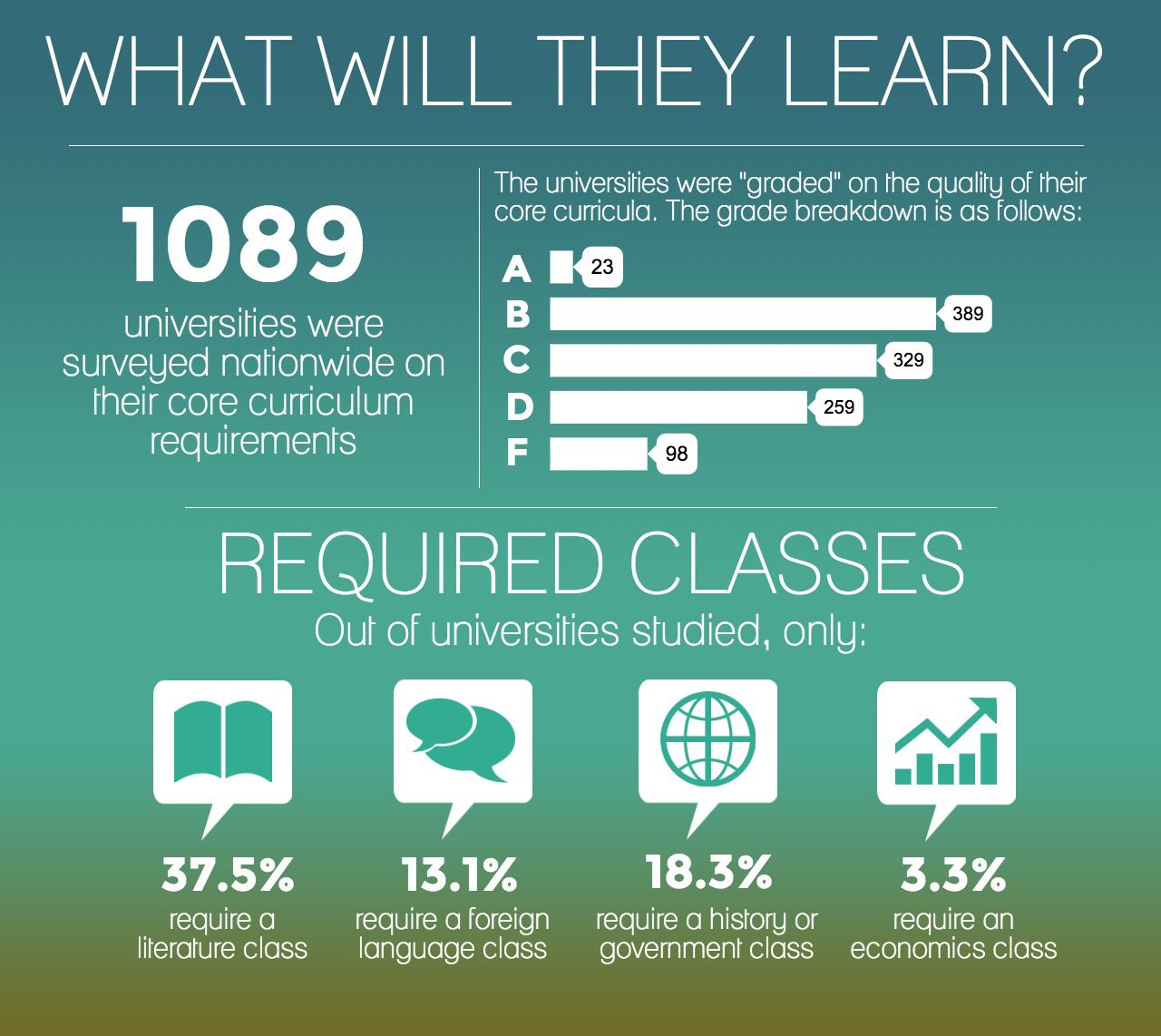 Because U.S. universities have differing core requirements across their programs, hundreds of students across the country may be missing out on an adequate liberal arts education, according to a Wednesday study conducted by the American Council of Trustees and Alumni.
The study titled "What Will They Learn?" examined the educational quality of 1,098 colleges by evaluating the courses and giving each college a letter grade based on how many core liberal arts subjects are required as part of an undergraduate degree.
"It [the study] continues to help address the crucial question of what a university arts and sciences program requires its students to learn, as this is a matter of fundamental academic quality," said study author and ACTA Vice President of Policy Michael Poliakoff. "It is a warning to the nation, when so many students leave the four-year college education with minimal college education with a lack of these subjects, it harms the wellbeing of American society."
The seven core curriculum subjects examined in the study were economics, foreign language, U.S. history and government, literature, math, composition and science. Only 23 colleges in the study, or roughly 2 percent, received an "A" grade for requiring at least six of seven core subjects, the study stated.
Boston University received a "C" grade for only requiring three out of the seven core subjects. At BU, students must take a basic composition course, such as a writing seminar, some variation of a science course and at least two to four semesters of a foreign language as part of their freshman and sophomore course requirements.
Only 17 percent of private institutions require foreign language, 10 percent require American history and 4 percent require economics, the study stated.
Poliakoff said reform in the number of core subjects required needs to begin with the most powerful administration.
"[Colleges'] Board of Trustees needs to have a conversation with administration and faculty and ensure that this is a priority," he said. "Academic excellence should be on the top of the list of important factors. The board can, without micromanaging, set a policy to generate a more cohesive core academic."
While the study ranks economics as the least-required core subject nationwide, BU economics professor Marianne Baxter said there are beneficial lessons one can only learn from taking an economics course.
"One idea in economics that everyone should understand [is the] idea of opportunity cost—that whenever you make a choice to do something, you give up something else," she said. "We don't necessarily think about what we are giving up."
Baxter said BU should work on a more individualized approach when it comes to scheduling and requiring courses.
"I think the problem could be solved by having [a] better connection between student and advisor to figure out a coherent way to put together a program of study," she said.
Hardin Coleman, dean and professor at the School of Education, said what a student learns and how they apply that knowledge is more important than the actual courses they take.
"An alternate approach, and one with which I concur, is to focus on what a student should be able to do as a result of their education," he said in an email. "Are they a good problem solver, can they work with people, are they good communicator, do they have strong analytic skills. I suggest that we focus on outcomes … of an education rather than the inputs."
Several students said the subjects mentioned in the study are important to learn about, but they should not necessarily be required.
Sargent College of Health and Rehabilitation Sciences sophomore Diana Wojdylak said that based on a student's background, they might not need a course in every general subject area.
"I feel like a lot of students can get a basic coverage of subjects depending on what high school they came from," she said. "Certain students coming into college will already be exposed to like literature, sciences and all that through maybe AP courses that they took. And so I think [taking all core courses] should be an option."
Claire Lenz, a freshman in the School of Hospitality Administration, said a diverse liberal arts education is useful, but it not realistic to expect all students to devote all of their studies to these core subjects.
"There's definitely a benefit to having a well-rounded, liberal arts education, especially when we're all starting out and need to figure out our interests and what we want to do in life," she said. "But if we're only here for four years, we don't really have that much time to dive super in-depth to our major if we have to spend a lot of time early on fulfilling unrelated requirements."