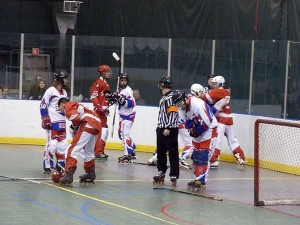 The information in the following Boston University club sport highlights was taken from the BU Club Sports Event Calendar from Oct. 13 to Oct. 20.
Friday, Oct. 17
BU club ice hockey dealt 12-7 loss by Florida Gulf Coast
The BU club ice hockey team made the trek to Fort Myers, Florida to take on Florida Gulf Coast University — a squad that was the 2013 national runner-up and 2012 national champion. The Terriers were led on offense by freshman forward Nick Lupo and junior forwards Taylor Parkinson and Scott Woods — each of whom registered two goals in the match. Despite their impressive showing on offense, the Terriers could not stop Florida Gulf Coast's high-powered attack, ultimately falling by a score of 12-7.
Saturday, Oct. 18
BU club golf participates in NCCGA Regional Tournament
The BU club golf team took part in the second National Collegiate Club Golf Association Regional Tournament at The Oaks Golf Links in Somersworth, New Hampshire. The Terriers compiled a two-day total score of 915 — nine strokes behind the Massachusetts Institute of Technology's Sloan School of Management. Will Livingston led the way for BU with a total score of 164 (79-85).
BU club inline hockey defeats Brockport, 3-0
After wrapping up its preseason last weekend in Feasterville, Pennsylvania, the BU club inline hockey team traveled to Warwick, Rhode Island for a four-game set, starting with a Saturday morning matchup against the State University of New York at Brockport. The Terriers jumped to a 1-0 lead late in the first period after a goal from junior Nick Breed. BU also received a big boost from senior Ben Phillips, who tallied two goals of his own to give the Terriers a 3-0 lead that they would not relinquish. The Terriers also faced off against Binghamton University, State University of New York at Cortland and the University of Massachusetts-Amherst during the weekend series. 
BU men's club rugby reaches 10-10 draw with Norwich
The BU men's club rugby team hosted Norwich University for a Saturday night match at Nickerson Field. The Terriers got on the board early with a try from freshman Matt Stringer 15 minutes into the game. Norwich would quickly answer back with a try of their own, tying the score at 5-5. The Terriers once again regained the lead when freshman Ryan Incognoli recorded a try with 14 minutes remaining in the half, but Norwich gained a try to tie the score again. While both teams had chances, neither squad could score in the second half of play, ultimately resulting in a 10-10 tie.
BU club cricket falls to Northeastern, 203-159 
The BU club cricket team hosted Northeastern University at New Balance Field Saturday night. Northeastern's batters got off to a quick start, accumulating 91 runs in the first six overs. BU's bowlers would rebound, with the Huskies finishing with a score of 203 for the loss of seven wickets in 20 overs. BU's batters put together a strong performance out of the gates, generating a score of 124 runs in 12 overs, but it could not keep up the momentum, posting a final score of 159 runs in 18 overs.