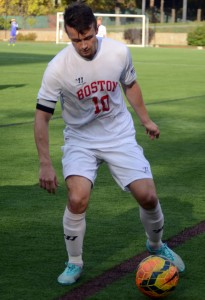 With an opportunity to push its unbeaten streak to 10 games, the No. 22 Boston University men's soccer team will travel down Commonwealth Avenue to face rival Boston College Tuesday night.
The Terriers (10-2-1, 5-0 Patriot League) have not been defeated in over a month with their last loss occurring on Sept. 13 to Brown University.
"There's no real key to the streak," said BU coach Neil Roberts. "The guys are preparing well and making changes, just doing what they need to do each game."
During the streak, BU has outscored its opponents by a 19-6 margin, which has pushed the Terriers to the top of the Patriot League in goals against average.
For their performances in the Terriers' last two games, freshman midfielder David Amirani and senior midfielder Jordan Barker each picked up awards this week.
Barker received the Corvias Offensive Player of the Week award after recording a goal and two assists against Lafayette College Saturday. Amirani was awarded with Corvias Rookie of the Week honors due to the fact that he tallied goals in each of BU's two wins over the past week.
"You always need to get some scoring from your midfield, and that usually happens when you have a good attack," Roberts said. "[Senior forward Dominique Badji] has been getting two to three guys a game on him, and that opens up space on the field. Now that Jordan and David have been taking advantage of it, it's a good sign for us. The only thing we have to do is get some consistent play out of our flanks, and then we'll really be a well rounded team and hard to stop."
In Chestnut Hill, the Eagles (4-5-3) have had trouble finding their footing this season in the challenging Atlantic Division of the Atlantic Coast Conference.
Even though the team has not performed up to their standards, Roberts said neither side will have a problem with a lack of energy.
"It's BC, you know what I mean?," Roberts said. "You're playing an ACC team on the road, and the last six or seven games between us have been great games. It's always a good game and a good rivalry, so I think the concentration will be there."
In the last six years, excluding 2010, a year where BC beat the Terriers 4-0, all of the games between the two teams have been one-goal games. The last time the Terriers and the Eagles met, which was Aug. 30, 2013 at Nickerson Field, the game went to overtime, and BC edged out a 2-1 victory on a goal in the 100th minute.
Though the Eagles sit at the bottom of their division standings, the team has had a few bright spots on the year.
Sophomore Isaac Normesinu has emerged as the team's leading scoring threat and currently ranks in the top five in the ACC in goals with five on the season.
While the goalkeeping has been rough on the year for junior Alex Kapp, he has still delivered five shutouts, good for third in the league.
"They're very talented, and the problems they're going to give us is that they have a lot of pace, a lot of good 1-on-1 players, which we have not seen much of," Roberts said. "These guys are a little freelance. That's the matchup we're really going to have to do well with."
The Terriers will be getting back a key cog to their defensive unit when senior defender Kelvin Madzongwe returns from his mandatory one-game suspension due to a red card he received against Dartmouth College on Oct 14.
Roberts noted that BU will be without sophomore midfielder David Asbjornsson and junior defender Jeroen Blugh.
Their absence did not hamper the team's success in the previous game, though, and Roberts said the team's mindset will remain focused on each person's specific job.
"There's no secret to it. Everyone is just playing their role and doing what they need to do individually," he said. "It's just a collective fight from everybody."