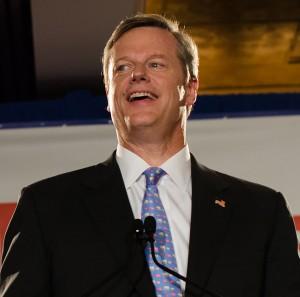 This is the fourth part in a five-part series of interviews with the Massachusetts gubernatorial candidates.
Growing up in a home where his Democratic mother and Republican father debated politics and public policy at the dinner table, Charlie Baker, the Republican candidate for the Massachusetts gubernatorial election, knew from a young age that he had an interest in the public sector. The 57-year-old former healthcare CEO has worked in state government for several decades, serving as Secretary of Health and Human Services and Secretary of Administration and Finance under Massachusetts former governors Bill Weld and Paul Cellucci.
After losing to Massachusetts Gov. Deval Patrick in the 2010 gubernatorial race, Baker is back, hoping to strengthen the job market, the education system and the variety of communities seen across the Commonwealth, while also bringing "balance" to Beacon Hill. With three kids ages 23, 20 and 17, Baker told The Daily Free Press he and his wife are tuned into the issues facing young people today, a perspective he hopes will lead him through the remainder of the race and to the gubernatorial office.
Felicia Gans: What inspired you to run for office?
Charlie Baker: Part of it was an opportunity to put into practice all that conversation I heard around my parents' dinner table growing up…I actually think the constructive friction I saw with my folks, when they would debate the issues of the day and sort of force each other to raise the quality of their game when they would talk about this stuff, I saw play out in real terms when I worked in state government in the '90s. I've always said to young people and I will say it to your readers, if you have an opportunity to do something in the public sector, even if it's volunteer at your local level, you should do it.
The reason I decided to run for governor is I'm deeply concerned about where we're headed economically. We haven't created much new employment at all over the course of the past 14 years, which is enormously troubling to me. While our employment rate isn't that bad, part of that is because our population has stayed pretty flat, even gone down a little, and there are just fewer people looking for work than there used to be. I'm a big believer in education and a big believer of education as a big equalizer. One of my major objectives as governor would be to continue to close the achievement gap between underperforming school districts and the rest of our school districts. If we truly want to be a great state, we've got to figure out a way to make sure everybody can participate economically, and a big foundation for that is getting a great education. The third thing I talk a lot about is the fact that we have a lot of great communities and a lot of big areas in Massachusetts that are doing quite well. We also have a lot of communities that are sort of struggling to keep up, and we put up a whole series of plans and initiatives on how to kick start some of these communities and to give them an opportunity to be safe, thriving, successful places going forward.
FG: You ran against Deval Patrick in 2010 and lost the election. Why did you decide to run a second time and what are you doing differently this time around?
CB: Some of the issues that I was concerned about in 2010, I think are still with us…I also think that balance on Beacon Hill matters. When I worked there in the 1990s, you had balance, Republicans and Democrats engaging in a debate that I think was a positive and constructive one to the people in Massachusetts. I'm not a big believer that one party government is ever a good idea. I think it lacks accountability, it lacks transparency and there's a certain lethargy that comes with that that we need to overcome and get a lot more urgent and get a lot more focused. Having both teams on the field and creating that kind of competition and ideas is a good thing, and I think it helps with that. There's nothing wrong with having checks and balances between the governor's office and the legislature. If you're talking to 2 million people, which is what an election is all about, you should talk about a limited number of things, so I really spent most of this race talking about jobs, schools, communities and balance. And that's probably where I'm going to focus most of my conversation over the next seven, or six weeks.
FG: What are your biggest goals for higher education and how quickly after taking office would you look to put those goals into action?
CB: I have one out of college, one in college and one going, so the cost of higher education is a constant source of discussion for our friends and our neighbors and almost everybody we know for the better part of the past six or seven years, so we put a series of initiatives out there that are designed to help deal with the high cost of a college education. The other thing I would say, we have some terrific career and technical schools and I don't think we've necessarily leveraged them the way that we should.
FG: How will you ensure college students will be able to find affordable housing and a job in the Commonwealth in college?
CB: The number one issue is the ability to find affordable places to live. We have put out a policy for that, which is designed to create more market rate affordable housing for young families and singles who are coming here and going to school and would like to stay here after they graduate.
FG: What are your plans for gun laws in the state?
CB: I was a supporter of the legislation that was passed that was enacted and signed by the governor a few weeks ago. I think goal number one should be make sure that thing gets implemented and implemented effectively.
FG: The MA Health Connector site had a disastrous launch last year. Were the issues handled the right way? What would you have done if you were in Patrick's shoes?
CB: A look back on something like that is always easy. Hindsight is always 20/20 on stuff like this, but I have said for a long time that I think Massachusetts should have pursued a waiver, or at least a delay in implementing the federal reform. And I think not doing that, given how much information the Connector had…they should have read their own reports…so that we wouldn't have the kind of chaos and the kind of disruption and the just huge overspending that we're all dealing with now. I don't think the administration has been as transparent as it should be about where it stands and what the projected spending on this thing is going to look like.
FG: What makes you the best candidate for college students?
CB: I have a son who just got out of college, and I have another one who's going to get out in a couple years and a daughter who's going to be going, so I'm familiar with the issues college students face. I think the biggest issue college students face, there are two of them. One is the cost of college and the other is getting a job when they graduate, and we've put out very specific proposals on both of those issues. We're very anxious to see us do a better job in the Commonwealth, creating the kind of jobs and the kind of economic climate and environment in which our young people decide that this is where they want to stay and put a stake in the ground and make their life.