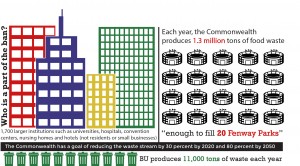 A first-in-the-nation, statewide food waste ban has been implemented in Massachusetts in an effort to reduce the Commonwealth's waste accumulation by using composting and energy-generating technology.
Each year, the Commonwealth produces 1.3 million tons of food waste, "enough to fill up 20 Fenway Parks," said Ed Coletta, spokesman for the Massachusetts Department of Environmental Protection. "This is probably the only regulation we've implemented that hasn't had any negative feedback."
The ban, which was implemented on Oct. 1, will regulate the waste disposal of approximately 1,700 larger institutions such as universities, hospitals, convention centers, nursing homes and hotels, but does not apply to residents or small businesses.
"The food waste ban provides a win-win-win-win-win-win for residents and businesses in the Commonwealth," said MassDEP Commissioner David Cash in the release announcing the beginning of the program. "It will reduce waste, save money on disposal costs, create renewable energy, cut emissions from fossil fuel use, produce a rich fertilizer for farm use and grow jobs and stimulate the economy."
MassDEP is regulating the ban, and the department is working to accomplish the Commonwealth's goal of reducing the waste stream by 30 percent by 2020 and 80 percent by 2050, the release stated. Waste stream refers to the process of waste generation, treatment and disposal.
The regulation applies to any entity that disposes of at least one ton of organic material per week to donate or repurpose the usable food. Any remaining food waste is be sent to anaerobic digestion facilities, where it will be converted to clean energy or sent to composting and animal-feed operations, according to the press release.
MassDEP has been working on this project for more than four years and has been addressing the issues related to landfilling and burning recyclable and toxic goods since 1990, Coletta said.
These efforts have placed bans on waste items detrimental to the environment, such as whole tires, asphalt pavement, leaves and yard waste and lead acid batteries, according to the release.
The City of Boston is participating in the statewide effort toward decreasing the impact of food waste on the environment, said Leah Bamberger, a sustainability strategist at Greenovate Boston.
Waste that is incinerated contributes to air pollution, which is why the City has implemented Project Oscar, a pilot program running from September through the end of November that placed compost drop-off bins in various neighborhoods including the North End and East Boston.
Dennis Carlberg, director of [email protected], said the ban is a critical step toward reducing waste and increasing sustainability in Massachusetts.
"It's got to start somewhere. This is a long time coming," he said. "The ban is an important step to improve sustainability within the state. It [composting] is not hard. You just separate your food from your other waste and put it in a composter."
BU produces 11,000 tons of waste every year, and for the past three years has composted food scraps from dining halls throughout campus, according to the [email protected] website.
Several residents said the food waste ban is necessary, and they hope to see similar programs enforced in more areas in Boston.
Wendy Haig-Ramage, 64, of Back Bay, said the ban could significantly help the Commonwealth's environment.
"It's necessary in the world," she said. "It's the next big business."
Anna Siembor, 23, of Jamaica Plain, said she is pleased with the ban, but Massachusetts, and specifically Boston, should do more composting and making better use of waste.
"It's definitely a positive, but it's not enough," she said. "I recently started using Bootstrap Compost to compost my own food, and it's still kind of absurd that most Bostonians have to pay money for a service that is free in a lot of other places. It's wonderful that food waste is being used in a way that can help the rest of the community."
Bootstrap Compost is a year-round residential and commercial food-scrap pickup service focused on averting all food waste from landfills. The program is $10 for biweekly pickup and services the Greater Boston area.
Dave Berry, 34, of South Boston, said he sees several reasons why the ban is necessary based on personal experience working in the food industry.
"I used to work in restaurants, and we had a lot of waste coming out of restaurants, but you could use that for biofuels and that sort of thing," he said. "So there's definitely opportunity everywhere for it, and we're not doing that much of it at all."