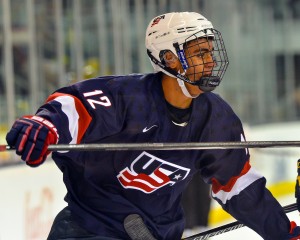 Skating out to his team's blue line as a part of pregame introductions, U.S. National Under-18 forward Jordan Greenway is subject to the same wave of jeers and quips levied against most visiting players at Agganis Arena.
"From Potsdam, New York, No. 12, Jordan Greenway," the Agganis Arena PA system booms as the 17-year-old joins his fellow line mates near center ice.
"SUCKS!" the Agganis Arena faithful interject.
At this point, Greenway is used to the rowdy treatment displayed by fans in opposing arenas. The hulking 6-foot-5-inch forward has witnessed the same customary treatment in rinks in Canada, Slovakia, Sweden and across the United States during his 14-year hockey career.
Fair to say, his next visit to Agganis Arena should draw a considerably more positive reception.
Greenway, considered to be one of the most hyped hockey prospects in his class, is set to join the Boston University men's hockey team next season after two years with Team USA.
While he may have been on the receiving end of a few light-hearted jabs from the BU fans, it was a good introduction for Greenway to his future rink, Greenway said.
"It was a great atmosphere, obviously," he said. "Knowing that I'm coming here next year obviously makes it that much better, but like I said, it was a good atmosphere to play in."
Ultimately, the Terriers bested Team USA by a score of 6-4 Saturday night, but for Greenway, getting the opportunity to lace up his skates at Agganis felt like "home."
While "home" for Greenway is actually over 300 miles away from Boston, playing hockey back on the East Coast is close enough for the talented forward — as his journey toward hockey stardom has brought him across the globe.
Hockey was instilled into Greenway from a young age while growing up in Potsdam — a small town of over 17,000 residents that lies a little over 30 miles from the Canadian border.
"I probably started skating when I was about 3 years old, and I think I kind of just fell in love with it then," Greenway said. "A generation of my family played hockey, so I was just kind of the next in line and just fell in love with it from the start."
The young skater, who modeled his game after Anaheim Ducks captain and fellow power forward Ryan Getzlaf, quickly excelled in Mite, Squirt and Peewee-level hockey across his home state due to his speed and aggressiveness in taking the puck right to opposing teams' nets.
While Greenway recognized that many people have had an effect on his early hockey career, he added that none created a larger impact than his younger brother, James.
"My brother was a pretty big influence on my game," Greenway said. "He's a year younger than I am, and I think just setting the tone for him and just making a good picture for him is kind of what I go by, so I think pretty much just kind of being able to have him follow in my footsteps really helped."
While growing up in a hockey-centric community proved vital in molding Greenway into the player he is today, he knew that the path to future success did not lie in the rinks of northern New York.
At just 13 years old, Greenway headed west, enrolling at Shattuck-St. Mary's School — a boarding school in Faribault, Minnesota. Jumping on a plane and traveling over 1,000 miles away from home might seem extreme to some, but it was all part of the plan for Greenway. After all, few could criticize the program he was entering.
The SSM Sabres have gained recognition as one of the premier hockey programs in the world, as the boy's prep team has captured nine national championships, including three of the last four years. Tailored to help grow young hockey talent, SSM's seasons are usually comprised of 50 to 75 games, with players practicing five to seven days a week.
The pedigree of the SSM program has attracted many up-and-coming players, with National Hockey League stars such as Sidney Crosby, Jonathan Toews, Zach Parise and Nathan MacKinnon all skating for the Sabres during the early stages of their respective careers.
While leaving home and enrolling in a boarding school would seem like a huge transition for most, Greenway said leaving his family and hometown in the rearview mirror was a decision he had to make in order to improve his game.
"I just kind of knew that's what I had to do," he said. "It wasn't too hard. We had a lot of opportunities to see our families and stuff like that, so it wasn't as hard as many people think."
Greenway became an impact player from the moment he stepped on the ice at SSM, registering a total of 246 points in 167 career games with the Sabres. The forward's combination of size, skill and production attracted droves of NCAA and Canadian Hockey League scouts to Minnesota to get a glimpse at one of youth hockey's most prized prospects.
It became apparent that multiple teams would be clamoring for Greenway's services, as he was chosen with the 16th overall pick in the 2013 Ontario Hockey League Draft by the Plymouth Whalers. Despite the selection, Greenway opted to not sign with Plymouth, instead joining the USA Hockey National Team Development Program, which recruits the most skilled U.S. hockey players under the age of 18 to Ann Arbor, Michigan to hone their training.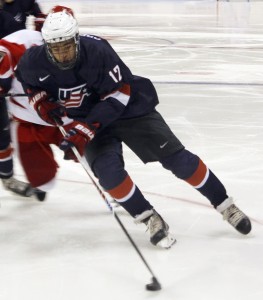 Playing for both the Under-17 and Under-18 teams over the past two seasons, Greenway has continued to make strides, compiling 49 points in 62 games, while adding almost 20 pounds of muscle in the weight room.
For Greenway, getting the chance to face off against opponents from international leagues, NCAA Division I hockey and the United States Hockey League are just a few of the reasons why the USNTDP has played a huge role in helping him improve as a player, he said.
"Obviously, we play against older competition," Greenway said. "That really helps out a lot, but I think the bigger part of it is practicing and working out every day. They have a great facility in Ann Arbor, and it helps out a lot. Obviously, we have a great coaching staff as well, so it helps out a lot too."
Midway through his first season with Team USA, Greenway finally charted the next course in his career — announcing his commitment to Boston University in December 2013, which gave the Terriers one of the nation's top uncommitted prospects at the time.
While many factors played into his decision to don the scarlet and white jersey for the upcoming 2015-16 season, Greenway said his desire to finally return back to the East Coast was a big component.
"Obviously, [BU] has a great coaching staff, and the facilities here are great, but I think I wanted to stay more closer to home on the East Coast rather than stay out west, because I've been there since the eighth grade," he said.
Outstanding individual play has seemed to follow Greenway at every step of his hockey career, with the possibility of a first-round selection in the upcoming 2015 NHL Draft certainly becoming more of a possibility. However, Greenway's biggest sense of pride might not resonate from what his future holds, but rather the legacy that he has left behind.
James Greenway, an imposing 6-foot-4-inch defenseman, has followed along the same path established by Jordan, skating for Shattuck-St. Mary's before joining the USNTDP Under-17 team for the 2014-15 season, reuniting him in Ann Arbor with his older brother.
"It's great. Like I said, he's a big influence on me, but him being with me is a great time," Greenway said. "We're best friends, so just having him follow me from Shattuck to here has been great…to watch him grow as a player and a person as well."
Greenway will not be alone when he makes the move from Ann Arbor to Commonwealth Avenue, as he will be joined by defenseman and fellow USNTDP product Charlie McAvoy.
Greenway has skated alongside the Long Island, New York native for the past two seasons with Team USA and acknowledged that playing for the foreseeable future with the skilled blueliner will make the transition to college hockey even easier.
"It's fun being able to play with him here and just knowing that I'll be able to play with him for the next four years," Greenway said. "He's a great kid on the ice and off the ice, so it makes it a lot better."
Standing outside the visitor locker room in Agganis Arena, Greenway was frank in expressing his future aims with Team USA. A gold medal at the International Ice Hockey Federation World Men's Under-18 Championship is the primary objective, but the promising power forward is not just focused on the present — the next step in his journey has already been earmarked with an obvious goal.
"Coming here to Boston, I think everyone wants to win a national championship," he said. "So I think that's my goal as well."