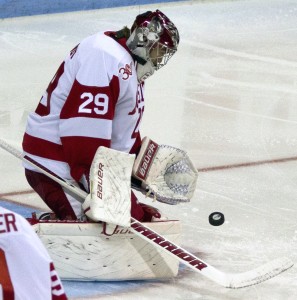 The last time the No. 11/12 Boston University men's hockey team played against the No. 14 University of Michigan and Michigan State University, things did not go so well.
BU traveled to Michigan to face the Wolverines on Oct. 25, 2013 and the Spartans the next day. The Terriers lost both of those games, falling 2-1 to then-No. 4 Michigan and 3-1 to Michigan State.
This year, in their home confines at Agganis Arena and with an energetic offense, it should be a different story for the Terriers (1-0, 1-0 Hockey East) when they host Michigan State (1-1) on Friday and Michigan (1-2) on Saturday.
In its only regular-season match so far in 2014 at the University of Massachusetts-Amherst on Oct. 10, BU scored eight times, and in two exhibition matchups, the team has tallied a combined 18 goals.
In total, six different players lit the lamp against UMass (1-2, 0-1 Hockey East). Freshman forward Jack Eichel notched two goals and two assists, and his linemate, junior Danny O'Regan, accounted for two goals and an assist in that game. Second-liner and senior assistant captain Evan Rodrigues recorded three assists.
Those players will need to bring a strong effort against two formidable foes this weekend.
Michigan State has played two games to begin the 2014 season, splitting their home series against UMass — winning 5-3 on Friday but losing 4-3 on Saturday.
Senior Matt Berry's four goals and two assists have led the Spartans so far this season. Junior Michael Ferrantino has chipped in one goal and three assists through two games.
"They [Michigan State] will really get after us. They're really aggressive on the forecheck," said BU coach David Quinn. "They're physical. They've got some really dangerous forwards that we're gonna have to be aware of, know where they are on the ice at all times."
Michigan had a slow start to the season, dropping its season-opener to then-No. 10 Ferris State University on Oct. 4 and then splitting a home series against the University of New Hampshire on Oct. 17 and 18.
The Wolverines' roster, similar to the Terriers', is heavily dominated by underclassmen. Seventeen members of Michigan's 27-man roster are freshmen and sophomores. Just two of the team's defensemen are upperclassmen.
Two of these underclassmen, forward Alex Kile and defenseman Zach Werenski lead the team with two points apiece through two games played each. Forward JT Compher was Michigan's leading scorer last season, with 11 goals and 20 assists. He has one assist so far this season.
"Michigan's a team that usually always has a lot of fire power, playing up-tempo games," Quinn said. "And they're gonna be a challenge for our defensemen, their forwards. They're a little bit young on defense, but they've got a lot of good forwards."
On BU's end, junior goaltender Matt O'Connor should see his first game action since Oct. 4, during one of the games this weekend, Quinn said. O'Connor suffered a lower body injury during a practice on Oct. 9, leaving freshman goaltender Connor LaCouvee to start in his place against UMass and the U.S. National Under-18 Team Saturday.
LaCouvee has stepped up, recording 31 saves and allowing one goal against UMass, and stopping 20 shots against Team USA.
"Obviously, LaCouvee's proven he can play at this level and do a good job. Matt obviously has a great track record," Quinn said. "It's just nice to know we've got two good goalies, two guys that can win a hockey game at this level."
BU's offense has certainly made the team's goaltenders' jobs much simpler. Quinn praised the play of all four of his lines, noting that all four have the ability to create opportunities on offense. But he said all the players should understand the talent across the team and not go overboard on an individual level.
"For our guys, just understanding they don't need to do too much as an individual," Quinn said. "Just do your job. If guys understand that we've got good players all throughout our lineup, then you don't have to do too much. If we have that mindset from top to bottom, we're going to be fine."