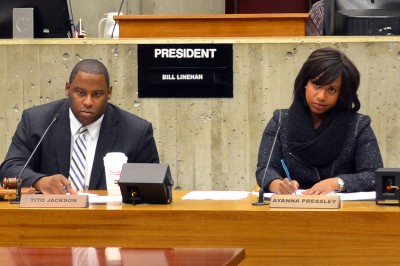 Boston's City Council convened at City Hall Friday morning to deal with plans to increase diversity among faculty and staff in the City's post-secondary educational institutions including Boston University.
BU was the first of 38 higher education institutions from whom City Councilor Tito Jackson had anticipated to hear a plan for increasing diversity. BU was invited to attend and the time of the hearing was changed to accommodate the university, but Jackson said he received a letter Thursday declaring BU would not be in attendance at the meeting.
"Each school should have a plan around diversity and how they're going to diversify everybody from the board room to those who are pushing the brooms," Jackson said. "Boston University is the alma mater of Martin Luther King Jr. It should lead in these issues and respect these issues and have a plan for these issues, and by not showing up that to me does not lend to leadership."
Jackson explained plans to subpoena the leadership of the university for its lack of attendance, which he said he considers "absolutely unacceptable."
The hearing was led by Jackson, chair of City Council's Committee on Education, and was attended by Councilors Ayanna Pressley and Josh Zakim, both of whom are on the committee. Jackson said this hearing, in addition to future hearings, would focus on addressing diversity in secondary education institutions.
"BU has some of the lowest numbers relative to Hispanic and black professors," he said. "You [BU] need to come to the table, let us know what you're doing or not doing for us to work together or pool together a plan that will help diversify the school in terms of student body, leadership because we will be asking what the cabinet of the president looks like as well as the board of trustees, and also the standards for workers that are there."
BU was first on Jackson's list not only because it is the largest institution in the greater Boston area, but because of its previous issues with a lack of diversity among the faculty and staff, Jackson said.
Jackson said he wants to see every secondary education institution in the greater Boston area develop a plan to diversify.
"Each school should have a plan around diversity. They have to diversify everybody from the board room to those who are pushing a broom."
Charles Stith , director of BU's African Presidential Archives and Research Center , said at the hearing that it is important for higher education institutions in the United States to diversify.
"In 2011, Boston was ranked the most innovative city in the world," Stith said. "Boston is at the epicenter of the new economy. This is an innovation economy and it is the economy of the future."
Boston must set an example for diversity that the rest of the country can follow, and diversity is as important today as it was in the 1950s and 60s, Stith said.
The committee discussed wealth disparity and the significance of its impact on residents' health and wellbeing.
There is a difference of 33 years between the life expectancy for those born in the richest part of Back Bay compared to those born in the poorest part of Roxbury, Jackson said, despite the fact that the neighborhoods are only separated by a few miles.
Jason Farina , a member of the Service Employees International U nion and a BU employee, said workers at BU are trying to negotiate a better contract with the university. Many BU employees cannot afford to live in Boston, Farina said. He commutes to BU every day from Kingston, New Hampshire to avoid the high cost of living.
"Many of our members have had great jobs and have been able to work on a middle class existence," he said. "Many of our members lived in Boston or Cambridge when they started. That has changed."