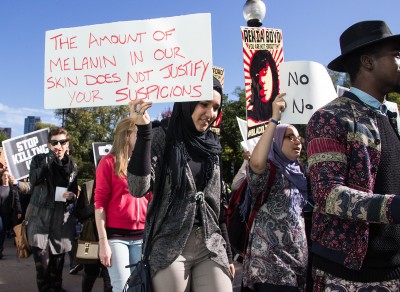 Black Lives Matter: Boston, a social justice organization, led a group of 600 to 700 peaceful protestors down Newbury Street and Massachusetts Avenue on Saturday with the goal of bringing the issues of racial profiling and police brutality to light, while disrupting 'business as usual.'
The protest, called Newbury Street Shutdown, targeted the actions of police brutality and was in response to the events in Ferguson, Missouri, where officer Darren Wilson, of the Ferguson police force, shot and killed Michael Brown, Aug. 9. Much of the incident is still in question. Since the shooting, Wilson has yet to be indicted and protests have erupted in St. Louis, Missouri, in addition to other large cities.
Police secured the perimeters of the protest and occupied the streets as the participants marched on the sidewalks. Daunasia Yancey, 22, of Jamaica Plain, one of the protest's chief leaders, said she and the others from Black Lives Matter: Boston, did not speak to the police about the protest.
"I'm assuming they found out about it through Facebook like everybody else," she said. "This is not a permitted march. This is indeed a protest."
Yancy pulled the group together, raised money to promote the protest and created awareness through community outreach in various areas of Boston and social media buzz.
"We wanted to respond to the call for the National Week of Action, the goal being awareness and disruption and so that was our goal today," Yancey said. "I think we accomplished that. Going forward, we are really interested in doing healing work."
She, in conjunction with Black Lives Matter, dedicated many long nights to Internet research about incidents of police brutality, such as arrests and assaults of protestors.
"I spent lots of nights up on Twitter until 3 a.m. watching police tear gas and arrest and assault peaceful protestors, and I was sitting here wondering what I could do," Yancey said. "I am floored. I am so excited and invigorated that so many people came out. I think that the main stream media has ignored this issue entirely since it began and so that was our goal continuing to bring awareness."
Considered a predominantly wealthy area of Boston, Newbury Street was a prime location for the protest targeting those who benefit from white privilege, said Shannon Leary , 23, of Jamaica Plain.
"I think there's something really powerful about showing people, 'Sorry that your shopping is a little inconvenienced, but let's talk about racial inequality.'" Leary said. "And that really struck me as what an incredible privilege it is that I'm not loaded, I'm not a threat. But a person of color carries this implicit threat that comes with this institutionalized racism."
Abraham Lateiner , 32, of Cambridge, said it was his duty to show solidarity as a white, straight, male with inherited wealth.
"I've got every kind of privilege you could imagine," he said. "I speak English. I was born in the US, so I'm a citizen. I'm tall. I'm thin. I was born a foot soldier for oppressing women, gay people, transgender people, black people anybody because I've got all of the privileges. I'm born into that system."
"Black lives matter," "No justice, no peace, no racist police," "Hands up, don't shoot," "Back up; back up; we want freedom, freedom," "Ain't no power like the power of the people because the power of the people don't stop" and "Turn up; don't turn down; we do this for Mike Brown," were among the chants incited by the members of Black Lives Matter.
"I've been wanting to get involved and show my support in some way so when I saw this, I saw it as an awesome opportunity to do that," said Mark File Schwaller , 29, of Jamaica Plain. "I really felt the unity which I think was a main theme of it. It felt like we were all together. It was a really beautiful moment standing in the street holding that space making it safe and fun for everyone."