The Boston University cross country program put together a strong performance at the Central Connecticut State Mini Meet Friday, even without some of its top runners participating in the meet.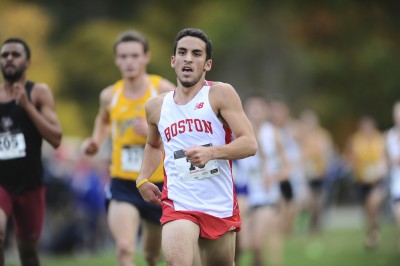 The men's team finished 10th out of the field of 19 teams and the women placed 14th, besting six other squads.
"Friday's meet was competitive," said BU coach Bruce Lehane. "The meet was helpful as a way of determining the final slots for our roster going into the league championships. The races themselves were on the short side – 5k for men in place of normal 8k, 3k for women in place of normal 5k or 6k. This makes recovery a bit easier.
"Also, the course was relatively flat, which also is easier to recover from than is a hilly course, where the downhills are as costly as the uphills in terms of recovery."
The men's team totaled 288 points in the 5-kilometer race, as they scored lower than nine other teams in the meet. The men were led by senior Alex Civitano, who finished with a time of 15:41.48, to put him in 39th place among the 126 varsity runners. Following behind Civitano were senior John McKeon (15:50.92) in 55th, sophomore Ethan Homan (15:51.89) in 57th and senior Matt Solomon (15:52.55) right behind Homan in 58th.
Also running for the Terriers were junior Syian Srikumar (16:12.69), freshman Liam O'Connell (16:15.20) and senior Zach Marriott (16:34.93). O'Connell's performance earned him Patriot League Male Rookie of the Week honors.
Despite being short-handed, the men's team still had a pack time of 31.21 seconds between its first and fifth runners.
As for the women's team, the Terriers scored 376 points Friday, good for 14th place. Junior Erin Pierce led the way for the Terriers, crossing the finish line in the 3-kilometer race in 10:40.72 and finishing in 26th place. Pierce was recognized by the Patriot League as its Female Runner of the Week.
She was followed by freshman Paige Ferrucci (11:29.70), who finished 82nd, and freshmen Alexia Zawadzke (11:30.20) and Jenny Mistretta (11:38.54), who placed 84th and 91st, respectively.
The women's team also featured sophomore Colleen Tretheway, whose time of 11:40.95 resulted in a 93rd-place finish, along with freshman Gabrielle DiRenzo (11:46.91) coming in at 100th.
Lehane made the decision to keep his top runners on both teams out of the meet as the team prepares for the Patriot League Championship this Saturday in Bethlehem, Pennsylvania.
"For Saturday's meet, the women are focused on defending their title," Lehane said. "The men are aiming to improve significantly over last year's fifth-place finish. Navy is as much favored on the men's side as we are on the women's side, but upsets happen. The women will be trying to make sure that an upset doesn't happen in their race, and the guys will be doing just the opposite."