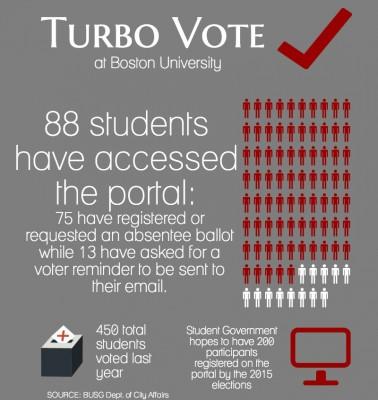 In an effort to encourage more Boston University students to participate in the Nov. 4 state elections, BU Student Government partnered with online voter engagement service TurboVote, missing their 100-person voter registration goal by 12 people.
"We are happy about the results," said Corey Pray, director of the city affairs department in SG. "To have [about] 100 more votes [in the general election] is great news."
SG began the partnership earlier in the month to encourage students to register to vote before the Massachusetts Oct. 15 deadline. As of Oct. 10, 50 BU students used TurboVote to register, The Daily Free Press reported on Oct. 14.
"So far, 88 people have accessed the portal, 75 of whom have either registered or requested an absentee ballot," Pray said. "The remaining 13 have simply asked for a voter reminder note be sent to their emails."
The total base cost to start the TurboVote partnership was $1,000, Pray said. The National Association of Student Personnel Administrators granted SG $500 toward the base cost, and the BU Senate approved to cover the remaining $500 during a Senate meeting on Oct. 21. NASPA also granted SG $700 dollars to pay for mailing services.
SG hopes to have at least 200 participants registered on TurboVote by 2015 general elections, Pray said. SG has also considered sending out a general email or installing a registration reminder tab on the BU Student Link to encourage future student voting.
Rachael Cobb, an associate professor of government at Suffolk University, said increased voter turnout among young people, which TurboVote hopes to achieve, could urge politicians to place more emphasis on that demographic.
"Voter turnout for older people is 60 to 70 percent. Youth voting, on the other hand, is approximately in the 25 percent range," Cobb said. "If college students started showing up at the polls at that same rate as elders, there would be dramatic shifts both in policy outcomes and in the way politicians would approach elections."
John Berg, a professor of government at Suffolk University, said youth voting would place greater emphasis on issues relevant to students.
"An increase in youth voting at the federal level would cause politicians to focus more on issues such as federal education," Berg said. "An increase at the local level, on the other hand, would cause an increase in issues such as late-night bar hours, as well as youth-related crimes involving drug consumption."
Several BU students said TurboVote is a useful tool to get young people to the polls and encourage people to register to vote.
"College is a place where one becomes a functioning member of society, and voting is an integral part of the process," said Laird Bloore, a freshman in the College of Arts and Sciences.
Lauren Wynne, a senior in CAS, said she has always found the voter registration process difficult, especially in California, where she is from.
"TurboVote's registration initiative is a great way of getting students up and ready to vote on election day," she said.
Gianluca Sironi, a junior in the School of Management, said registration services encourage students to stay involved in local and state governmental affairs.
"Youth voting helps to build responsible citizens and the political future of the country," he said. "Early registration is crucial to shaping a new type of society."