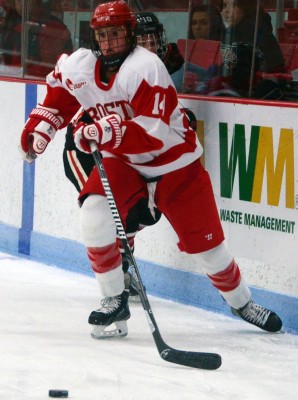 It was a good, solid win, much like the line that helped make it so. Powered by junior wing Rebecca Russo, sophomore center Maddie Elia and freshman wing Rebecca Leslie, the No. 6/7 Boston University women's ice hockey team defeated crosstown rival Northeastern University by a score of 3-2 at Walter Brown Arena Tuesday night.
Russo was responsible for the Terriers' (5-2, 2-1 Hockey East) final two goals against the Huskies (1-3-3, 0-1 Hockey East), both assisted by Leslie, to give her team the win.
This comes as no surprise to those who have been following BU so far this season. The Russo-Elia-Leslie line has been a productive and reliable option for the Terriers since the first road trip when the trio combined for 10 points against its Minnesota opponents in St. Cloud State University and the University of Minnesota.
"They've been real solid most of the year," said BU coach Brian Durocher. "Tonight, Rebecca [Russo] popped a couple goals in, Rebecca Leslie made a nice play to find her up in Maine for a breakaway goal. She found her at least once with a beautiful pass I think for the winning goal in the slot. If you've got a nice combination of speed and Maddie Elia, who's great with the puck, it's created a good line."
The line has a total 47 shots on net, which is roughly 21.4 percent of the Terriers' total shots. And with eight goals combined on the season, that's good for a line shooting percentage of about 17 percent. Against Northeastern, they had 15 of BU's 78 shot attempts on the night, nine of which came in the second period. They were a combined plus-six on the evening and are a plus-17 all together on the season.
"I mean, Coach put us together for a reason, so since the beginning of the season, we've been working hard, and I think we've really been gelling and getting to know where each other are," Russo said.
Russo to Leslie, or vice versa, has been the most common connection this season, occurring six times thus far. And though Elia did not get on the score sheet, her off-the-pipe chance just seconds before Russo buried a Leslie rebound put her line in a good position to score, which is something she does regularly. Of the three of them, Elia had eight attempts and is second on the team in shots on goal with 22. She also dominated in faceoffs versus the Huskies, winning eight of her 13 opportunities at the dot.
Though some of the other BU lines have been tweaked this season, this one has remained the same, and Durocher said the triad made a strong case to do so.
"All three lines played really well, but that line stayed together, and they justified staying together tonight," Durocher said.
A lot of their success has to do with chemistry, Leslie said.
"Off the ice, for sure we're good friends, so I think that helps also on the ice," she said of Russo. "Sometimes it can cause some competition, but I think since we're such good friends off the ice, it makes it easier to connect with her on the ice."
When asked whether the chemistry translates to the entire line, Leslie was quick to make the distinction that the three of them getting along so well certainly adds to their on-ice performance.
"Oh yeah, for sure," she said. "Maddie, Russo and I, we tend to hang out together, so it works out a lot, and our communication's really good on the ice, so I think that helps also."
Russo echoed the freshman's sentiments.
"We all worked together," she said. "We're a really great line together."