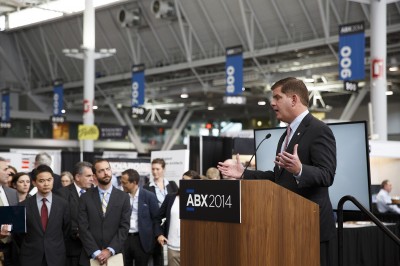 Boston Mayor Martin Walsh announced major climate change preparedness efforts Wednesday afternoon, on the two-year anniversary of Hurricane Sandy's landfall.
Efforts include the commencement of an international design competition to best prepare Boston for climate change and the unveiling of the region's first environmental summit in Spring 2015.
"If that storm [Hurricane Sandy] hit just five hours earlier, that's not New Jersey and New York, that's Boston," Walsh said to the crowd. "We would have seen four feet of water in the Quincy Market area, the Charlestown Navy Yard, Maverick Square in East Boston and City Point in South Boston. We weren't any better prepared for that storm than New York and New Jersey, and we can't count on luck in the future."
The international design competition, "Boston Living with Water," engineered by the Boston Redevelopment Authority, the Mayor's Office of Environment, Energy and Open Space, the Boston Society of Architects and the Boston Harbor Association, invites design ideas to accommodate rising sea levels.
The designs specifically target historical locations in the North End, Fort Point Channel and Morrissey Boulevard, all of which are at high-risk of impending climate change.
"We have old infrastructure here in the city and in the Greater Boston area," Walsh said. "We need to be able to work to protect that infrastructure, but we also need to prepare for the future, on what that infrastructure's actually going to look like."
On Oct. 30, 2013, the city released "Climate Ready Boston: Municipal Vulnerability to Climate Change," a report that outlined a number of then-proposed and now-ongoing developments. Current projects include backup power at emergency shelters across the city, due to the implementation of solar photovoltaic arrays.
"Now they have the capacity literally to save lives when the power grid goes down, and they certainly are going to be a huge asset," Walsh said.
Other ongoing projects include facility improvements to address extreme heat, increased food resilience throughout the city and more effective flooding and storm water management.
In Spring 2015, Boston will host a regional conference about climate preparedness to establish cross-governmental action moving forward.
Marc Draisen, executive director of the Metropolitan Area Planning Council, emphasized the importance of dissolving municipal lines for climate change's threat.
"When there is a tremendous storm, whether it be a hurricane or a snowstorm, it will not know where Revere starts and Chelsea ends," he said. "It will pay no attention to us in that regard."
Jay Ash, the city manager for Chelsea, stressed the importance of partnership against such a wide threat.
"We need to have a partner like the City of Boston, working on our behalf because Boston is the place that's happening," Ash said.
University of Massachusetts Boston will host the summit, where regional leaders will converge to create climate preparedness policy.
"As the Mayor announced, we are committed to having a robust public engagement process and to make climate preparedness a priority of that plan," said Brian Swett, chief of the Mayor's Office of Environment, Energy and Open Space. "Climate action is not just about reducing greenhouse gas emissions. It's about preparing for the storms of tomorrow and for the storms of the next 50 and 100 years."
Walsh said these are only the first steps toward galvanizing Boston against our changing environment.
"We need to make sure that we're prepared," he said. "The climate continues to change, the sea level continues to rise and more severe storms are coming."
Several attendees at Wednesday's announcement said they agreed with the actions being taken by the City, and Boston will continue to evolve in the wake of these efforts.
John Dalzell, 53, of Boston, and senior architect in the Urban Design Department of the BRA, said the design contest would further Boston's tradition as a constantly evolving city.
"I see a city that will be more resilient to things like sea level rise," he said. "But not just in fortification, but in evolving in a way that's the difference between gray infrastructure and green infrastructure."
Rebecca Berry, 41, of Cambridge, applauded the public figures' efforts.
"The best and most encouraging thing that we're hearing out of Mayor Walsh is the notion of regionalism," she said. "The understanding that Boston is not just one city, it's frankly five or six cities that have to work together, so that's what I think we really need to deal with for integration."
Nasser Brahim, 29, of Cambridge, said political action is necessary for climate preparedness and prevention.
"It's a problem that won't go away, and you can sit there and put your hands over your ears, but if you don't do something, it will be causing problems in the future," he said. "I thought it was really important that he made those statements, that he supported the regional effort, because Boston's not the only city on the water, and they have to deal with the same types of problems."