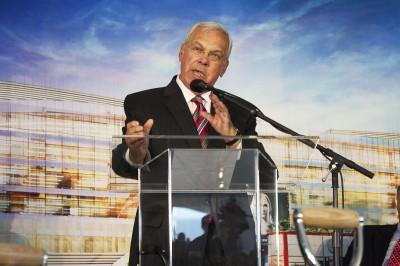 Members of the Boston University community mourned the loss of former Boston Mayor Thomas Menino Thursday and reflected on his contributions to campus. Menino, 71, died after battling an advanced form of cancer.
Menino came to BU in January and settled into his role as a political science professor of the practice and the co-director of the Initiative on Cities. He turned down job offers from Harvard University, Suffolk University, Northeastern University and the University of Massachusetts Lowell, The Daily Free Press reported on Nov. 13, 2013.
BU President Robert Brown said the university was grateful to work with Menino during his tenure as mayor and have him as a faculty member on campus.
"Boston has lost one of its greats," he said in a Thursday statement. "Because Tom Menino worked so hard to make Boston a welcoming, vibrant, safe place to live and work, Boston University—located in the heart of the city—has benefited immensely."
Graham Wilson, co-director of the IoC with Menino and a professor of political science, said the former mayor played a vital role on campus and within the city by serving as a bridge between the university and government.
"It was a great honor to work with someone like that who had tremendous enthusiasm working and meeting with students. He had ideas about initiative we could take," he said. "He loved in this respect his work for the city the idea of bringing people together from different parts of the university and City Hall."
Menino held office hours with students at his brownstone office at 75 Bay State Road. He made food a central part of his discussions through the "Pizza and Politics" seminars and "Coffee and Conversations" series.
Wilson said he last saw Menino two weeks ago when he returned to campus from New York to promote his new book, "Mayor for a New America."
Katherine Levine Einstein, an assistant professor of political science, said she worked with Menino on the IoC and will remember him as "a very approachable and extremely helpful and thoughtful person."
"He just took a really impressive leadership role in working with us, constantly giving us feedback on proposed questions and helping us get survey subjects, working with his contacts at the U.S. Conference of Mayors. He was very supportive every step of the way."
Several 2013 recipients of the Thomas M. Menino Scholarship said they were saddened to hear about his passing and will carry on his name and legacy through their service, community involvement and academic pursuits. The scholarship covers full tuition for 25 students from Boston Public Schools.
Nakia Ellies, a sophomore in the Sargent College of Health and Rehabilitation Sciences and a Menino Scholar, said Menino served as a mentor and played a key role in her academic career.
"It really felt like I lost a grandfather just because my connection over the past years," she said. "It was a tough loss especially because we were just about to wish him well with the canceling of his cancer treatment. We were literally working on something yesterday, and today was just a great shock."
Amina Egal, a sophomore in the College of General Studies and another Menino Scholar, said he was an active member in her community and embodies qualities that are indicative of a good leader.
"Menino represented a politician who was more than a lawmaker. He was usually someone who shaped the community and tried to build it up and welcome people," she said. "To have that person as a leader and role model in your community shapes what your views and what you want to accomplish in life."
Egal said she plans to honor Menino by pursing a public health education and using that to make a difference in her community.
Several students said Menino's willingness to go above and beyond for residents and students showed how much he genuinely cared about the city and BU.
Emily Korman, a senior studying environmental analysis and policy in the College of Arts and Sciences, said she would not forget talking to Menino at a "Coffee and Conversations" chat and receiving advice on her senior thesis.
"He was incredibly warm and kind of mumbled a lot," she said. "He gave me actual concrete 'follow this lead' advice, and he really empowered me to do the work for the city. We talked about actual issues that people in Boston face… [and] just things I had never thought of. He's an incredible person."
Hassan Alam, a senior in the School of Management, said through the work he did, it was evident that Menino cared for the city and BU.
"He's often characterized as goofy, kind of humorous guy, but I think you'll be hard-pressed to find someone who loved the city of Boston more than Mayor Menino," he said. "It [his death] will make people appreciate the city more. They'll see what he's done for the city, and they'll try to take care of the city and help cement his legacy, and make sure his legacy is flourishing."
Felicia Gans and Steve Friedman contributed to the reporting of this article.