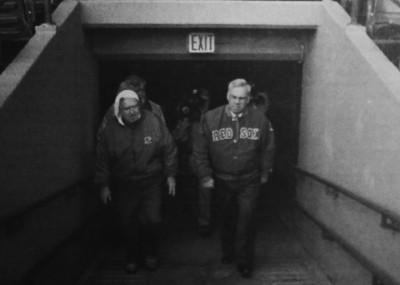 Former Boston Mayor Thomas Menino, who died Thursday morning, left a lasting legacy on numerous facets of the city, including its sports teams. In the wake of Menino's death, the teams in his city paid homage to the mayor who watched them win and lose.
"The passing of Mayor Menino is a great loss for the City of Boston and for us personally," said Boston Red Sox Principal Owner John Henry in a Thursday statement. "His passion for this city was legendary; his passion for the Red Sox extraordinary. We were fortunate to learn from his wisdom when we arrived in Boston over a decade ago. His support and leadership in the preservation of Fenway Park was critical in saving this ballpark. We will miss his spirit, and we will miss his friendship."
During his tenure, Menino saw all four major-league teams win a combined eight championships.
When Menino entered City Hall in 1993, the Red Sox had not won the World Series since 1918. He watched them break the curse in 2004 and win again in 2007. The last Boston World Series victory he would watch was the team's 2013 win against the St. Louis Cardinals.
The former mayor is credited with ensuring that Fenway Park was renovated rather than relocated, keeping the iconic field alive near Kenmore Square. Menino was recognized as one of Fenway Park's primary rescuers at the field's 100th anniversary in 2012.
"Grant you a special place," former Red Sox pitcher Pedro Martinez tweeted Thursday. "My condolences to his family. I will miss you greatly. You were a big reason why I enjoyed Boston so much."
Despite blocking the New England Patriots from building a stadium in South Boston and Roxbury in the early 1990s (Gillette Stadium was eventually built in Foxborough), Menino remained an ardent supporter of the Commonwealth's football team, celebrating three Super Bowl wins with them.
"Today is a sad day for so many in Boston who are mourning the loss of Mayor Menino," said Patriots Chairman and CEO Robert Kraft in a statement. "Personally, my three favorite memories were the phone calls that I received from the Mayor after each of our Super Bowl victories inviting the Patriots to celebrate with our fans in downtown Boston. I was so happy to accept his invitations. My thoughts and prayers are with Angela and the entire Menino family today."
Menino also held a firm presence in TD Garden with the Boston Celtics basketball team. During his time, the Celtics won the 2008 NBA Championship, a title the team had not claimed since 1986.
"The entire Boston Celtics organization and our ownership group are deeply saddened by the passing of our beloved former Mayor, and dear friend of the Celtics, Thomas M. Menino," said Celtics Managing Partners Wycliffe Grousbeck, H. Irving Grousbeck, Stephen Pagliuca and Robert Epstein in a statement. "Mayor Menino's love and devotion for the city of Boston and its residents will long be remembered by those who knew him, as well as future generations of Bostonians, who will benefit from his vision."
In 2011, the Boston Bruins won their first NHL title since 1972.
"I was saddened today to learn of the passing of Mayor Menino and on behalf of the Jacobs Family, I would like to express my deepest condolences to his family," said Bruins Principal Charlie Jacobs in a statement. "My family and I witnessed firsthand how Mayor Menino's vision and leadership helped transform Boston into one of the greatest cities in the world. Today, we join all Bostonians in mourning our loss and celebrating Mayor Menino's enduring legacy."