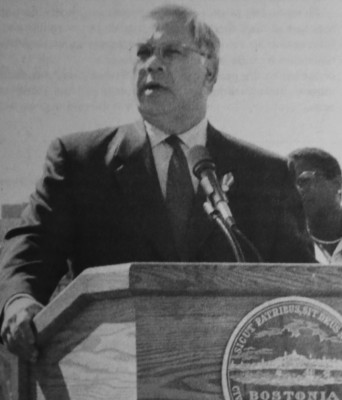 Former Boston Mayor Thomas Menino, who was also co-director of Boston University's Initiative on Cities, left a lasting impact on the city he looked after. He died Thursday morning after a battle with an advanced form of cancer. Those who knew Menino honored him for all that he was: a politician, role model, family man and friend.
Boston Mayor Martin Walsh honored Menino at a press conference at City Hall Thursday afternoon.
"Today, the city of Boston mourns together," Walsh said. "To all that knew him, it's no surprise that more than half of Boston has met Mayor Menino. I can tell you about the last conversation I had with him. He was laying in the hospital bed and we were talking, and he said, 'You're going to be a great mayor as long as you take care of the people of Boston.' His last concern was of the people of Boston. Tom Menino is a fighter, he went down fighting and we all knew where Boston stood in his heart."
In his time as mayor, Menino put the city on the world stage, while maintaining his local outreach and service, Walsh said.
"He was a man of the neighborhood," Walsh said. "He had a deep understanding of the power municipal government had on the lives of the people. Even in the last stages of his illness, he put Boston and its people first. To many people here at City Hall he was a mentor and a father figure."
As Boston's longest-serving mayor, Menino garnered the respect of public officials and residents nationwide.
"Bold, big-hearted, and Boston strong, Tom was the embodiment of the city he loved and led for more than two decades," said U.S. President Barack Obama in a statement Thursday. "As Boston's longest-serving mayor, Tom helped make his hometown the vibrant, welcoming, world-class place it is today. His legacy lives on in every neighborhood he helped revitalize, every school he helped turn around, and every community he helped make a safer, better place."
Séan O'Malley, cardinal of the Archdiocese of Boston, said Menino often attended several church services on a given day and maintained close relationships with the "ecumenical and interfaith brethren."
"Mayor Menino placed family, faith and public service above all else," O'Malley said in a statement Thursday. "We pray for Mayor Menino as we give thanks for a life so well lived, for his wife Angela, their children and grandchildren, for the people of the city of Boston and all who mourn his passing. May his soul and all the souls of the faithful departed rest in peace."
Richard Stutman, president of Boston Teachers Union, spoke on behalf of the union's 11,000 members in saying Menino's love for the city was unmatched.
"Mayor Menino felt and shared a bold compassion for Boston and its people," he said in a statement. "His presence and his imprint were everywhere. His feelings for us were pronounced, and his love for the city was unmatched. He touched warmly hundreds of thousands of our citizens and now they all return the same care and love to Angela and the Menino family. He adopted our schools and proudly promoted them. He stood by us; now we stand by his family. Rest in peace, Mr. Mayor."
Massachusetts gubernatorial candidates Charlie Baker and Martha Coakley chose to suspend their campaigns for two days and one day, respectively, to pay respect to the former mayor.
"Today, Boston has lost the greatest mayor in its history," Coakley said in a statement. "He was a friend and mentor, and a shining example to me and countless others of what it means to love and serve your community. What made Tom Menino so remarkable was his connection to the people he represented — he understood their lives, their hopes, and their dreams. And he fought for them every day. He never forgot where he came from and stayed true to who he was to the very end."
Baker said in a statement that Menino, who was dedicated to his work and to the city, deserves a "satisfying retirement," as he engrossed himself in his job as mayor "with an enthusiasm and intensity that may never be duplicated."
Boston City Council President Bill Linehan worked closely with Menino during his time in office and praised him as "arguably the most dedicated public servant [he] had ever met." Menino improved the quality of life for Boston residents, Linehan said in a statement, and provided vital city services.
"Mayor Menino's greatest legacy lies in his devotion to the people of Boston, and his focus was always on ensuring that every single resident received essential city services," he said. "This, more than the revitalization of so many parts of this city on his watch, or his leadership during the Boston Marathon bombing tragedy, is what he would want to be remembered for."
Menino and former New York Mayor Michael Bloomberg co-founded Mayors Against Illegal Guns in March 2006 with 13 other mayors. The coalition grew to have more than 900 mayors crusading against illegal gun use.
"Tom Menino was a terrific mayor and a close partner for me," Bloomberg said in a statement. "I got to know Tom well as we worked together to keep cities safe from gun violence. Whether it was tackling illegal guns or reviving neighborhoods, Tom was never afraid to take on tough issues. He cared deeply about the people of Boston, and he was tireless in making his city a better place to live and work. Tom was at his best when his city needed him most."
Several residents gathered at City Hall Thursday night to pay homage to the man who brought so much change to the City and made a lasting impact on the Commonwealth as a whole.
Josephine Erewa, 62, of the South End, said she was shocked to turn on her television and see Menino's picture.
"Mayor Menino did a lot for the city," she said. "He was a people's mayor. I hope our current mayor will learn a lot from what the mayor did for the city and condolences to the family. For this city, we all need to be strong. He is a Boston Strong person, so we need to be strong. We need to use some of the work he's done to continue to stay united and bridge diversity and to continue to move the city of Boston forward."
Thomas O'Connor, 57, of Middleton, said Menino was an active part of the City, and was always there to help the people of Boston.
"I have to say that over his tenure, I always knew him to be hands on," he said. "He was always here whether it was sunny or stormy he was always there to serve everybody. He did a fantastic job on housing in the city; made homes for a lot of people that wouldn't have them otherwise."
John Irvin, 28, of Wakefield, said Menino "brought the city to life," and made Boston a more desirable place to visit
"He was mayor for a good portion of my life," he said. "Growing up in the city, I've seen all of the positive things happen. Boston has really become a world-class city and a lot of that is his doing. Boston has sometimes had such a jaded past and now he brought us to looking positively to the future. He was one of us. And we'll miss him, and you'll rarely see the likes of that in politics."
Monika Nayak contributed to the reporting of this article.