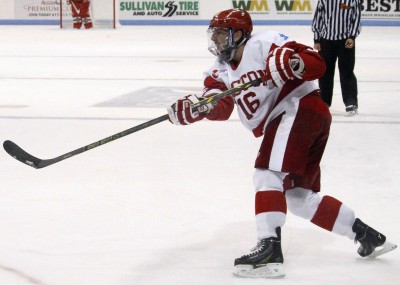 Despite capturing two exciting wins against Michigan State University and No. 15 University of Michigan this past weekend, there is little time for the No. 6 Boston University men's hockey team to rest on its laurels.
The Terriers (3-0, 1-0 Hockey East), in search of their first 4-0 start in 13 years, are set to face off against No. 9 Providence College in a home-and-home set over the weekend.
After two victories over the Spartans (1-3) and Wolverines (2-3) at Agganis Arena, the Terriers are making their presence felt in the national rankings, garnering their highest spot on the USCHO.com poll since Dec. 17, 2012.
"We had an energetic week of practice, that's for sure," said BU coach David Quinn on the mood surrounding his team. "Anytime you're winning hockey games, guys get excited. It's more fun to come to the rink when you're winning."
While Quinn has praised the depth present among his forwards and defensemen throughout the early stages of the season, it appears the Terriers have also found themselves a steady duo between the pipes.
Junior goaltender Matt O'Connor returned to action against both Michigan State and Michigan after missing the previous two weeks with a lower-body injury that he suffered in practice. The Toronto native showed little rust in net, recording 67 saves en route to two wins – including his first career shutout on Oct. 24 against the Spartans. For his efforts, O'Connor was named the Hockey East Defensive Player of the Week.
"I'm not surprised at what he did last weekend. He's been a great goalie here for a long time," Quinn said. "It's nice to see him being able to put together two back-to-back games like that out of the gate after coming off of a little bit of a knee injury.
"He's proven that he can be an elite goalie at this level, and we're going to need him to be an elite goalie if we're going to have a chance to get to where we want to go."
O'Connor has not been the only impressive netminder on the roster, as freshman goaltender Connor LaCouvee performed well in place of O'Connor against the Minutemen (2-3, 1-2 Hockey East) on Oct. 10, surrendering just one goal in his first collegiate victory.
The Terriers should also receive a boost over the weekend with the return of both junior forward Mike Moran and freshman defenseman John MacLeod – both of whom Quinn said "will be available" Friday night. MacLeod missed BU's game against Michigan with an undisclosed injury, and Moran has not played since taking a big hit against St. Thomas University on Oct. 4.
Despite the considerable amount of hype levied toward them before the start of the 2014-15 campaign, the Friars (1-2-1) have struggled out of the gate, mostly due to a combination of injuries and a recent run of road games against talented opponents.
After splitting a season opening series with Ohio State University, Providence skated to a 3-3 draw in an exhibition match against Team USA before finishing with a 0-1-1 mark in two games against No. 3 University of North Dakota last weekend in Grand Forks, North Dakota.
Providence, which finished third in Hockey East last season with 2.26 goals allowed per game, yielded a combined nine goals in two tilts against North Dakota (4-1-1).
The Friars were hampered against North Dakota due to the loss of forward Mark Jankowski and defenseman Tom Parisi, who both sat out due to injuries.
However, both skaters could possibly suit up against the Terriers this week, according to reports.
The BU defense will also need to remain aware of Providence co-captain Ross Mauermann out on the ice. The 2014 Hockey East Co-Defensive Forward of the Year has registered 10 points in eight career games against the Terriers.
"They're a very disciplined team," Quinn said of BU's weekend foe. "They got Jankowski out. That doesn't help them, but they have plenty of good players. A lot of experience. It will be a home opener. It will be a sold-out crowd.
"We'll have our hands full, and they're a team that makes you earn every inch of the ice, every opportunity, and we're going to have to be ready to earn our ice… It's not going to be a beauty contest."
The Friars might boast a deep and versatile grouping of skaters, but Providence's biggest weapon lies in net in goaltender Jon Gillies.
The Calgary Flames draft pick has elevated himself into the upper echelon of Hockey East goaltenders during time at Providence, registering a program-record eight shutouts with the Friars while posting a 2.16 goals-against average with a .931 save percentage during the 2013-14 season.
Gillies has struggled to replicate his usual numbers through four games this season, compiling an uncharacteristic line of 3.15 goals-against average and a .882 save percentage. The Terriers have had some success against Gillies over the years, as the highly-touted goalie has a 1-3-1 record against BU with a 2.78 goals-against average.
"To me, it's no different than the success that you're going to have against any other goalie: get to the net, screen him, take his eyes away, get some pucks to him," Quinn said about his team's strategy against Gillies. "Hopefully you get some rebounds and win some battles. He's been a really good goalie since the day he stepped on their campus.
"We had a little bit of success on him here last year, so hopefully we can do the things we did last year. We had net-front presence, our D got involved offensively and that's what we're going to have to do this weekend if we're going to have success against him."
The Terriers might be skating onto the Schneider Arena ice on a high note, but Quinn noted that his team will have to stay focused in order to continue its early success so far this season.
"I don't think that we're going to let our success get in the way of what's going to happen this weekend," Quinn said. "We want to build on it, but we know we have a long way to go to be the team that we're capable of being. We went to work this week, and I thought we got better and I know guys are chomping at the bit to get back at it Friday night."