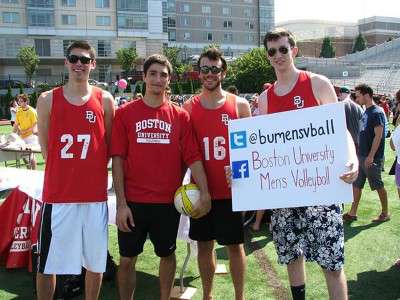 The information in the following Boston University club sport highlights was taken from the BU Club Sports Event Calendar from Oct. 29 to Nov. 3.
Friday, Oct. 31
BU club ice hockey defeats Bryant, 5-2
The BU club ice hockey team improved their Northeast Collegiate Hockey Association record to 3-1 with a 5-2 victory over Bryant University Friday night. The Terriers had to claw back early, as the Bulldogs jumped out to a 1-0 lead within the first minute of the game, but BU would respond, scoring two goals in the opening stanza to enter the first intermission at a 2-2 tie. BU sealed the game in the third period, as sophomore defenseman Jack Faso and junior forwards Matt Fineberg and Scott Woods all registered goals. Fineberg finished the game with three points to lead BU.
Saturday, Nov. 1
BU fencing club takes part in tournament at Smith College
The BU fencing club traveled to Northampton to participate in an individuals tournament at Smith College. Nagisa Ogata finished first in women's foil, while Sucheta Tamragouri placed 11th in the same event. In the women's sabre competition, Emma Ryan finished in 10th place, Caitlin Coons in 17th place and Marie-Elle Merchant in 19th place.
BU women's ultimate club wraps up weekend at Yale Coffee Cup
The BU women's ultimate club had a busy weekend, taking on University of Hartford, Yale University, University of Connecticut, Central Connecticut State University, Smith College and Massachusetts Institute of Technology at the Yale Coffee Cup in New Haven, Connecticut. The BU "A" team defeated Hartford, 13-1, and UConn, 8-7, while dropping matches to Yale, CCSU and Smith on the first day and splitting contests with Hartford and CCSU on the second day of the event. The BU "B" compiled a 1-2 record during the tournament.
BU club ice hockey takes down Vermont, 5-2
The BU club ice hockey team wrapped up a successful weekend Saturday, defeating the University of Vermont by a score of 5-2. Junior forward Taylor Parkinson added his team-leading seventh goal of the season, while junior forward-turned-defenseman Ryan O'Lear added a goal and an assist. Junior netminder Jared Hynes was impressive between the pipes, saving 27 of 29 shots.
Sunday, Nov. 2
BU women's club water polo downs BC in scrimmage, 13-8
The BU women's club water polo team handed Boston College a 13-8 loss in a scrimmage at the BU Fitness and Recreation Center pool. Graduate student Maeve O'Connor led the Terriers with four goals in the match, while grad student Elena Quijano and senior Shireen Kheradpey recorded hat tricks against the Eagles.
BU men's club volleyball competes at Brandeis tournament
The BU men's club volleyball team made the trip out to Waltham to take part in their second fall preseason tournament at Brandeis University. The Terriers opened up the tournament by taking down the University of Massachusetts–Amherst, 25-22, 25-21, before later defeating the University of Connecticut, 25-19, 22-25, 15-9. BU could not continue its hot start, as the Terriers fell to Wentworth Institute of Technology in two sets.