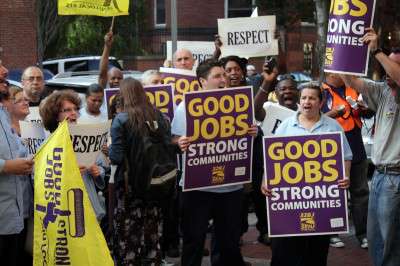 Following a vote on a tentative contract agreement between Boston University workers and the university administration, the local chapter of the 32BJ Service Employees International Union ratified a new four-year contract Tuesday that will guarantee wage increases and affordable health care.
The contract includes a 10 percent pay raise over four years and maintained health care benefits that will cover more than 700 custodians, mailroom operators groundskeepers and skilled trades workers who maintain and repair more than 300 buildings on campus, according to a Tuesday press release.
"This agreement honors the valuable contributions of the hardworking men and women who make BU strong," said Roxana Rivera, district director of 32BJ SEIU in the release. "With this contract we are moving forward together to make BU even stronger."
Timothy Hall, a lead custodian and member of the union bargaining committee, said he is proud of the solidarity and efforts the workers have made.
"I was that thrilled at what we could do and [how] we stood together," he said. "We've always had a good and unique relationship with the operations people. We're trying to develop that with [BU] President [Robert] Brown's administration."
It is important for all members of the BU community to advocate for each other's needs, Hall said.
"We're the people who are there 24 hours a day if you need us," he said. "It's a very personal relationship we have with the students and have had with the administration, and that's what we want to go forward. We have to fight just to let them know that we need that. We need those assurances that if we take care of you guys. They [BU] have to take care of us."
Workers and the administration reached a tentative agreement Thursday, the day before their contracts were set to expire on Friday, The Daily Free Press reported Monday.
Prior to the settlement, BU workers voted to authorize a strike if an agreement was not met. Over 90 percent voted in favor of using strike as a tool to bargain if needed, The Daily Free Press reported Oct. 29.
In October, BU workers marched twice down Commonwealth Avenue to gather at Brown's office to demand stronger, fairer contracts and express their frustrations.
Moving forward, Hall said he hopes workers and the university will move forward to make the BU a better place.
"BU is a great school and I look at the tours every day of how many students want to get here and don't get into Boston University," he said. "The administration is putting it together that it's not just about attracting people and making money. It's about the family atmosphere we have. We made progress and I am very optimistic about relations in the future."