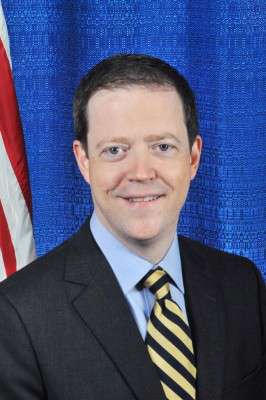 After years of service to the Massachusetts Department of Transportation, Richard Davey left his post as secretary of MassDOT Friday. He held the position since 2011.
Highway Administrator Frank DePaola stepped in as acting secretary effective Davey's last day and will serve until the end of Massachusetts Gov. Deval Patrick's term, according to an Oct. 10 press release.
"Together, we've shaped a new, reformed department focused on safety, customer service, our employees, fiscal responsibility and innovation," Davey said in the release. "We've renewed the public's confidence in transportation by investing wisely in projects and initiatives all across the state — projects and initiatives that are creating jobs, improving the quality of life for our fellow citizens and ultimately leaving the Commonwealth better off than when we found it."
Davey decided to retire from his position in order to take some time to travel with his wife and to start exploring new career opportunities, according to the release.
"I thank the Governor for his trust in me and for giving me the opportunity to serve in this capacity," DePaola said in the release. "We will continue to ensure our entire transportation network best serves the people who rely on it as we have done throughout the Administration."
DePaola worked with the Massachusetts Bay Transportation Authority and MassDOT systems and has led the highway division since 2011. He is a civil engineer and worked for two years as assistant general manager for design and construction for the MBTA prior to being hired into his current position, according to the release.
Kelly Smith, spokeswoman for MassDOT, said Davey will be missed and DePaola will do well in the position.
"We're all very sad to see Secretary Davey go, but Frank will be a wonderful Acting Secretary and has the Governor's full confidence" she said in an email interview. "Acting Secretary Frank DePaola has spent many years at the MBTA and MassDOT and is in the position to finish the work of the Patrick Administration in its last few months."
Cindy Roy Gonzalez, a spokeswoman from MassDOT, said DePaola will take on both positions for the few months he is acting as secretary.
"He is very busy since he is filling two roles, but he we are sure he is competent to do this as we welcome him into this position" she said.
DePaola was unavailable for comment.
Several residents said they appreciate the work and improvements Davey made for the Commonwealth's transportation system.
Kenny Mcadow, 23, of Allston, said more handicap accessibility on the Green Line should be addressed.
"I've only had one really bad experience on the T," he said. "I was helping a man in a wheelchair and the stop we were supposed to get off at didn't have the necessary bridge. There was all this crazy transferring of trains."
Olga Volsy, 22, of Brighton, said in the short time she has lived here she noticed how fares for the MBTA have increased.
"I wonder if there is a solution to keep prices more stable but still have an effective system," she said. "That's something I would like to see those in charge of the system start to work on."
David Perkins, 40, of Allston, said looking back he has seen the impact of new services like the late-night MBTA has on residents.
"The system has absolutely improved in the past couple years, especially since the addition of the late-night T hours for nights and weekends," he said. "There are little things like timing and stuff that could still use improvement, but overall it's a decent system."
Correction: In an earlier version of this article, we incorrectly stated that Richard Davey had served at secretary of the Massachusetts Department of Transportation for 23 years. We have since correct the article to say that Davey had been an employee of MassDOT for 23 years, and had begun his job as secretary in 2011. Additionally, in our original article, we had states that Davey's last day was Saturday, Nov. 1. Davey's last day was, in fact, Friday, Oct. 31.