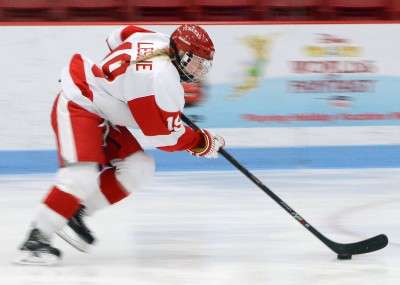 Coming off a successful win over the University of New Hampshire Sunday, the No. 6 Boston University women's hockey team will travel to Yale University for a non-conference matchup Saturday afternoon.
The Terriers (6-2, 3-1 Hockey East), despite starting off slow against UNH (2-8-1, 0-4 Hockey East), came out on top 4-2 against the Wildcats thanks to three third-period goals from junior forwards Sarah Lefort and Rebecca Russo.
Despite the win, the Terriers were outshot in the matchup, generating only 30 shots to the Wildcats' 34. The first goal of the game did not come until the second period, despite the Terriers being overworked by the Wildcats for the majority of the second.
In net, freshman goaltender Erin O'Neil made a total of 32 saves, stepping up to the plate after sophomore Victoria Hanson's injury that she suffered on Oct. 24.
"It's obviously good timing for her and good for our team. She's risen to the occasion while Victoria has been injured," said BU coach Brian Durocher of O'Neil's play. "The best thing is that she's getting confidence, the kids are getting confidence and the coaches are getting confidence. We as a team and as a staff know that we have two great goalies that can help us no matter what the circumstance is."
This week, two Terriers received Hockey East Honors. Freshman forward Rebecca Leslie was named Hockey East's Rookie of the Month. She recorded seven points and four assists in October, the highest such mark amongst Hockey East rookies. In addition, Russo was named Hockey East Player of the Week, thanks to her huge involvement in the Terriers' last two wins. The two honors will add to the momentum the Terriers bring to Yale (2-2) this weekend.
"I think any time you win games or you come out with a great start to the year, it generates some momentum," Durocher said. "It's a constant challenge to take advantage of some of that momentum, but also to continue to create that momentum, and the best way to do that is playing hard, playing smart and getting out and grabbing the first goal of the game."
The Bulldogs have not had as strong a start to the season as the Terriers. After winning their first two games of the season, Yale lost its last two matches last weekend against St. Lawrence University and Clarkson University.
The Bulldogs combined for one goal throughout the entire weekend, scored by senior Stephanie Mock, who is tied for the team lead in points with sophomore Taylor Marchin.
Bulldogs goaltender Jaimie Leonoff has been a huge leader of the team's defense, making more than 30 saves in both games last weekend while boasting a .933 save percentage.
The Terriers will provide a tough competitor for the Bulldogs, but according to Durocher, the team still has a few more improvements to make.
"I'd like to see our team be a little more disciplined and a little more competitive," he said. "We have to make sure that we're attentive to detail and working a bit harder."