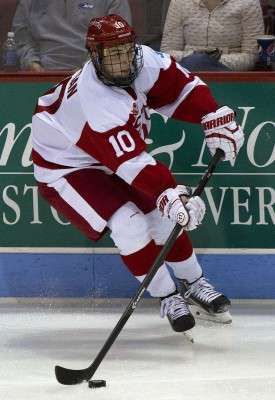 ORONO, Maine — Before Friday night's game at the University of Maine, No. 3 Boston University men's hockey coach David Quinn said he knew what was at stake — two valuable Hockey East points up for grabs in a raucous Alfond Arena.
He just hoped his team was well aware, too.
When junior goaltender Matt O'Connor let in a second-chance goal 1:13 into the game to forward Connor Leen, it appeared the Terriers might not have gotten that message. Playing against a team and a fan base that was honoring a 1999 national championship team, a game on the road would not get any easier for BU.
But thanks to a timely Maine (3-7-1, 2-3 Hockey East) penalty in the second period, the complexion of the game shifted, and BU (6-1-1, 4-1-1 Hockey East) prevailed 3-1. The Terrier first line, composed of junior forwards Ahti Oksanen, Danny O'Regan and freshman center Jack Eichel, combined for all three goals and five points.
"Really proud of our guys," Quinn said. "I thought that in a very difficult environment, against a team that works really hard and in a tough building to play in, I don't care what the situation is, but you had on top of their honoring their '99 national championship team and the crowd's all revved up. And they come out and get a goal in the first two minutes. I thought we responded well."
The retort came at the 8:48 mark in the second period after Maine forward Malcolm Hayes took a tripping penalty. On the ensuing power play, Oksanen cashed in on a one-time opportunity off of a cross-ice feed from senior assistant captain Evan Rodrigues. It was a a breakout moment for a Terrier extra-man unit that had previously gone 0-for-8 on its previous chances.
Later in the second period, BU cashed in on again on special teams. This time it happened to come on a Maine power play.
With three skaters backing into the defensive zone, Eichel sped along the left wing boards, using his skill to draw two of the defenders toward him. As the freshman drew most of the attention of the blue liners, O'Regan skated through the center of the slot, and he tapped in what proved to be the game-deciding goal.
"I mean Jack has the ability to separate, change speeds and he's got a lot of deception in his game," Quinn said. "Sometimes it doesn't look like he's going that fast but when he starts blowing by people. Just a big time play by a big-time play by a big-time player — two big-time players because Danny O'Regan has had a phenomenal year and those two guys have really done a great job."
Just as important as BU's those special teams goals was the penalty kill's strength in the third period. The four-man unit, led by junior captain Matt Grzelcyk and freshman defenseman John MacLeod, warded off a penalty-and-a-half worth of time in the final period.
Bodies in front blocked shots, sticks got in the way of passes and Maine forwards were mostly forced to take outside shots. Whatever it was, it worked for BU — top scorers Devin Shore and Cam Brown were kept off the score sheet. The penalty kill, and special teams, as a whole, in Quinn's mind, was the biggest factor in the win.
"And obviously special teams were the difference," Quinn said. "We get a power-play goal, and then we get a shorthanded goal. Then I thought we did a really good job of defending the net front in the third period. … A couple of times it looked like they had great chances and last second we got our sticks down and got pieces of some dangerous situations."
As for O'Connor, he rebounded after a shaky start to finish with 27 saves, including six crucial stops on man-advantage chances. What started out as a rough game ended as the netminder's fifth win in six tries.
"I love the fact that he didn't get rattled after we gave up the first one," Quinn said. "If you're going to have success, you need a good goalie, and we've got a very good one and a great one at times."
Eichel added the finishing touches on the win with his sixth goal of the year as Romeo sat on the bench. His 15th point this season closed out BU's fourth come-from-behind win of the year.
"Like I said, this is not an easy place to play," Quinn said. "To come up here and get two points, we're really proud of our guys."