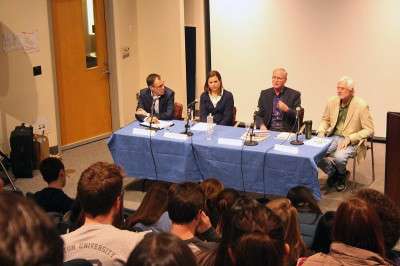 City leaders and environmental experts discussed a proposed carbon tax legislation and its potential benefits for citizens and the environment at a panel Thursday night hosted by Boston University's Environmental Student Organization.
The carbon tax bill would impose a tax on carbon-based fuels and invest the tax revenue in transportation systems across the Commonwealth, according to the text of the legislation.
The proposed tax is designed to reflect both economic and environmental costs of carbon production and consumption, said Massachusetts Sen. Michael Barrett, sponsor of the bill.
"We're trying to come up with a way of taxing that captures all the costs of production because here's what happens when you price something correctly: the cost goes up, and what happens when something is more expensive to you? In general when things become more expensive, people, without even realizing it, start consuming less," he said.
The panel also featured Gary Rucinski, Northeast regional coordinator of the Citizens' Climate Lobby; Lawford Anderson, a professor of earth and environment at BU; and Jessica Chicka, a graduate student in the School of Theology.
The Citizens Climate Lobby commissioned a study to see the possible effects of implementing a tax of $15 per ton of carbon on a national level, Rucinski said.
"If you put that kind of plan in place, then in ten years, we will create two million new jobs above and beyond what we will have created in a business-as-usual scenario," he said. "So the economy is going to grow anyway, but if we go through with carbon tax, then we would add two million more ads in the next ten years than we're going to get otherwise."
The money from the tax would return back to taxpayers and serve as a preventative measure for carbon consumption, Rucinski said. The goal is not to raise money.
Anderson said that with overwhelming proof of global warming, there is a great need for change.
"It took 10,000 years to warm six degrees. And we have added one degree in the last one hundred years," he said. "Do the math. That's really accelerating. This is scary. And so the amount of warming happening today is at a rate the Earth has never seen."
Chicka said that although the science behind ecological crises is important to understand, it's also crucial to be aware of the social justice issues that are linked to the broader scientific picture.
"Low-income areas and people usually unjustly bear the brunt of pollution created by others in their community," she said.
Several attendees said they found the diverse perspectives about the carbon tax bill informative.
Alexander Golob, a junior in the College of Fine Arts, said he appreciated the multi-faceted approach to climate change that the panel presented.
"It was interesting to see how the change that all of them want to see are approached from different ways," he said. "The only way change can be made is through a combination of those different methods of advocacy."
Kara Laurenson, a senior in the College of Arts and Sciences, said the panel could have focused more on the scientific aspect behind climate change.
"I thought Senator Barrett had a lot of good points, [but] he sounded like a politician," she said. "He was informative, but since this a group of students who are all studying the science behind it, I thought it could have been a little more science-based."
Lydia Stinson, a senior in CAS, said she especially appreciated the moral perspective behind implementing legislation like the carbon tax.
"A lot of people hear about the science, and a lot of people hear through politics about climate change, but not a lot of people hear about the moral standpoint," she said. "And it's important to learn about the moral incentives and communal action. It's what brings people together, and it's what motivates people to vote and to learn."