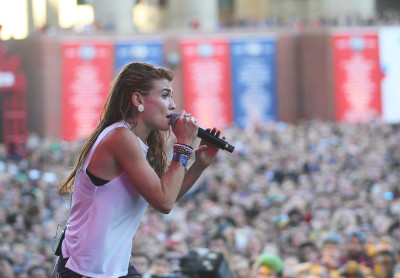 It was 4:30 p.m. on Saturday, and audience members were being swallowed by a uniform group of 20-somethings, their elbows trapped in a wave of bright flannels and baseball caps, knees driving into the thighs of strangers whose faces they might never see. Water bottles are running low and the audience has been on its feet for two hours, yet they're burning implausibly, excited to see the next set.
What began as a quintessential music festival experience transformed into something reactionary and altogether strange. Such was the case with almost every aspect of Boston Calling.
Boston Calling, the music festival that takes place every May and September, spread itself across City Hall Plaza from Friday night through the end of Sunday. As an experience, it was unlike any festival that may be considered its peer.
What's most unusual about Boston Calling is its culture. While many of its most superficial elements adhere to music festival stereotypes, the crowd that the festival attracts differs greatly from something you might see on a "Saturday Night Live" sketch about Coachella.
Sprinkled among the eager "festival kids" — loosely categorized by a deep devotion to particular acts, an affinity for intoxication, brightly colored ensembles and perhaps a flower crown — were traditional Bostonian buttoned-up undergraduates. In one strangely funny display, festival sponsor JetBlue actually set up a booth giving away free flower crowns, and it was not attended.
The urban setting also made for an atypical festival experience. Often, festivals attempt to mimic Woodstock with an element of connection to the natural world. Boston Calling, however, took place in the busiest part of Boston on a concrete plaza, surrounded by large, industrial buildings.
It was a breathtaking landscape, especially when the sun illuminated a flock of birds during Saturday's Daughter set or when Sunday's blood moon peaked out from behind City Hall.
The weekend's entire play space was confined to City Hall Plaza, eliminating both long walks from one set to another and the fear of missing out on memorable festival moments. The centralized location also meant that an attendee could get lunch, play a lawn game or enter the beer garden without leaving earshot of the current set or traveling for more than a minute or two.
In that same vein, the festival's two-stage setup ensured that the sets never overlapped. Alternating back and forth between the JetBlue stage, flanked by two large screens and a pleasant string of trees, and the Red Stage, performances were near constant from 1 to 11 p.m. on Saturday and Sunday with barely a ten-minute lull between them. Friday operated similarly, though with only three sets, the energy peaking with a lukewarm showing by Of Monsters and Men and riding high through the end of headliner The Avett Brothers.
Father John Misty marked a shift into high gear for Saturday. He replaced the previous acts' youthful energy with the presence of a man who knows exactly what he's doing.
While Father John Misty may be a tongue-in-cheek pseudonym for Josh Tillman, the religious symbolism is worth discussing in the context of his live performance, as fans in the crowd seemed to worship him dogmatically. One audience member mouthed every word of Misty's, never breaking his gaze toward the singer and even mimicking his mannerisms and facial expressions. Another man burst into tears once the set was over, covering his face with his hands as the stage technicians began to prepare the stage for the next act.
Such a powerful, tear-jerking performance took place all in a 45-minute span. A day and a half of other high profile acts flanked what would normally be a full event. The constant stream of each song echoing throughout the chamber-like City Hall Plaza became both exhausting and exhilarating for the attentive listener.
Up next was Walk the Moon, a band that has quickly risen to fame thanks to the viral popularity of the band's undeniable pop hit "Shut Up and Dance." An iffy sound mix dampened the excitement of their performance, but they nonetheless brought the crowd to their feet.
By this time, the sun had set enough for the stage lights to brightly illuminate the Walk the Moon's members jumping and fist-pumping on stage. Lead singer Nicholas Petricca's bright pink, spiked hair accurately reflected his pop star persona that beamed out from the stage.
Even as the constant standing, singing and shouting started to take its toll on Saturday's crowd, their enthusiasm maintained its peak through Chromeo's set. There was the sense that people were less familiar with the electronic duo's material, but Chromeo made up for the relative obscurity with nonstop dance music. For this reason, it would have made more sense for them to close the day, rather than the more stagnant, droning alt-J.
alt-J's appeal arguably lies in their haunting melodies and slightly unconventional sound. Translated to the stage, this created an overly somber end to a day that featured so many high-riding acts. What may sound captivating on record was lost through the reverberations as simply uninteresting.
While Saturday's highlights were mixed in with low points, Sunday's were more consistent. Both Twin Shadow and Daughter broke through the incidental monotony that plagued some of Saturday, thanks to their powerful vocals.
MisterWives also made themselves noteworthy through their overall solid performance. They covered The Weeknd's "Can't Feel My Face" as well as Michael Jackson's "P.Y.T. (Pretty Young Thing)," appealing to fans of both new and old pop. Nate Ruess provided an equally pop-filled set, including covers of a Prince song and Elton John's "Rocket Man."
Hozier and Alabama Shakes closed the day and the festival as a whole. Both of them being relatively new breakouts, the two acts handled the pressure well. They're also similar in that while Hozier has popularized his modern sort of blues, Alabama Shakes has revitalized soul-filled rock. Maybe it's too soon to compare Alabama Shakes' Brittany Howard to Aretha Franklin, but seeing her occupy the stage under the light of the blood moon, it was hard to deny her larger-than-life closing of the festival.
The takeaway of this fall's edition of Boston Calling was simple — check in expectations at the check-in tent. Once audiences adjust, and perhaps realize that yes, the choice of headliners is questionable and no, this is not going to be Sasquatch!, they'll simply be carried by the power of excellent musicianship and a burger or two.