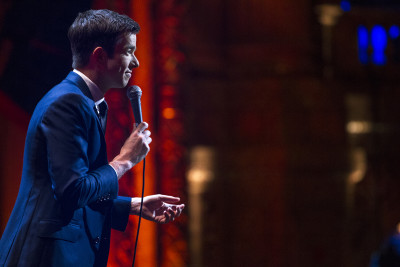 If you've only ever heard of John Mulaney through his short-lived sitcom "Mulaney," you're probably not a fan.
The comedic wit of Mulaney, previously a writer for "Saturday Night Live" (the one most responsible for the Stefan character) and a stand-up comedian, failed to translate well into the Fox show that left much of his near cult-like following disappointed. That's why the title of his new stand-up special, "The Comeback Kid," is so apt.
The hour-long Netflix-produced special came out Friday, capturing his performance at the Chicago Theatre and reminding the world how skilled Mulaney is.
Mulaney's fans were far from apathetic about his comeback. When the special didn't go up until 3 a.m., many concerned fans tweeted at Mulaney, detailing how upset they were to not be able to watch it right at midnight.
They had been waiting three years since Mulaney's only other special, "New in Town." Mulaney's comedic style in "New in Town" and "The Comeback Kid" are almost identical, but not to a fault.
While one might be weary that the repetition of the same voices and joke formats might get old, it doesn't seem to be the case for Mulaney. Instead, his "same format, new jokes" structure is exactly the right move for the 33-year-old comedian.
Just like in "New In Town," Mulaney bases many of his jokes off of a unique form of self-deprecation and self-awareness. In "New in Town," he brings light to his alcoholism, contrasted to his youthful appearance: "That surprises a lot of audiences, because I don't look like someone who used to do anything. I look like I was just sitting in a room, in a chair eating saltines for like 28 years and then I walked right out here."
In "The Comeback Kid," Mulaney similarly prefaces a story about his Catholic upbringing by mentioning that the audience could probably tell he was Catholic based on "the everything about me."
He similarly mirrors his old material by discussing his lack of alpha male status. In "New in Town," it was about his girlfriend taking control. Now, his French bulldog named Petunia has also taken dominance over him.
Such parallels between his old and new specials show that Mulaney has fine-tuned his craft and built upon what has proven to work. The result is that "The Comeback Kid" feels like a natural extension, three years later, of his past special.
Because of this continuation in style, his delivery and comedic timing is now even more fine-tuned and on point than it was before.
Mulaney also utilizes his familiarity with pop culture and the entertainment business in the special. He dissects the plot of "Back to the Future," pointing out its absurdities and bringing new perspective to a universally loved film, which has recently been especially relevant thanks to the significance of the year 2015 in the movie.
Family comes up a lot, as Mulaney retrospectively explains the hilarity of his father pulling up to a McDonald's with a van full of hungry children, and only ordering a single black coffee. Mulaney brings up his father again, explaining the man's hatred for Bill Clinton, "a smooth and fantastic hillbilly who should be declared emperor of the United States of America."
Mulaney's closing story about meeting Bill Clinton is an apt finale to his show. He refers to the former president as the "comeback kid," hence the name of the special, and brings the best of his storytelling skills to the 10-minute journey through all of his experience and revelations concerning the man.
It's hard to say exactly what makes a comedian funny, and what makes them unique. For John Mulaney, though, a combination of his plethora of voices and personas along with his ability to observe the average and relay what makes it extraordinary leads to his failsafe comedic identity. Whatever went wrong with his sitcom can't touch his stand-up.
He is, after all, the comeback kid.