It's tough to say how much Cleveland Circle owes its happening hubbub to people falling asleep on the C branch of the Green Line. At least, that was the case before Ky Nguyen gave people another reason in May. Now, having just unveiled its tuned-up Vietnamese-fusion-concept menu, Nguyen's Sa Pa in Brighton wants to — and does — provide patrons a worthwhile destination at the end of the rails.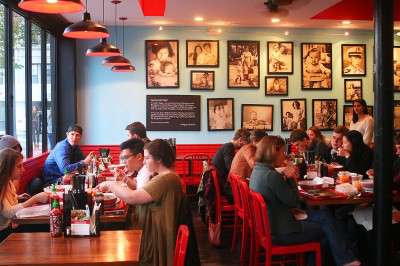 It is the hip, young, carefree college crowd that Sa Pa wants, the ones who will drop by in droves and tweet a picture of the bánh mì. It's worth a mention that Cleveland Circle is actually the second Sa Pa in town. The first one is still in business in Downtown Crossing, just within smelling distance of Chinatown's rich culinary world. Muscling into cozy Brighton represents something of a push toward fulfilling Sa Pa's goal of remedying what Nguyen said is people's reluctance to take advantage of that scene.
"There are such great flavors in Chinatown," he said. "The idea was to take those flavors and make them accessible."
The feel of the room itself reflects that pretty well. There's the mega-modern contrast of black against red against turquoise maintained across the walls' geometry. Grayscale portraits from Nguyen's childhood home in Vietnam, art deco travel posters and flat screen televisions each adorn their own walls, joined by a wildly gaudy 5-foot Boston College logo (forgivable, considering the restaurant's proximity to the Chestnut Hill Reservoir and BC). Next to the register runs that familiar glass-faced prep line ("There goes my food!"), and indie pop standards are piped in for you to listen while you watch. The whole production screams "with it," but none of this is to say that Sa Pa is pretending or faking. The décor might pander, but compromise is hardly on the menu.
If a patron knows their stuff, the phở (FUH, with a rising inflection) is probably where the brain will go first at the mention of Vietnamese food. A kind of rice noodle soup, it comes with either braised beef or, in this case, marinated tofu. Piled high with fixin's, it's a sight to behold. And like any soup worth its salt, it largely comes down to the broth, which surprisingly isn't very salty. One would expect that sort of umami punch lurking in the dark broth, but instead it's a sweetly spicy and thrillingly confusing mix of flavors like ginger and clove and star anise that's apparently more in line with what one would get in Saigon (but don't feel bad for thinking of gingerbread).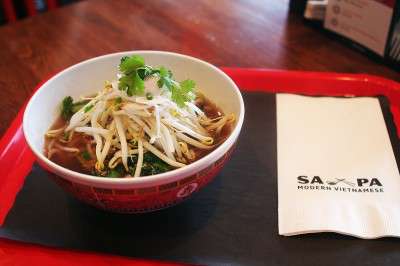 But the soup is heavy on supporting stars, make no mistake: scallions, bean sprouts, cilantro, some unwieldy carrot chunks for color, Thai basil and the meatiest seared tofu one could taste. It's tough to say without knowing what authentic is, but the soup defies expectation in the best way. And if that's not authenticity, then at least it's honesty.
Maybe it sets the bar a little high, though. The spring rolls, for one, serve as a cute little palate cleanser, but little else. Red grapes give them a fruity tartness more enjoyable than the usual cucumber and the earthy peanut sauce crooned deeply of, well, peanuts. But two minutes later, they are forgettable. And it's only on close inspection that one would notice the avocado that's apparently so important to the spring roll that it's included on the menu.
"Mama's eggrolls," on the other hand, taste unknown. One smidgen of whatever pepper vinegar accompanies them will ensure that one can't taste anything but pain for a good long while. (Do yourself a favor and save yourself with a smoky-strong Vietnamese iced coffee.)
The same can't be said of the sriracha-lime chicken wings. While they aren't monstrously spicy, they aren't a whole lot else, either. To their credit, the chicken is as tender as a stick of butter — albeit nearly as greasy. They'll do one just fine if one likes wings and sriracha (sorry, lime-lovers), but don't go in with high hopes.
But then again, is this disappointment just misguided expectations of what "authentic" Vietnamese flavors are? How, then, is that phở so tastily confounding? This time, there wasn't time enough to try a fresh-baked bánh mì sandwich (ignoring the bánh mì burrito), but it feels like such a staple would, like the phở, absolutely amaze. That's obviously where Sa Pa's strength sits: unpretentious, roots-inspired foods that know what they are and aren't looking to impress so much as educate. After all, if the idea is to reach out with one's taste buds, why play it safe with chicken wings?
Luckily, the youth of Boston are better than that. Without a doubt, come the bitter wind and soaking snow, they'll be lining up outside Ky Nguyen's door looking for a taste of home.
Sa Pa Cleveland Circle is located at 1952 Beacon St. and open daily from 11 a.m. to 10 p.m. Sa Pa Downtown is located at 92 Bedford St. and open daily from 11 a.m. to 4 p.m. Find their menu on their website.