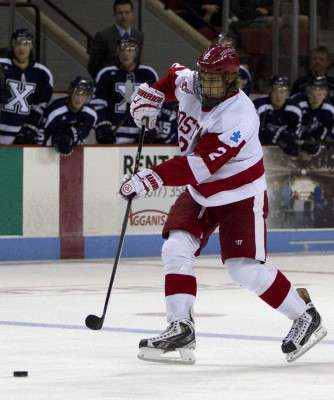 If asked before the season started, Boston University men's hockey coach David Quinn said he would not have expected his team to be ranked the third-best team in the country at this point in the year.
But seven games into the 2014-15 campaign, that's exactly where the Terriers (5-1-1, 3-1-1 Hockey East) sit in the national rankings as they head into an away matchup with the University of Maine Friday.
"I would be surprised," Quinn said about the team's standings. "I would've been surprised that we would be 5-1-1 after seven [games]. But once things got going, and you saw how our team started to gel and how hard they worked and the leadership we have, I can't say I'm surprised today."
Last weekend's win against then-No. 3 Boston College on Nov. 7 and tie versus the University of Connecticut on Saturday propelled BU up the polls. BU had not beaten the Eagles (4-5, 1-3 Hockey East) since a Jack Parker-led squad pulled off the feat in the 2013 Hockey East semifinal game at TD Garden.
After three consecutive losses at the hands of their rivals, Quinn notched his first win over BC as head coach of the Terriers with a come-from-behind, 5-3 win at Conte Forum.
Leading the way for BU was senior assistant captain Evan Rodrigues, junior winger Danny O'Regan and freshman forward Jack Eichel, who each tallied four points over the weekend. Eichel's one-goal, three-assist performance earned him a Hockey East Rookie of the Week nod.
But a weekend largely filled with positive plays did not come without its drawbacks.
Junior forward Ahti Oksanen went down with an injury on a hit in the first period at BC, forcing him to miss the final two periods of that game. The Finland native also sat out the entirety of Saturday's contest against UConn (2-4-3, 1-2-1 Hockey East). He will return to the lineup for this weekend's game, but Quinn said he still has to make adjustments to the lineups for Friday.
"Ahti's fine," Quinn said. "We're not going to have [sophomore forward Robbie] Baillargeon, and we're not going to have [freshman winger Nikolas] Olsson. We're beat up, at least up front. We're kind of in a tryout session right now to see who mixes and who matches."
Quinn said in an interview with Inside BU Hockey Thursday that Baillargeon has been battling a case of mononucleosis. A year after leading the team in points, BU's second-line center has just one goal and one assist in seven games.
While the Terriers have already reached half of their win total from a season ago, the Black Bears (3-6-1, 2-2 Hockey East), who twice scored seven goals against BU last year, have taken a step back from their 2013-14 campaign. Maine won its first two Hockey East matchups against the University of Massachusetts-Amherst on Oct. 31 to Nov. 1, but fell in consecutive games last weekend at the hands of the University of Vermont.
A middle-of-the-pack team statistically last year, Maine has fallen to the lower tier in the league on both ends of the ice. The offensive unit, which finished sixth overall in the conference last year in goals per game, now is ninth in Hockey East at 2.40 goals per game. Part of the problem stems from the early struggles of junior Devin Shore. As a sophomore, he led the Black Bears with 43 points in 35 games. In nine games this year, he's averaging under a point a game pace.
In net, the Black Bears have yet to fill the void that now-graduated goaltender Martin Ouellette left in the crease. Sophomore goaltender Matt Morris has gotten the majority of the starts, posting a .899 save percentage in seven appearances.
Despite the setbacks Maine has incurred thus far, Quinn said he expects Friday's matchup to provide his young team yet another early-season test.
"Obviously they gave us fits last year," he said. "It's a tough place to play. They're honoring their 1999 National Championship team, so it's going to be a great environment up there. But we've been pretty good on the road so far. We've handled some good environments. Hopefully we understand what's at stake."