In its 12th season, cable network TV show "Top Chef" has finally made its way to Boston. After featuring dominant culinary players like New York and Chicago, as well as more eccentric picks like Las Vegas and New Orleans, Beantown is finally taking center stage. The season, which started on Oct. 15, so far has been replete with Boston history, culture and culinary prowess. From making bar snacks at Cheers on Beacon Street, to a ballpark-themed "Sudden Death Quickfire Challenge" at Fenway Park, to a Revolutionary War-themed "Elimination Challenge" in Wednesday night's episode, the show is making use of Boston's vast culinary landscape.
"There are times when Boston is somewhat overlooked," said Lydia Shire, renowned chef at Scampo in Beacon Hill. "Boston is such a great food city, and I'm glad people from around the country will understand and know we're more than just a jug of baked beans."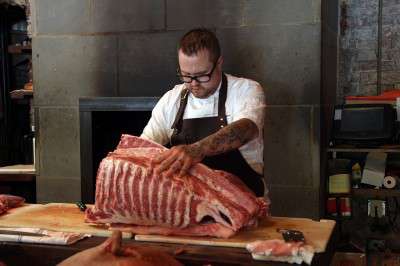 Like many cities, Boston is quite diverse, allowing foodies to enjoy a broad spectrum of culinary experiences: Modern American, Ethiopian, Vietnamese, Italian, Pakistani, Greek, Nepali — the city is your oyster. And speaking of oysters, Boston is one of the seafood capitals of the country. While Boston may not be San Francisco, it boasts unique culinary characteristics that set it apart from the rest of the United States, Shire said.
"I like the fact that we're not California," she said. "We're New England, and we have many riches California can't claim. Boston is a very visually tactile place. We have Cape Cod and the ocean that really surrounds us.
"I had a piece of whiting today," she said, referring to a lunch prepared by her friend and fellow chef Jasper White of Summer Shack. "Jasper tempura-ed the whole tail bone-in, and we ate it right off the bone. It melted in your mouth. You wouldn't get that on the West Coast."
Shire said the nature of New England makes it home to a lot of exclusive ingredients.
"We don't have a full year-round growing cycle," she said. "And because of the cold, you get the cold snap, keeping the vegetables fresh, cold and hard."
Chef Todd English, who stepped onto the Boston food scene almost 30 years ago, brought up the infamous Macomber turnip, a cross between a rutabaga and a radish. The root vegetable is indigenous to southeastern Massachusetts and known for its distinct flavor.
"You have other local ingredients that grow well in New England, like rose hip, pink gooseberry and cranberries," he said.
English has worked hard over the years with fellow chefs, local farmers and the fishing industry to get the best of what New England has to offer to customers.
"We have great seafood, produce and local stuff," he said. "We have the bones. We just had to put the bones together… It's incredible how time has changed things. I'm very proud. You've got a city about education, tech, medical, financial — a worldly sophisticated city. It's only natural that food would eventually be a part of that transition."
Another personality trait that distinguishes Boston as a culinary destination is the abundance of camaraderie and support permeating the food culture, said Jamie Bissonnette, chef and co-owner of Coppa and Toro.
"Boston has one of the best restaurant communities of anywhere I've been," he said. "Everyone here has each other's back. To look at Jasper [White], who I watched on the Discovery Channel in high school before I decided to become a chef, and now have him ask how I've been, blows my mind. You can quickly become peers with your idols in Boston — I love that."
Shire echoed Bissonnette's sentiments, saying it was great to see newer and younger chefs on the first episode of "Top Chef," where the chefs were challenged to make something for the first Top Chef Food Festival. During the episode, Boston chefs joined contestants to cook a meal while inspired by their first time in the kitchen.
"[Chef] Tom Colicchio was there, ["Top Chef" host] Padma Lakshmi, everybody. Todd English, my good buddy Jasper [White], [Chef] Barbara Lynch," Shire said.
English was featured as a guest judge on the second episode of the current season.
"It was great to be in Boston," she said. "They were really trying to create stuff local to Boston and New England. It was fun to see how chefs interpreted that."
Top Chef will continue to showcase Boston as an eminent food city as the season unfolds. Tune into Bravo on Wednesday at 10 p.m. to catch more Boston chef guest judges, action-packed competition and Boston-themed culinary challenges.