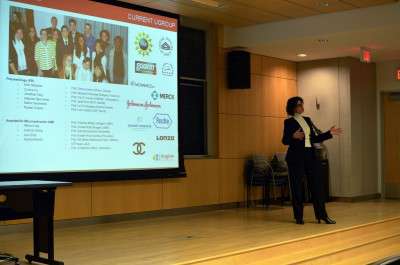 About 50 faculty, educators and students gathered Friday night for the launch of ARROWS, an initiative at Boston University to Advance, Recruit, Retain and Organize Women in science, technology, mathematics and engineering fields, to address key issues women face in and innovation.
Joyce Wong, a professor of biomedical engineering and director of ARROWS at BU, said she and BU Provost Jean Morrison spearheaded the initiative to integrate programs, identify issues that are holding back women, analyze policies and data and ultimately educate the entire community.
"ARROWS would like to make institutional changes and change the culture," Wong said. "We want people to be aware of unconscious bias and preconceived ideas. Part of my role is to bring these entities together and raise awareness. If women could see role models that we can bring into campus and really leverage all the groups that are going on."
In addition to establishing workshops and seminars, ARROWS looks to build on existing programs on campus such as the Society of Women Engineers and Graduate Women in Science and Engineering, Wong said in her speech at the launch.
Keynote speaker Kathryn Uhrich, a professor of chemistry and chemical biology from Rutgers University, gave insight as to her experiences as an active researcher, teacher, founder and woman in the science.
"It's not just about me being a woman. It's not just about me being a scientist. It's not just about each of those things," she said. "It's really a life experience that got me where I am. Part of that is that I want to share what I know and what I can learn from you too and encourage you to think outside the box and about how you can help others."
Uhrich spoke about her research on PolyAspirin, a new form of aspirin, which was discovered while assessing the structure of the molecule and how the polymer could break down into salicylic acid. She launched the company Polymerix in 2001 to focus on integrated polymers and cardiac stents.
"The idea of PolyAspirin came to when I was teaching organic chemistry," she said. "The inventions, the ideas, and the creation is actually the easy part. The hard part is putting it into practice. There's a lot of good ideas that get bounced around no doubt. The hard part is figuring out which of those ideas stick and how do they move forward."
Several attendees said they are optimistic about the future plans for ARROWS.
Amais Lugo-Guercio, a senior lab technician in College of General Studies, said she attended to become part of the conversation about opportunities for women in STEM and to gain ideas about how to revamp student research.
"I definitely hope that ARROWS will bring more than a conversation to BU," Lugo-Guercio said. "I hope it helps figure out what those gaps are, where the leak is and help women in STEM to go farther, get their Ph.D.'s and help them figure out what their goals are and how to achieve those goals."
Jaime Collins, a senior in the College of Arts and Sciences studying neuroscience, said initiatives like ARROWS make a big difference in highlighting women's achievements in science.
"It was really cool to see someone like Uhrich who has done so much with her life especially since I am nearing the end of undergrad," she said. "Its great to see someone like Kathryn and realize she's already doing this and there are people out there like her and maybe I can do this too."
Collins said a majority of students in her classes are women, but individuals in higher levels like teaching assistants and teaching fellows are predominantly male.
"I would say even at BU, we don't have a perfect representation," she said. " With ARROWS, hopefully we'll also attract applicants to graduate school and post [doctor's], and people will say, 'This is an institution that will support me with the right resources.'"