Much has been made in recent years of Amanda Palmer's crowdfunding habits. In the early 2000s, the controversial singer-songwriter kicked off her music career as one half of the Boston-based "cabaret-punk" duo The Dresden Dolls. In 2008, she released her first solo record, titled "Who Killed Amanda Palmer," while still signed to Dresden Dolls' label Roadrunner Records. Dissatisfied with her treatment at the label, Palmer wrote and performed a song in early 2009 titled "Please Drop Me," urging Roadrunner to release her from her contract. She was successful, and thus began an era of fan-funded content.
Working as an unsigned, independent artist, Palmer created a Kickstarter campaign in summer 2012 with a fundraising goal of $100,000 to produce a new album. Thanks to a fervently loyal fanbase, she ended up raising a staggering $1.2 million. The money produced 2012's "Theatre Is Evil," a glam-rock-oriented song cycle featuring Palmer's trademark poetic, raw confessionals shot through with a streak of '70s bombast and backed by a new band called Grand Theft Orchestra. Critical and public acclaim marked the album as an unqualified triumph upon initial release. But when the supporting tour began, disaster struck.
Before she commenced her "Theatre Is Evil" tour in fall 2012, Palmer posted on her blog asking for supplementary musicians who would be willing to join the Grand Theft Orchestra in live shows, free of compensation. The Internet was suddenly set ablaze. One camp, led by electronic-musician-turned-journalist Steve Albini, labeled Palmer an "idiot," saying she was taking advantage of her public influence and irresponsibly spending the $1.2 million from her Kickstarter campaign. Others rushed to her defense, pointing out her transparency: the musicians she would recruit were not being promised money that they would never see.
All ended well. Palmer ended up paying the musicians and was the subject of a New York Times article condoning her use of public funding. Still, the whole debacle left a general bad taste in the mouth of many casual observers and further polarized the public to a woman who has never had a lack of detractors.
Cue her 2013 TEDTalk, "The Art of Asking." In direct response to the crowdsourcing controversy, Palmer utilized the 14-minute lecture to discuss the merits of allowing one's audience to provide direct artistic support for the things that audience loves only if they want to. Full of passion and genuine insight, the talk has garnered more than 6 million views. Its material provided a seedling that would eventually grow into Palmer's first book, also titled "The Art of Asking," released last Tuesday.
"The Art of Asking" is part-memoir, part-manifesto, and full Amanda Palmer. Beginning a three week tour in support of the book at Boston's Royale nightclub on Tuesday, Palmer emerged onstage as the silhouette of a towering bohemian — all oversized, quilted robe and clutching a bottle of red wine and a ukulele with equal fervor. "I have no fucking idea how tonight is going to go," she deadpanned before plucking out a single note on her ukulele or reading a word from "The Art of Asking." That lack of certainty has always worked in Palmer's favor as an artist, and Tuesday night was no exception.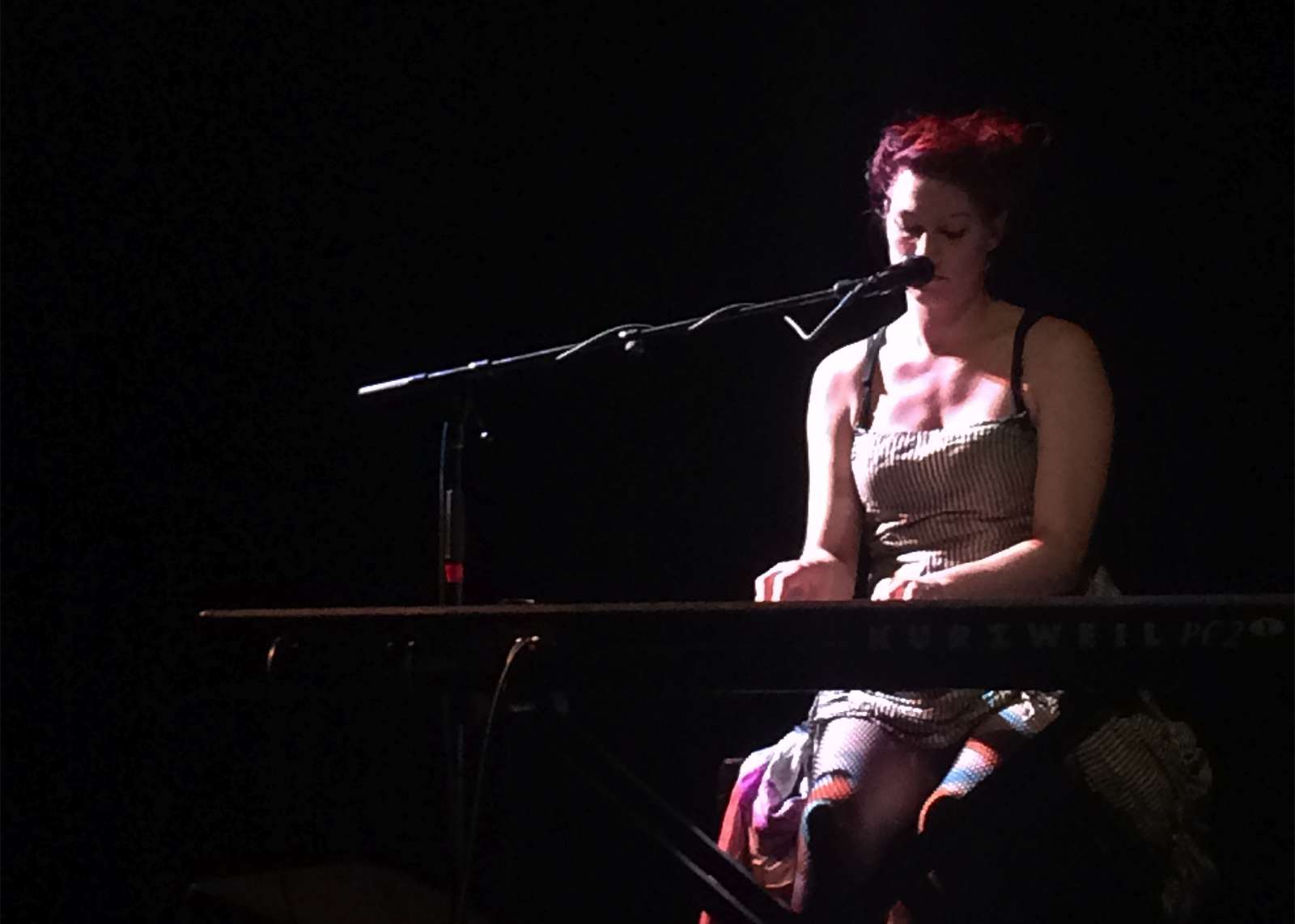 During an early reading, Palmer cheekily equated the squawking about her artistic credibility with Henry David Thoreau's experiences writing "Walden." While the text of that book focuses on Thoreau's sacrifices in choosing to live on Concord's Walden Pond in a small cabin, it omits a number of significant details regarding Thoreau's actual experiences — namely the fact that his mother frequently brought him doughnuts and he returned home on the weekends to receive meals and "raid the family cookie jar." Though he received help (the land he lived on was, after all, rented from his friend and literary peer Ralph Waldo Emerson), Palmer argued that it was Thoreau's art that people ultimately cared about. They didn't mind that he accepted help, just that they received a legitimate product. Why should the same principles not apply to her? "My advice to artists everywhere: Take the doughnuts," she said.
With a loose structure alternating between musical performances and formal readings from her book, Palmer welcomed a heap of multitalented friends to round out the evening. These included her renowned science fiction author (and Palmer's husband) Neil Gaiman, fellow Boston-based TEDTalk-er and social psychologist Amy Cuddy (and her 12-year-old son), author and Palmer's mentor C. Anthony Martignetti, British writer Laurie Penny and Palmer's longtime musician friend Jason Webley, each of whom interacted with Palmer directly and then embarked on a brief highlight of his or her own artistic contributions. The product felt improvised but vitalized, full of direction but without a rigid plan; a number of readers struggled to find the passage in Palmer's book that they were supposed to read to follow along.
The clear standouts were Cuddy and Martignetti, in two radically different but similarly emotional segments. Cuddy, a professor at Harvard Business School whose wildly popular TEDTalk deals with the physiological connection between body language and confidence, conducted a brief interview of Palmer on a faux-talk show set before joining Palmer in performing the Dresden Dolls song "Delilah," with Cuddy's son on guitar. The interview saw Palmer discussing her thoughts on regret, saying she had "decided against regret a long time ago. 'What if I had, what if I hadn't?' What if you'd died? You're still here. Look, there's your knee. You're breathing. I don't regret a fucking thing." But the song justified Cuddy's presence: a beautiful soprano, her voice complemented Palmer's jagged alto gorgeously and culminated in an endorphin-surging hug with her prodigiously talented son.
Palmer introduced Martignetti with a passage from the back half of her book. A confidant of hers since adolescence, Martignetti was diagnosed with terminal cancer in 2012. The passage she read included an anecdote about driving Martignetti to the hospital and watching him unable to justify his experience for the first time. Still ill but in good spirits, Martignetti sat on the same talk show set where Cuddy conducted her interview and read a story titled "Swamp" about his loss of innocence as it coincided with Vietnamese Buddhist persecution in the 1950s. The conclusion of his reading brought a reverent hush over an otherwise rowdy and inspired audience.
Through the flurry of guest appearances and audience shouts and musical performances (the highlight being Palmer's unhinged, thunderous rendering of "Runs in the Family" from "Who Killed Amanda Palmer"), a portrait of Palmer herself began to emerge. Her stage banter was quick, genuine and unrehearsed. Her musicianship was dizzying, a mastery of vocal technique and piano skills on full display.
Penny used her presence to appeal to Palmer's large queer and feminist fanbase, and her passion for inclusiveness and kindness was highlighted in a number of passionate moments. She spent her time building other artists up, providing anecdotes of artistic transcendence and expressing gratitude for her position, which never felt forced.
Standing amongst a sea of rapt, disenfranchised believers, it became difficult to keep Palmer's 2012 Kickstarter controversy in one's head. To quote show opener "In My Mind," the only discernible presence onstage by the end of the night was a woman who had succeeded in becoming "exactly the person I thought I'd be."