Jim Carrey and Jeff Daniels are back as the bowl-cut brunette and shaggy blonde characters of Lloyd Christmas and Harry Dunne in the Farrelly brothers' "Dumb and Dumber To," released Friday. But stepping back into their best friend roles proved difficult.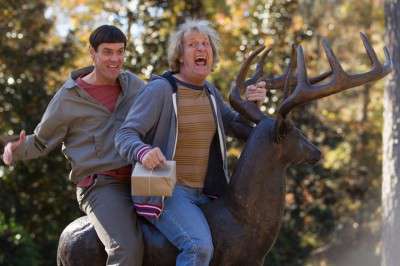 Picking up 20 years after Harry (Daniels) and Lloyd's (Carrey) last adventure, the movie opens with Harry paying Lloyd a visit in a mental asylum, where Lloyd has been a catatonic patient since 1994. It turns out to be a longstanding prank devised by Lloyd, and the duo is reunited again. Harry takes Lloyd out of the hospital and confesses that he is in need of a kidney. The duo visits Harry's elderly Asian adoptive parents, finds out that Harry is not the couple's biological son (surprise!), makes fun of the Asian couple's mispronunciation of words and receives a box of old mail. Harry then discovers that he fathered an illegitimate child 20 years earlier with "titanic whore" Fraida Felcher, played by Kathleen Turner.
This drives Harry and Lloyd to Fraida's doorstep to find a kidney donor, where Fraida reveals that she gave birth to a daughter but gave her up for adoption. Upon seeing a photo of Harry's daughter, Lloyd falls in love with her. Thus Harry and Lloyd embark on a new adventure to find Harry's daughter — and a new kidney.
I was 4 years old when the original "Dumb and Dumber" made its debut in movie theaters in 1994. I begged my parents to watch it, but ended up leaving the theater feeling scarred, horrified and confused for most of the movie. I revisited the first movie again, now at the age of 24, before watching the long-awaited sequel, and I can honestly say, "meh."
I admit there were moments where I laughed out loud at Harry and Lloyd's childlike behavior on the big screen, but those moments can be counted on one hand. Many of the jokes in the movie were cheap, dirty and many times uncomfortably rude. The perfect example is when the audience is treated to Harry's teenage memory of applying peanut butter to his penis and calling the family dog into his room to lick it off.
Many jokes from "Dumb and Dumber To" fall into a similar category. It shouldn't be surprising, considering that is what we have come to expect from the Farrelly brothers, who are behind such films as "There's Something About Mary" and "The Three Stooges." But the humor that shocked many viewers in "Dumb and Dumber" is not just dimwitted, but actually now leaning towards cruel and bullying.
Despite Peter and Bobby Farrelly's ability to secure many old and new stars from the original to make an appearance in the sequel, it seems almost like a desperate attempt to save the movie. They distract viewers from the movie's lack of an original plot (Harry and Lloyd encounter a crisis and go on a road trip while getting themselves into trouble, only to escape with the help of dumb luck — it's nothing new) by throwing in many of the old cast and characters, such as Billy the Blind Kid (Brady Bluhm).
Turner, Laurie Holden, Steve Tom and Rachel Melvin do little to make the film a success and fail to help advance the plot. Instead, their presence put each of them at the butt of many inappropriate jokes. Holden's character sucks on feet, Turner's character is an aged slut and Melvin serves as the hot airhead used only as something pretty to look at. Either these actors are great sports for tolerating the ridicule or they must be secretly sadistic. Most surprising was a cameo from "Mama June," Honey Boo Boo's mother of "Toddlers & Tiaras" fame. Even better is Bill Murray's undercover "Breaking Bad"-esque cameo.
The Farelly brothers' commitment to fart gags and inappropriate racist, ageist and sexist jokes simply struck out. I found myself cringing through most of the movie and softly chuckling at the rest of it. But it all depends on the viewer. I knew what I was in for — it's hard not to, with the name of the movie being what it is. "Dumb and Dumber To" is one of those movies full of good, dumb fun. If you were a fan of the first movie, you'll most likely enjoy number "to," if not for the plot, then to see Carrey and Daniels blow snot bubbles and moon people again.