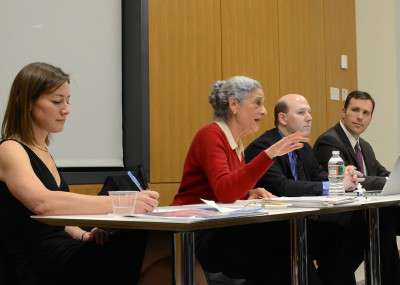 About 45 students and professors gathered Monday in the Boston University School of Law for the inaugural peace and national security panel to analyze and discuss the international legal dilemmas prompted by the actions of the Islamic State of Iraq and Syria.
The panel, hosted by the BU International Law Society, National Security Law Society and Human Rights Law Society, was the first in an annual series to examine the most pressing issues that affect international law.
"We want to make sure we are seeking to take a careful look at the legal issues involved and humanitarian issues involved. We want people to look at these issues with a view to hopefully promote peace for that sort of analysis in the future and pay our respects to the people who lost their lives to that conflict and those directly affected by this sort of conflict," said Caddie Nath, secretary of the International Law Society.
Future panels will focus on different, timely humanitarian-related events that affect global law, Nath said.
Panelists from the School of Law, including Pnina Lahav, Robert Sloane and David Nersessian, spoke about the history behind U.S. intervention in the area, international legal issues and how international law and humanitarian law are connected to better examine the ISIS situation.
"We ask ourselves, what is the War Powers Resolution about?" said Lahav, a professor in BU Law. "If we don't have troops on the ground, it is not really war, it is not really hostilities, even though people die. Is there a distinction here between the various actions here? If he [U.S. President Barack Obama] sends battalions, it is war. If he sends advisors, maybe it's not war. We need a legal justification to attack ISIS."
Sloane, a professor of international law at BU Law, said ISIS is not an isolated incident, but rather part of a phenomena seen in the modern era.
"Ineffective states are characteristic of the world today in many ways," he said. "They post serious security and other problems. We have had quite the upsurge in self determination."
Nersessian, the assistant dean of global programs at the BU School of Management, said failure to act when international crimes are occurring has very real consequences.
"The fact is that people are dying, ugly horrible, painful deaths while politicians are sorting things out. That's the reality," he said. "The deeper question I want to leave you with today, which is a question of how fast are you willing to go to defeat what is unquestionably the operation of human evil?"
Several students in attendance said they were interested in the current state of international affairs and felt the panel was both timely and interesting.
Nicole Baker, a first-year law student, said the panel helped her to learn more about the legal standpoint of an issue that is important to her.
"I have an interest in law, and ISIS was something that I have understood only at a surface level before," she said. "I attended this event to learn more about it from a legal perspective and feel more confident in my understanding of it now."
Yev Yalon, 24, a law student, said he took an interest in the topic and learned more about the issue.
"I found the panelists pleasant and well educated, and they were able to inform us about an issue that is important for us as students to be well educated on," he said. "There is always going to be at least one event to sit down and talk in depth about. I would be excited to see what it will be in the following years and would definitely attend the event again."
CORRECTION: An earlier version of this story switched the attribution of Robert Sloane's quote with that of  David Nersessian. The story has been corrected to reflect the proper attributions.