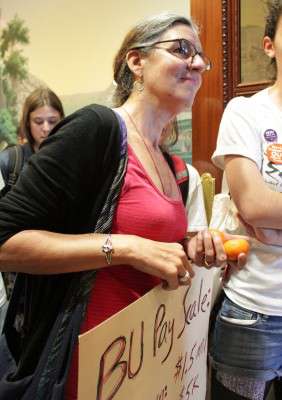 In an ongoing effort to address concerns about the treatment of part-time faculty on college campuses, adjunct professors at Boston University are preparing for a January election that will determine whether or not they will unionize.
The National Labor Relations Board, an independent federal agency, announced Nov. 12 that the vote for adjunct unionization at BU will occur in January. A decision will be made after ballots are mailed and returned.
The movement toward unionization would establish a collective voice for adjunct faculty and gain bargaining priority on issues within the university, said David Kociemba, an adjunct professor at BU and Emerson College and a member of the faculty organizing committee.
"Speaking with a collective voice at an entity the size of Boston University is a prerequisite to making Boston University a better place," he said. "Better run, more student-oriented and more competitive hiring and working conditions."
Kociemba said a disparity between full-time and part-time faculty that has impacted him most is the lack of adequate office space, causing him to often have personal conversations in a public environment.
"I currently share an office with 40 people at [the] College of Communication, whereas I share an office with 4 people at Emerson College," he said. "I've had discussions with students about their experiences with trauma, the accommodations they need for the classroom to be a safe learning environment under Title IX, and I'm having that conversation with another professor in the room."
Members of the BU adjunct professor's faculty organizing committee filed paperwork with the NLRB to schedule the vote on unionization on Oct. 29, The Daily Free Press reported. The announcement of the vote follows a unionization movement that has been culminating for over a year.
Adjunct professors are joining in the national Adjunct Action campaign, a project organized by the Service Employees International Union. The union also includes local universities such as Tufts University, Northeastern University and Lesley University.
"Adjuncts are among the most passionate teachers because they're willing to do it at a lower pay scale, and the pay scale is not kept up with the cost of living," said Dan Hunter, who has been an adjunct professor at BU for 12 years. "What I sense emerging from most of the adjuncts is a strong commitment to Boston University and a commitment to teaching the students."
Hunter said he has never had more than a one-semester contract while employed by BU.
BU Provost and Chief Academic Officer Jean Morrison said adjunct faculty unionization is not in the best interest of students and faculty.
"I believe, and it is the university's position, that for our part-time faculty to be unionized is not going to improve the quality of education for our students, and I don't think that it even will serve the part-time faculty in a better way," she said. "We completely respect the right of the part-time faculty to make the effort to unionize, and if it's voted in, we will respect that and negotiate in good faith."
Julie Sandell, associate provost for faculty affairs, said unionization efforts hinder direct discussion between the university and its faculty.
"Universities work best when faculty can discuss what they teach and how they teach and their working conditions with the people who employ them, and not have those discussions occur through a union representation process," she said. "It's important for the university to have a direct relationship with its part-time faculty, like we do with other faculty."
Sandell said she and Morrison convened a part-time faculty-working group in October 2013 to address the faculty's concerns.
"The working group, which had representation from part-time faculty on it, prepared a report for the provost which is publicly available to students and faculty, and made recommendations," Sandell said. "The provost has charged the schools and colleges with implementing a number of the recommendations, and we feel that's the right way to work through issues regarding part-time faculty."
In the meantime, Morrison said she hopes adjunct faculty will think of the ramifications of their decision to unionize.
"Certainly it will change the way that part-time faculty interact with the university…but how one characterizes what is beneficiary and what is not beneficial, that remains to be seen," she said. "We won't know and we wouldn't know unless and until, if there were to be a successful vote for unionization, and unless until a first negotiation is slated."
Kociemba said BU's administration should be taking a neutral stance in the adjunct unionization debate, as has been seen at many other universities where adjuncts have formed unions.
"It's been pretty clear that BU has not sort of followed the norm of other schools nationally, such as at Tufts locally, of just remaining neutral and allowing faculty to decide what's best for the faculty," he said.
Several students said they had varying opinions about adjunct professors' push to unionize.
Devin Cummings, a junior in the School of Education, said the concerns of the adjunct faculty are valid, and they should have a forum to express their concerns.
"Working at a school like this, where we have a lot of money. It's not right that they don't have fair working conditions, and if they're upset about it, they should have every right to join a union," she said. "I'm not sure why BU, as a whole, is against it."
Tammy Chen, a sophomore in the Sargent College of Health and Rehabilitation Sciences, said she does not support the movement beause she does not think it will be helpful.
"I'm not a big fan of unions," she said. "I agree with the administration. I don't believe it will help the university as a whole."
CORRECTION: An earlier version of this story said the election will determine if adjunct faculty have the permission to unionize. Permission to unionize is not required. The story has been corrected to reflect this change.