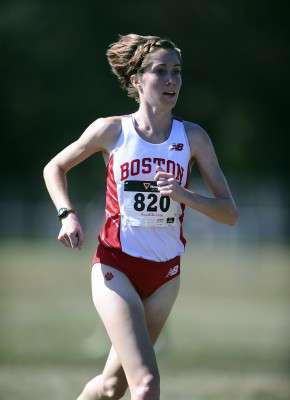 The Boston University's men's and women's cross country teams both had a strong ending to their seasons, as the men's and women's groups finished 12th and 13th overall, respectively, at the NCAA Northeast Regionals Friday morning at Van Cortlandt Park in Bronx, New York.
"The Northeast Regional is the largest and most competitive of all the regional qualifying meets," said BU coach Bruce Lehane. "There are dozens of very solid programs in our region. The excitement and competitiveness of the event is hard to describe, but it's very intense."
For the women's team, the Terriers were led by senior Rosa Moriello, who finished 13th in the 6-kilometer race with a time of 20:35.81. She improved from last year, where she finished 25th overall. Moriello also qualified for the NCAA Division I Cross Country Championship Saturday in Terre Haute, Indiana. She is the first Terrier to qualify for the NCAA Championship since 2008.
"Rosa had been close to making the National Championships on two other occasions," Lehane said. "I guess, as the old adage goes, the third time's the charm. Rosa has been the lead performer of our team all season, so all of us felt so happy for her as she accomplished one of the main goals that she had set for herself. She's an outstanding competitor."
Other strong runners for the Terriers were junior Michelle Sumner (21:42.00) finishing in 65th, junior Shelby Stableford (21:49.71) in 79th and sophomore Sarah Saccoach (22:17.08) in 114th. The Terriers' 389 points were a better score than any other Patriot League team in the race.
The race was won by Iona College, who totaled 91 points. They were followed by Providence College with 128 points and Dartmouth College with 136.
"Michelle Sumner, Shelby Stableford and Sarah Saccoach each ran a strong race for themselves," Lehane said. "For Sarah, it was the first time that she has raced in this event, which can be overwhelming, but she held herself together."
Lehane said he was very pleased with how his team's season ended.
"We felt very good about defending our Patriot League title," he said. "So that was a major accomplishment for the team. We hoped to place higher at the Northeast Regional meet, but that eluded us. Bottom line, though, as a group, the women trained hard and raced hard, which, for me anyways, spells a successful season."
As for the men's team, the Terriers finished 12th out of 39 teams, and second among four Patriot League schools competing in the meet. Junior Kevin Thomas led the Terriers in the 10-kilometer race with a time of 31:14.83, earning himself a 32nd place finish. Behind Thomas for the Terriers was junior Alec Olson (31:31.72) in 53rd, sophomore Mitch Russo (31:41.35) in 70th and senior Ben Ravetz (32:01.41) in 90th.
"The men ran very well for themselves," Lehane said. "The 10k distance over cross country terrain is particularly challenging, but they didn't hedge or flinch at the challenge. Kevin Thomas and Mitch Russo had the best cross country races of their lives, so I have to single them out."
Syracuse University won the meet for the men's race, edging out Providence by three points, 45-48.
Now that the season for both teams has come to an end, Lehane stressed how influential the seniors were for each team's success this year.
"The seniors are critical to the culture of the team," he said. "This group of seniors did a great job in maintaining a high work ethic, a positive outlook and a strong competitive drive. I'm very proud of them and grateful to them for their contributions to the program."