Although restaurants have always been a place for food, two Boston eateries are redefining the word, transforming restaurants into multipurpose spaces that provide a bit more than just a good meal. Liquid Art House is a gallery space where adventurous diners can try a Lithuanian cheese dumpling among a curated collection of furniture and paintings, and Knight Moves is a café where board game enthusiasts can choose from more than 300 titles while enjoying a coffee and a brownie.
Liquid Art House combines culinary inspiration, artistic creation
Dynamic art gallery meets eclectic restaurant at Liquid Art House. Ruta Laukien is the visionary behind the gallery-restaurant concept. Although her background is in finance, Laukien brought together her two loves of art and food to a 10,000-square-foot space, which opened on May 6. LAH's fall show, "Ready to Bare," is on display until Jan. 5.
Laukien, who is Lithuanian, teamed up with chef Rachel Klein to bring the same level of artistry on the walls to the restaurant's worldly menu. Klein worked for almost two years as executive chef of the Mandarin Oriental Hotel in Boston.
Klein designed a global menu for LAH, combining Asian and Middle Eastern flavors with a rustic flair. In addition to growing up with an artist father in New York's SoHo neighborhood, Klein studied art history, which made working with Laukien the perfect fit, she said.
"When this opportunity came along, I really got it and understood it," Klein said.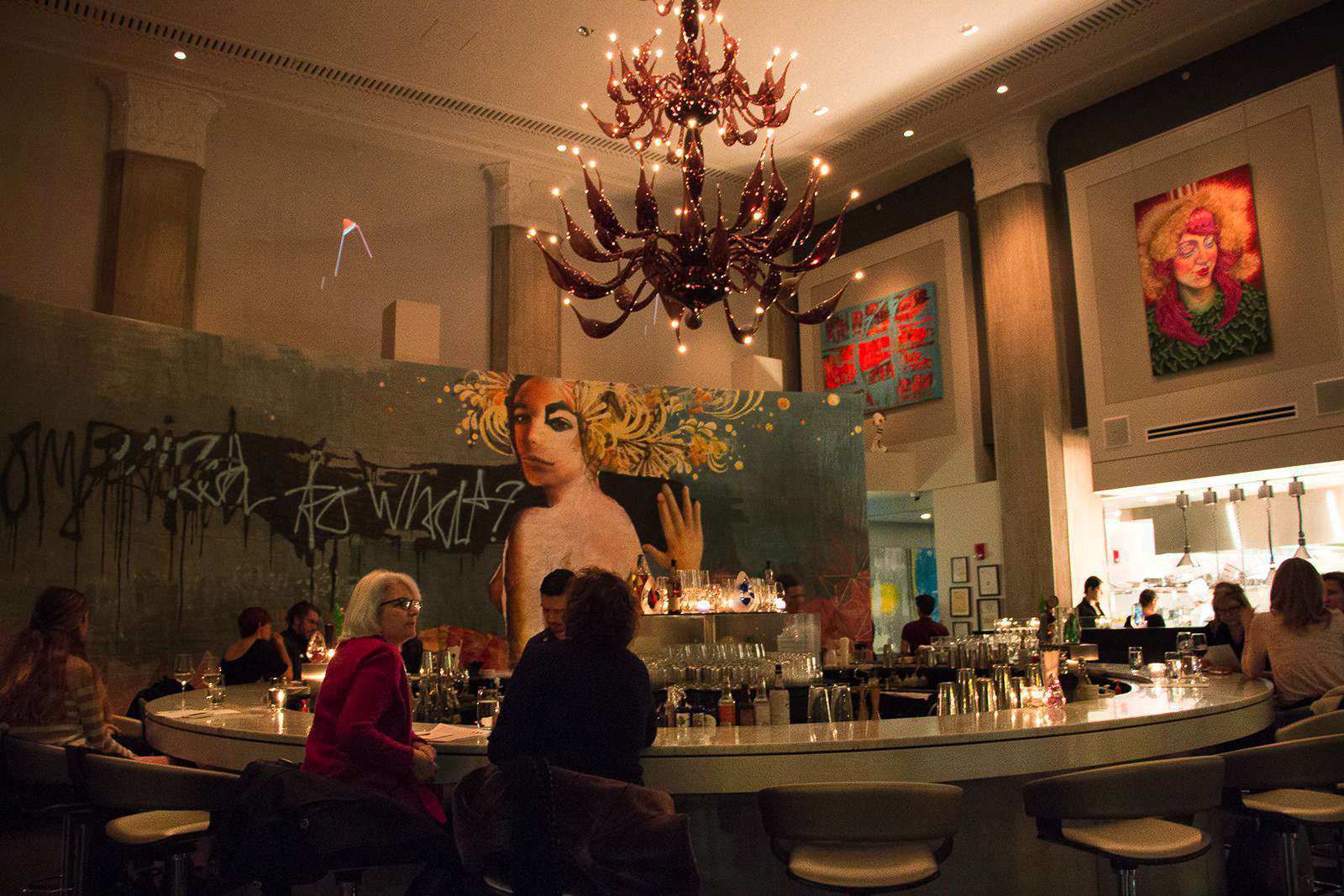 Klein makes seasonal changes to the menu to keep up with the gallery. The menu updates are made each time a new showcase is created for the gallery, and Klein said she usually waits to make decisions about food until she sees the art on the walls.
"It [the art] doesn't have the same impact in print as it does in person," she said. "It can't be forced."
A piece by Australian painter Kerry Armstrong inspired Klein to create her popular Faroe Islands salmon gravlax with bright pink and purple beets, fennel, dill and lemon vinaigrette, which is sold to diners for $16. Most entrees on the LAH menu range from $25 to $39, with the exception of some of the more expensive steak entrée.
The restaurant seats about 250 people between the dining room, lounge, 21-seat bar and private dining rooms. From the music selection to the lounge furniture, art director Silvi Naci curates nearly everything for the space. Naci said she seeks out artists on suggestions from Laukien, as well as from former classmates at the New England School of Art and Design at Suffolk University. After almost eight years of guest curating in Boston galleries, Naci said she enjoys the challenge of finding pieces to fit different parts of the gallery.
LAH features both established artists and others just emerging on the scene. Some of the works have been sold for as much as $45,000 or for as little as $120. Growing up with a mother who treated food as if it was art, Naci said she is well suited to work with Klein to create dishes inspired by the art.
The Oct. 8 opening of "Ready to Bare" coincided with Boston Fashion Week, inspiring Naci to curate fashionable art pieces.
"You get immersed in all your senses," Naci said.
Laukien created LAH to mix food and art, but Klein said the gallery-restaurant has a slightly different focus.
"It's not necessarily the art or the food," she said. "It's the diversity of the clientele. We've coined the term 'art hospitality.'"
Klein said the restaurant has the ability to create a dialogue among guests. She has noticed that LAH draws in a crowd from a variety of ethnicities, classes and nationalities — more than other restaurants in Boston with a similar price range.
Liquid Art House is open for dinner from 5 p.m. to midnight Sunday through Wednesday, and from 5 p.m. to 1 a.m. Thursday through Saturday. Diane Mantouvalos, LAH public relations representative, said the gallery is planning to open for brunch at some point in early 2015. She said Laukien has been asked to bring LAH to other cities, such as Milan and Dubai, but there are no concrete plans for expansion yet.
Knight Moves invites patrons to stay, play at board game café
Gone are the days when you have to sit at home for a night of Monopoly or Risk. At the Knight Moves board game café in Brookline, you can play these games and more — 300 more, to be exact — while enjoying food, drinks and the company of fellow board game lovers.
Laura Spencer, a 23-year-old Community College of Rhode Island student, works at Knight Moves doing just about anything that needs to be done, from waiting tables to explaining complicated game directions. She said visitors are drawn not only to the novel concept of the café, but also its atmosphere.
"It is a very casual place that is inviting to people who enjoy playing games with each other and not feel like they are in an overly competitive atmosphere like a lot of other gaming stores," she said.
Devon Trevelyan, owner of Knight Moves, said he was partly inspired to open the café following extensive travels in Europe.
"I'm a big fan of their café culture — a place that is quiet, yet has a vintage theme," he said. "These are qualities I have always liked."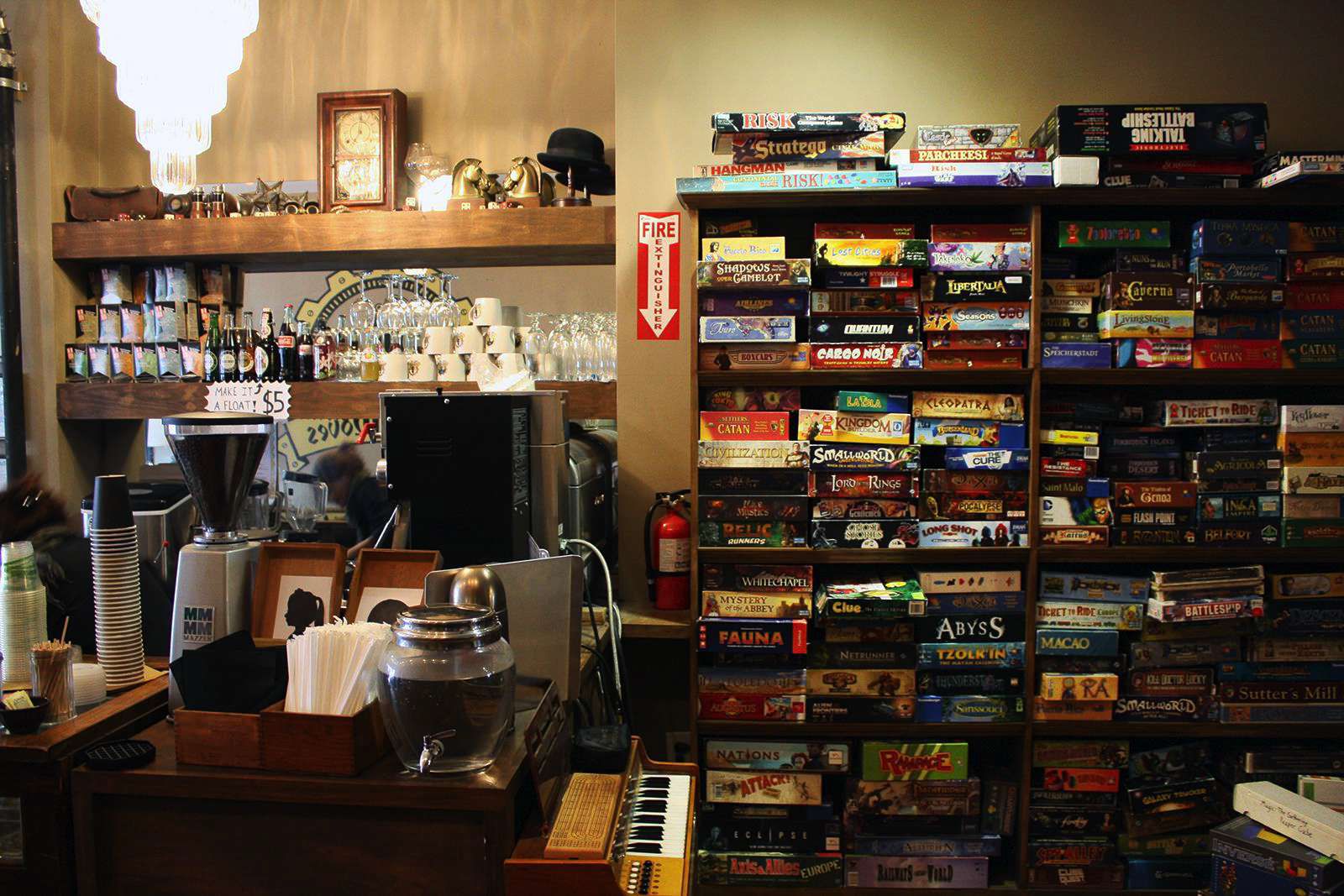 After working down the street from Knight Moves at Eureka Puzzles and Games for several years, Trevelyan had the idea to form a place that could be "a library where people could come and play as many games as they want for as long as they want."
Trevelyan is also a self-proclaimed lifelong gamer. He is quite good at chess, he said, and is a big fan of social gaming in general.
"A lot of what I grew up with was video games, with people sitting on the couch and talking face-to-face," he said. "Online gaming has taken such a turn, [to the point] where you can communicate with people across the world. I like that, but I think there is a real quality about face-to-face interaction and laughing with your friends when they're in your presence."
Niels Burger, a 44-year-old Arlington resident, was enjoying Trevelyan's café on Sunday while celebrating his birthday with his wife, son and daughter and playing Castle Panic, a game in which players must defend their castle from attacking monsters.
"I come here regularly," he said. "There's nothing like this in Boston. This is a great place. I try to find games that the whole family would like to play. We mix it up. Our daughter is 7, so we wanted to find something that is pretty simple. With Castle Panic, they don't like it yet because I've been impatient trying to explain the rules."
Within the usual board game fare, Knight Moves also offers intensive multiplayer strategy games such as The Settlers of Catan and Dungeons & Dragons.
"We do get some Dungeons & Dragons groups that come in here and dedicate a lot of time doing their thing, and we're fine with that too," Spencer said. "Personally, I've never had to deal with things getting too rowdy here."
Aside from the board game aspect, Knight Moves is also unique compared to traditional establishments in that outside food is allowed and encouraged within the premises. (A BYOB policy is also in place for those 21 or older looking to get their game on.)
The café makes money through a "cover charge" for those who want to come in and play a game (or two or three…), which is $10 for an unlimited amount of time per day. Knight Moves also offers membership payment plans for either $15 or $120 a month, depending on the perks. Some benefits of the plans include free admittance for guests and complimentary drinks and snacks, depending on the kind of plan.
As the café continues to evolve — with its one-year anniversary coming up in January — Trevelyan said he might re-think the current laidback food policy. The café features only a limited number of menu options, including coffee, tea, soda and hot chocolate, as well as snacks such as chips, brownies, cookies and cheese plates.
"Depending on how much our concessions grow, that [the outside food policy] is subject to change," he said. "We currently don't have a full kitchen, but lately we have started offering more food options, like milkshakes and paninis."
As for the future of Knight Moves, Trevelyan said he is overwhelmed by the positive response he has gotten from the business's early days and wants to keep improving the café without losing his initial vision for the café.
"We already have lines every Saturday. We're just packed," he said. "If expansion happens, it is tough because the feeling of community is what it's all about. I don't want to open a gymnasium filled with tables of people playing games. We're definitely a quality over quantity establishment."
Knight Moves is open from 11 a.m. to 11 p.m. Sunday through Thursday, and from 11 a.m. to 2 a.m. Friday and Saturday.