When culinary creativity and scientific principle meet up for a drink, celebrity chef Alton Brown is not always the one responsible. Café ArtScience, the brainchild of Harvard University biomedical engineering professor David Edwards, seeks to influence the way people think about food by consolidating flavors for a heightened sensory experience.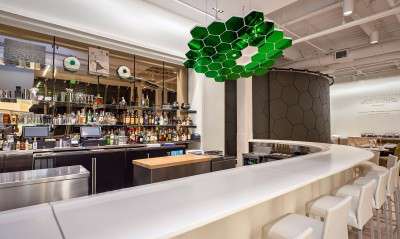 The restaurant resides in Kendall Square, adjacent to Le Laboratoire Cambridge, an art and innovation design center also founded by Edwards, which is a local iteration of Le Laboratoire in Paris, a center dedicated to science's endless applications ranging from perfumes and culinary inventions to advances in art and design.
"There's a lot more going on here than your regular nickel-and-dime restaurant," said Chef Patrick Campbell. "Between the center [Le Laboratoire] next door and the restaurant, it's more of an all-encompassing cultural center."
And with this new-age context comes the Café's chic architecture. The glass building follows a clean layout with a green honeycomb-shaped light fixture over the bar and plenty of well-placed banquettes and private seating.
Food-wise, Edwards' cooking staff is stuffed with industry elites, many of whom have worked together in the past. Campbell is a classically trained chef who has worked as chef de cuisine at No. 9 Park near the Massachusetts State House and executive chef at Eastern Standard. Café bartender Todd Maul comes from Clio at the Eliot Hotel in Boston. Tom Mastricola brings his 25 years of experience managing Boston culinary landmarks such as Clio, No. 9 Park and Uni also in the Eliot Hotel to Café ArtScience. Together, the team elevates locally sourced food to inventive mediums, such as vaporized liquid and condensed flavoring.
The options on the menu, which are all served in tasting-size portions, range from the popular beef carpaccio to "tiny spoons" loaded with familiar favorites like peanut butter and jelly to a more refined cherry wood bourbon gelée, or gelatin, concoction.
"It's a special experience, but it's not a gimmick. It's not tiny pieces of food that come floating through the air on pillows," Campbell said. "It's substantial food that especially experienced diners can relate to."
Although it was just opened on Oct. 31, Café ArtScience already has inventive plans for its menu. WikiPearls, spherical foods wrapped in edible skins that are an invention of Edwards himself, are set to hit the café's tables soon as a means of heightening customers' senses even further. Campbell said he and his team have been working on the emulsified butter Wiki. The skin on the outside can taste however his team dreams it, but they are testing out complementary flavors such as white wine and champagne.
The team at the café is also looking to make use of Le Whaf, a machine created by Edwards that transforms liquid into flavored vapor. The menu will continue evolving in accord with the restaurant's scientific theme, Campbell said.
"David is trying to do a lot of things for generations to come. For example, the use of Wikis to reduce packaging," he said. "It's the whole idea of less can be more. If you put a few cups of coffee or a bottle of wine into a Whaf, it's enough to give 50 people a sensorial experience."
Maul said Café ArtScience has allowed him to rethink bartending as a craft while simultaneously making a better drink as a result. Maul has spent his time challenging the status quo by researching and experimenting with ingredients and processes, using tools such as a centrifuge and rotary evaporator to insert efficiencies and novelty into his drinks.
"Bartending is the only trade that retards itself for sentimental reasons," he said. "There's a lot of stuff happening in bartending no one could explain to me. Instead of talking to bartenders, I started talking to chemists."
So far, Maul has been able to extend lime juice with a centrifuge, run old wine through a rotary evaporator to reuse as an essence, vaporize garnishes to create a two-part drink experience and counteract drink dilution with the use of basic thermodynamic principles.
"If I stir up a drink, the ice and other stuff in the solution want to hit equilibrium. The temperature wants to even out," he said. "I keep ice at negative 40 degrees [Fahrenheit], so it lowers the temperature of the solution without adding any water by volume. It makes a colder drink with less dilution."
Maul said drinking at a bar should be a fun and interactive experience, and the infusion of science and technology is meant to improve and enhance it.
"The 'science-ing' happening is very subtle. I don't want to juggle flaming monkeys," he said. "We're not chasing a stunt. We're chasing a better product. Ultimately I'm asking, 'can we utilize this all the way? Is it sustainable and does it create a conversation?'"
But innovation aside, Campbell said the intersection of the café's namesake occurs far beyond its glass walls. With food comes scientific creativity.
"Science and cooking really go hand-in-hand," he said. "Even if you don't know it, chemical reactions are happening all the time."